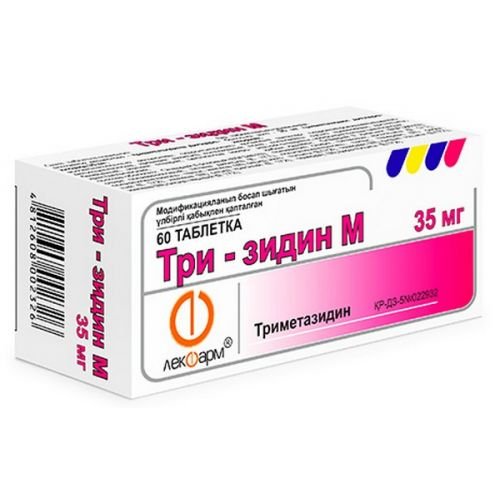 Tri-zidine M (Trimetazidine) 35 mg, 60 tablets
Description
Other brand names: Vastarel, Moduxin, Matenol, Tacirel LM, Angiozil Retard, Trimet, Cardimax
---
One tablet contains the active ingredient – Trimetazidine Dihydrochloride – 35 mg
Indications for use
As an additional therapy for the symptomatic treatment of patients with stable angina pectoris with insufficient therapeutic effect of basic therapy or intolerance to first-line antianginal drugs
Dosage and administration
For oral administration. Tablets should be swallowed whole with water. Take 1 tablet (35 mg) 2 times a day – morning and evening, with meals.
Patients with impaired renal function
Patients with moderate renal impairment (creatinine clearance 30-60 ml / min) are recommended to take one tablet (35 mg) in the morning during breakfast.
Elderly patients
In elderly patients, the elimination time of trimetazidine from the body is prolonged due to the age-related decrease in kidney function. The recommended dose is 1 tablet (35 mg) in the morning during breakfast. The dose should be titrated with caution.
The duration of the course of treatment is determined by the doctor. The result of treatment should be evaluated after three months of treatment with Trizidine M and, if there is no effect, the drug should be discontinued.
Use strictly as directed by your doctor.
Possible side effects
Adverse reactions are evaluated according to the frequency of their occurrence: very often (> 1/10), often (> 1/100 to < 1/10), infrequently (from ≥ 1/1000 to < 1/100), rarely (from ≥ 1 /10000 to < 1/1000), very rare (from ≤ 1/10000), the frequency is unknown (cannot be determined from the available data).
Nervous system
Often
– dizziness, headache
Frequency unknown
– symptoms of parkinsonism (tremor, akinesia, increased muscle tone), restless legs syndrome, unsteadiness when walking and other movement disorders, usually reversible after discontinuation of Trizidine M
– sleep disorders (drowsiness, insomnia)
Cardiovascular diseases
Seldom
– palpitations, extrasystole, tachycardia
– arterial hypotension; orthostatic hypotension, which may be associated with malaise, dizziness, or falling, especially in patients taking antihypertensive drugs
– hyperemia
Gastrointestinal diseases
Often
– abdominal pain, diarrhea, dyspepsia, nausea, vomiting
Frequency unknown
– constipation
Skin and subcutaneous tissue
Often
– rash, itching, hives
Frequency unknown
– acute generalized exanthematous pustulosis, angioedema
Blood and lymphatic system
Frequency unknown
– agranulocytosis, thrombocytopenia, thrombocytopenic purpura
Hepatobiliary system
Frequency unknown
– hepatitis
General disorders
Often
– asthenia
Contraindications
– hypersensitivity to trimetazidine or to any of the excipients
– Parkinson's disease, symptoms of parkinsonism, tremors, restless leg syndrome and other movement disorders
– severe renal dysfunction (creatinine clearance < 30 ml/min)
– pregnancy and lactation
– children and adolescents up to 18 years of age
Special instructions
The drug is not intended for the relief of angina attacks and is not indicated for the initial course of therapy for unstable angina or myocardial infarction, before hospitalization or in the first days of hospitalization.
In an attack of angina pectoris, the pathology of the coronary vessels should be re-evaluated and the treatment used adjusted (medication and possibly revascularization).
Trimetazidine can cause or worsen the symptoms of parkinsonism (tremor, akinesia, increased muscle tone), the patient should be monitored regularly, especially the elderly. In doubtful cases, the patient should be referred to a neurologist for an appropriate examination.
With the development of motor disorders, such as symptoms of parkinsonism, tremor, restless legs syndrome, unsteadiness when walking, it is necessary to stop taking Tri-zidine M. The frequency of development of motor disorders is low, is reversible, and when stopped, trimetazidine is allowed. In most patients, recovery occurs within 4 months after trimetazidine is discontinued. If the symptoms of parkinsonism persisted for more than 4 months after trimetazidine was discontinued, a neurologist should be consulted.
With unsteady walking or low muscle tone, the patient may fall, especially when using antihypertensive drugs.
Caution should be exercised if patients may increase the time to remove trimetazidine from the body:
– moderate impairment of kidney function
– Elderly patients over 75 years of age.
Pregnancy and lactation.
In experiments on animals, a teratogenic effect was not detected. However, due to the lack of clinical data, the use of this drug during pregnancy should be avoided.
Treatment with the drug is not recommended during breastfeeding, because. there are no data on the excretion of trimetazidine in breast milk.
Features of the effect of the drug on the ability to drive a vehicle or potentially dangerous mechanisms
In clinical trials, trimetazidine was found not has a hemodynamic effect. However, during post-registration monitoring, dizziness and drowsiness were observed in patients, which may affect the ability to drive a vehicle and work with mechanisms.
Overdose
Limited information is available on trimetazidine overdose.
Symptoms: arterial hypotension, hot flashes.
Treatment: symptomatic.
Storage conditions
Store in a place protected from moisture at a temperature not exceeding 25 °C.
Keep out of the reach of children!
Shelf life – 3 years.
Do not use after the expiration date.
Additional information