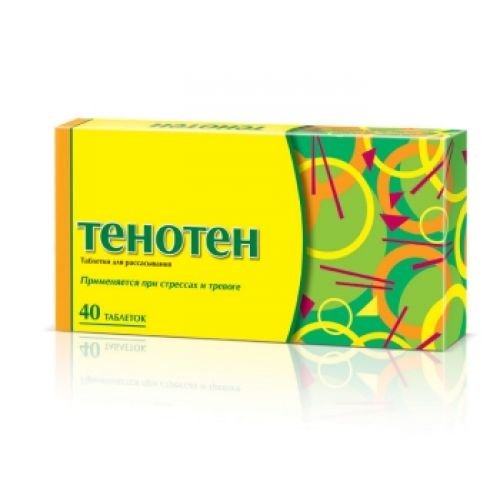 Description
Tenoten is a medication with various positive effects on our mental well-being. It helps reduce anxiety, lift our mood, and improve our ability to think and remember things. It's particularly useful for people dealing with stress, emotional tension, or conditions like depression. Tenoten also offers protection to our brain, especially in situations like intoxication or reduced oxygen supply. It doesn't make you feel drowsy or affect your muscles, and it doesn't interfere with other medications. Plus, it won't impact your ability to drive or operate machinery. Overall, Tenoten is a helpful and safe option for enhancing mental health and cognitive function.

Pharmacological Properties
This medication offers anxiolytic, antidepressant, nootropic, stress-protective, anti-asthenic, anti-amnestic, anti-hypoxic, and neuroprotective effects. It influences the S-100 protein, which plays a crucial role in synaptic and metabolic brain processes.
It does not induce sedation, muscle relaxation, or anticholinergic effects. In conditions like intoxication, hypoxia, or acute cerebral circulation disorders (such as strokes), it provides neuroprotection, limiting damage and restoring learning and memory in the CNS. It also inhibits lipid peroxidation.
Indications for Use
Neurotic and neurosis-like disorders with anxiety and depression symptoms.
Asthenic states.
Conditions with emotional tension, aggression, vegetative disturbances, fear, apathy, and reduced activity.
Organic CNS lesions, including post-stroke recovery.
Encephalopathies.
Traumatic brain injuries.
Parkinson's disease.
CNS conditions with impaired intellectual and mnemonic functions, including dementia.
Dosage and Administration
Dissolve one tablet in the mouth for a standard dose or two tablets for severe cases (keep in the mouth until fully dissolved). Depending on severity, take 1 to 6 doses daily. Treatment typically lasts 1-3 months but can be extended up to 6 months or repeated after 1-2 months if needed.
Side Effects
No side effects reported for indicated use.
Contraindications
Avoid if sensitive to any components.
Drug Interactions
No known interactions with other medications.
Special Instructions
No impairment of vehicle operation or machinery use.
Overdose
No overdose cases reported.
Each tablet contains:
Active ingredients: Antibodies to brain-specific protein S-100, purified and diluted homeopathically (C12, C30, C200) – 0.003g Excipients: Lactose, microcrystalline cellulose, magnesium stearate.