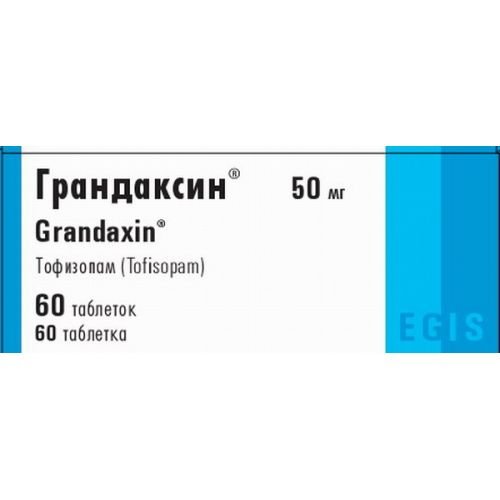 Description
GRANDAXIN® (Tofisopam) is a benzodiazepine. It works by increasing the action of a chemical messenger (GABA) which suppresses the abnormal and excessive activity of the nerve cells in the brain. GRANDAXIN® (Tofisopam) is used for the treatment of anxiety and depression. It may also be used for the treatment of alcohol withdrawal syndrome. This medicine is not recommended for use in patients less than 18 years of age since the safety and efficacy of use are not clinically established. GRANDAXIN® (Tofisopam) almost does not cause physical, psychological dependence and withdrawal syndrome.
Other brand names: Emandaxin, Isotan, Granpam, Bydaxin, Tofilsin, Tronheim,
---
Composition
One tablet contains the active substance – Tofisopam 50 mg,
Excipients: lactose monohydrate, potato starch, microcrystalline cellulose, gelatin, talc, stearic acid, magnesium stearate.
Indications for use
Neuroses and neurosis-like states
Mental (neurotic) and somatic disorders, accompanied by emotional stress, autonomic disorders, lack of motivation, moderate anxiety, fear, apathy, fatigue, low mood, decreased activity, obsessive experiences
Symptomatic treatment of pseudoanginous pain
Reactive depression with mild psychopathological symptoms
Post-traumatic stress disorder
Menopause syndrome (as an independent remedy, as well as in combination with hormonal drugs)
Premenstrual tension syndrome
Cardialgia (as monotherapy or in combination with other drugs)
Chronic alcoholism, alcohol withdrawal syndrome, delirium
Myasthenia gravis, myopathies and neurogenic muscle atrophies and other pathological conditions with secondary neurotic symptoms in cases where anxiolytics with a pronounced muscle relaxant effect are contraindicated.
Pharmacological properties
Pharmacokinetics
After oral administration, tofisopam is rapidly and almost completely absorbed from the gastrointestinal tract. The maximum plasma level is reached in about 1-1.5 hours. Plasma protein binding -50%. After absorption, the drug undergoes an intensive first pass metabolism in the liver, mainly by demethylation. Almost 60% of the administered dose is excreted in the urine, and 40% is excreted in the feces in the form of metabolites. The half-life is 6-8 hours.
Pharmacodynamics
Tofisopam is a short-acting anxiolytic with a wide therapeutic range. Its mechanism of action is not exactly known. In terms of chemical structure, pharmacological and clinical properties, tofisopam differs from classical 1,4-benzodiazepines. Has anxiolytic effect, not accompanied by sedative, muscle relaxant or anticonvulsant action. It has a moderate stimulating activity, improves psychomotor and intellectual functions. Possesses proven stress-protective activity. Tofisopam has very low toxicity and mild side effects. Due to the atypical chemical structure, in contrast to classical benzodiazepine derivatives, tofisopam in therapeutic doses does not potentiate the effect of alcohol and practically does not cause physical and mental dependence and withdrawal syndrome even after prolonged therapy.
Method of administration and dosage
The duration of use and doses are set individually, taking into account the patient's condition, the clinical form of the disease and individual sensitivity to the drug.
Recommended daily dose for adults: 50-100 mg (1-2 tablets) 1-3 times a day (total daily dose from 50 to 300 mg).
To prevent sleep disorder, the drug is recommended to be taken no later than 15-16 hours of the day.
Elderly patients and patients with renal insufficiency, the daily dose is reduced by about 2 times.
With alcohol withdrawal syndrome, a short course from several days to 3-6 weeks is recommended for the prevention and treatment of delirium.
A gradual dose increase is usually not required.
Side effects
– decreased appetite, constipation, flatulence, nausea, dry mouth, in some cases congestive jaundice is possible
– headache, feeling of tension, sleep disturbance, irritability, psychomotor agitation; sometimes: confusion, seizures in patients with epilepsy
– exanthema, scarlet fever, itching
– muscle tension, muscle pain
– respiratory depression.
These effects are usually mild, pass quickly, and are most common with high doses of the drug.
Contraindications
– hypersensitivity to the components of the drug or any other benzodiazepines
– decompensated respiratory failure or respiratory distress
– in the patient's history – respiratory arrest syndrome during sleep
– early transferred coma
– I trimester of pregnancy and breastfeeding.
Drug interactions
The simultaneous use of Grandaxin with drugs that suppress the functions of the central nervous system (opioid analgesics, general anesthetics, antidepressants, H1-antihistamines, sedative-hypnotics, antipsychotic drugs) enhances their effects (for example, sedation or respiratory depression).
Liver enzyme inducers (alcohol, nicotine, barbiturates, antiepileptic drugs) can increase the metabolism of tofisopam, which can lead to a decrease in its concentration in blood plasma and a weakening of the therapeutic effect.
Some antifungal drugs (ketoconazole, itroconazole) can slow down the hepatic metabolism of tofisopam, which leads to increased plasma concentrations.
Some antihypertensive drugs (clonidine, calcium canal antagonists) may enhance the effects of tofisopam. Beta blockers can slow the metabolism of the drug, but this effect is not clinically relevant.
Tofisopam may increase plasma levels of digoxin.
Simultaneous administration of Grandaxin with warfarin should be avoided.
Long-term use of disulfiram can inhibit the metabolism of tofisopam.
Antacids can interfere with the absorption of tofisopam. Cimetidine and omeprazole inhibit the metabolism of tofisopam.
Oral contraceptives can reduce the metabolic rate of tofisopam.
Tofisopam weakens the depressing effect of alcohol on the central nervous system.
Special instructions
Caution is needed when treating patients with chronic respiratory distress or previous acute respiratory failure.
Particular care is required in the treatment of patients with mental retardation, as well as those with impaired renal and / or liver function, since they more often than other patients experience undesirable effects of the drug.
The drug is not recommended for chronic psychosis, phobias or obsessive-compulsive disorders. In these cases, the risk of suicidal attempts and aggressive behavior increases. Therefore, Grandaxin is not recommended for use as monotherapy for depression or depression accompanied by anxiety. Caution is needed when treating patients with personality disorders (psychopathy), as well as organic brain damage (for example, arteriosclerosis).
In patients with epilepsy, the drug can cause seizures.
It is not recommended to prescribe this drug to patients with angle-closure glaucoma.
Each Grandaxin tablet contains 92mg of lactose. This should be taken into account in patients suffering from lactose intolerance.
Patients should be advised to refrain from drinking alcoholic beverages during the course of treatment with Grandaxin.
Pregnancy and lactation
Tofisopam crosses the placental barrier. The use of the drug is contraindicated in the first trimester of pregnancy; before prescribing the drug, pregnant women should carefully assess the possible benefits and risks of treatment. The drug is excreted in breast milk, therefore it is not recommended to use it during breastfeeding.
Features of the influence of the drug on the ability to drive a vehicle or potentially dangerous mechanisms.
Patients are not advised to drive vehicles and perform work with an increased risk of accidents, at least at the beginning of the first course of drug treatment. In the future, the degree and duration of restrictions is set for each patient individually.
Overdose
Symptoms: The effects of suppressing the function of the central nervous system appear only after taking high doses (50-120 mg / kg body weight). Such doses can cause vomiting, confusion, coma, respiratory depression and / or seizures.
Treatment: in case of severe suppression of the functions of the central nervous system, it is not recommended to induce vomiting. Gastric lavage is recommended. Taking activated charcoal helps to reduce the absorption of the drug. In emergency cases, it is possible to use a specific benzodiazepine antagonist – flumazenil. However, it should not be used in patients receiving tofisopam and tricyclic antidepressants, as well as in the presence of hypersensitivity to benzodiazepines or flumazenil, or if the patient has a history of epilepsy. Continuous monitoring of basic physiological parameters and the use of appropriate symptomatic therapy are recommended. With respiratory depression, assisted respiration can be performed simultaneously with the administration of flumazenil. Administration of central nervous system stimulants is not recommended. Hypotension is best treated with intravenous fluids and a Trendelenburg position. If these measures do not restore normal blood pressure, dopamine or norepinephrine can be administered. Dialysis and forced diuresis are not effective.
Storage conditions
Store at room temperature from + 15 to + 25 ° C.
Keep the drug out of the reach of children!
Shelf life – 5 years
Do not use after the expiration date printed on the packaging
---
Scientific studies
Additional information