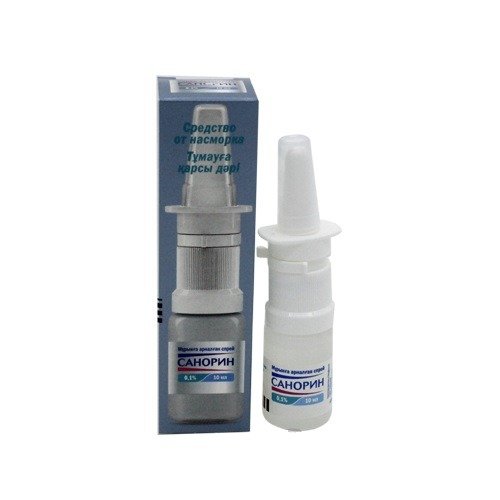 Description
The instruction
for medical use
of SANORIN medicine
the Trade name
Sanorin
the International unlicensed
name Naphazoline Dosage Form
nasal spray, 0.1%
Structure
of 10 ml of drug contains
active agent: naphazoline of nitrate of 0.010 g
excipients: boric acid, metilparagidrosibenzoat, ethylene diamine, water purified.
The description
flavourless Transparent colourless liquid
Pharmacotherapeutic group
of Antikongestanta and other nasal drugs for topical treatment. Sympathomimetics.
The code of automatic telephone exchange R01AA08
the Pharmacological
Pharmacokinetics At properties topical administration vasoconstrictive effect occurs in 5-10 minutes and proceeds from 2 to 6 hours. It is absorbed in a system blood stream and can have systemic action.
The pharmacodynamics
Sanorin contains the naphazoline which is the system sympathomimetic operating on alpha adrenoceptors. Renders expressed and the continuing vasoconstrictive action on vessels of mucous membranes is long. When drawing on mucous membranes narrows vessels in the place of applique, reduces exudation, facilitating, thus nasal breath and reducing puffiness mucous at inflammations of upper airways.
Indications
– acute rhinitis
– sinusitis
– an eustachitis
– average otitis (for reduction of hypostasis of a mucous nasopharynx)
the Route of administration and doses
to Adults and teenagers are more senior than 15 years
On 1-3 injections in each nasal course 3 times a day, with an interval not less than 4 hours.
To apply no more than 7 days. Before repeated use it is necessary to take a break for several days.
At the first use of spray it is recommended to press several times dosing devices the compact cloudlet of aerosol will not appear yet. Before direct use to remove a protective cap, to keep a bottle with drug in vertical position, to enter a trailer part of the portioning device into the nasal course then quickly and sharply to press the applicator. Directly right after injection, it is recommended to make an easy breath a nose. After drug use to close the applicator a protective cap.
Side effects
At use in the recommended doses drug usually well is transferred.
In rare instances – appearance of a headache is possible, increase in blood pressure
At prolonged and frequent use, more than 1 week adults have tachycardias, accustoming which is shown by disturbance of passability of the nasal courses and dryness mucous at once after burying is possible.
Contraindications
– hypersensitivity to drug components
– an arterial hypertension, tachycardia, the profound atherosclerosis
– a serious illness of eyes
– a hyper thyroidism
– diabetes
– closed-angle glaucoma
– chronic rhinitis (atrophic type)
– children's age up to 15 years
Medicinal interactions
it is not necessary to use Drug along with MAO inhibitors or earlier, than in 14 days after the end of their use as there can be a disturbance of a warm rhythm and increase in blood pressure.
Special instructions
Patients who accept high doses of drug have to be under observation, in connection with possible emergence of cardiovascular and neurologic by-effects (hypertensia, arrhythmia, heartbeat, headaches, dizziness, drowsiness or insomnia).
Pregnancy and the period of a lactation
Are not present enough data on use of drug for pregnant women and the nursing women therefore it should be applied with care and only when the expected advantage of its use exceeds potential risk.
Features of influence of medicine on ability to run the vehicle or potentially dangerous mechanisms.
Sanorin does not affect control of vehicles and activity which demands the increased concentration of attention.
Overdose
Symptoms: irritability, the increased perspiration, weakness, tachycardia, increase in blood pressure. Further emergence of drowsiness, decrease in body temperature, bradycardia is possible.
Treatment: symptomatic. Specific antidote is absent.
A form of release and packing
On 10 ml in bottles from white polyethylene of high density complete with the mechanical dosing spray and a protective cap.
On 1 bottle together with the instruction for use in the state and Russian languages place in a cardboard box.
To Store storage conditions at a temperature not above 25ºС, in the place protected from light.
Not to freeze!
To store out of children's reach!
A period of storage
4 years
After packing opening – no more than 28 days.
Not to apply after an expiration date.
Prescription status
Without prescription
Tev's Producer the Czech Enterprises of neuter of the lake,
Ostravsk 29747 70 Opava Mosquitoes,
the Czech Republic
the Name and the country of the owner of the registration certificate
Teva the Czech Enterprises of neuter of the lake, the Czech Republic
the Address of the organization accepting in the territory of the Republic of Kazakhstan claims from consumers on quality of products (goods): Representative office Teva Chesh Indastriyez of neuter of the lake in PK050000 Republic of Kazakhstan Almaty, Al-Farabi Avenue 13, Biness Nurla Tau's center 1v office 305, 306 Phone number, fax (727) 311-10-66, 311-10-68 E-mail of teva@teva.co.il
Additional information