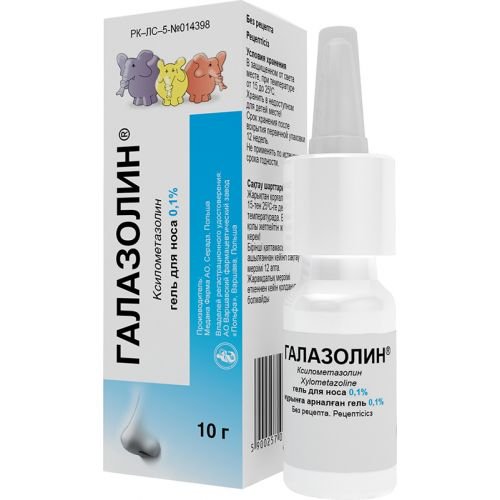 Galazolin 0.1% 10g gel is called.
Description
The instruction for medical use of HALAZOLINUM medicine
the Trade
name Halazolinum International Unlicensed Name Xylomethazolinum Dosage Form
Gel for a nose of 0.05% and 0.1%
Structure
One gram of gel contains
active agent: xylomethazolinum of a hydrochloride of 0.5 mg or 1.0 mg
auxiliary substances: sodium hydrofosfata dodecahydrate, dihydrophosphate sodium monohydrate, sodium chloride, dinatrium edetat, solution a chloride benzalkoniya, sorbitol, hydroxyethylcellulose, glycerin, the water purified.
Description
Colourless or almost colourless, transparent or weak and opalescent dense liquid.
Pharmacotherapeutic group
of Antikongestanta and other nasal drugs for topical administration. Sympathomimetics. Xylomethazolinum.
The ATX R01AA07 code
the Pharmacological
Pharmacokinetics Action properties of drug begins in 5-10 min. after use and proceeds during 5-6 h, the spasm of blood vessels remains up to 8-12 h. At topical administration in the recommended doses drug is practically not soaked up and has no systemic action.
The pharmacodynamics
Xylomethazolinum – derivative imidazoline, possessing simpatikomi-metichesky action, is direct agonist of alfa2-receptors. At topical administration, drug causes narrowing of blood vessels, reduces hypostasis and hyperaemia of mucous membranes of a nasopharynx owing to what nasal breath in rhinitises improves.
Indications
In complex therapy:
– acute rhinitis of virus or bacterial origin
– sharp or at exacerbation of chronic sinusitis
– allergic rhinitis
– acute average otitis (for reduction of hypostasis of a mucous membrane of an Eustachian tube and recovery of its passability)
the Route of administration and doses
Before each use of drug, it is necessary to remove a protective nozzle.
Before the first use of a new bottle after removal of a nozzle it is necessary to press the doser of 3-5 times – until emergence of drug (gel).
Gel for a nose of 0.05%
1 dose contains 0.05 mg of xylomethazolinum of a hydrochloride.
Children aged from 3 up to 12 years: to apply one dose of drug in each nasal course every 8-10 hours.
Gel for a nose of 0.1%
1 dose contains 0.1 mg of xylomethazolinum of a hydrochloride.
Adults and children are more senior than 12 years: to apply one dose of drug in each nasal course every 8-10 hours.
It is not necessary to use drug more than 3 times a day.
Without consultation of the doctor treatment no more than 3-5 days.
To use drug no more than 7 days.
Side effects
Seldom
– at frequent or prolonged use the irritation or dryness mucous a nose, an atrophy mucous a nose is possible, burning, sneezing, dependence, hypersecretion, chronic rhinitis
– allergic reactions (short wind, a Quincke's edema)
Very seldom system reactions
– nausea, a headache, weakness, exhaustion, drowsiness
– a disorder of vision
– tachycardia, increase in arterial blood pressure (especially at persons with diseases of a cardiovascular system)
Contraindications
– hypersensitivity to drug components
– closed-angle glaucoma
– children's age up to 3 years (for gel of 0.05%)
– children's age up to 12 years (for gel of 0.1%)
– a state after hypophysectomy
– surgical interventions on a brain meninx (in the anamnesis)
– atrophic rhinitis
Medicinal interactions
Because medicine in the minimum quantity gets to a system blood stream, is improbable its interaction with other applied means.
It is incompatible with MAO inhibitors and tricyclic antidepressants (increase in the ABP is noted).
The special
instructions Bottle with gel it is intended for individual use, it is not necessary to transfer him for use to other persons for prevention of possible spread of an infection.
Drug should not be used for a long time, in chronic or vasomotorial rhinitis.
With care to apply at patients with a hyperthyroidism, diabetes, arterial hypertension, stenocardia, a prostatauxe, a pheochromocytoma.
It is not necessary to use drug along with MAO inhibitors and tricyclic antidepressive means.
Prolonged use of drug (over 2 weeks) can lead to secondary expansion of blood vessels and emergence of rhinitis medicamentosa. Slowing down of release of noradrenaline from nerve terminations, by excitement of presynaptic alfa2-receptors is the reason of this disease.
Pregnancy and a lactation
Drug can be used during pregnancy only if the advantage for mother prevails over potential risk for a fruit.
There are no data concerning xylomethazolinum discharge with milk of the nursing mother. However it is necessary to be careful, using drug in the period of a lactation.
Features of influence of drug on ability to run the vehicle or potentially dangerous mechanisms
Drug does not affect ability of control of vehicles and work with moving mechanisms.
The overdose
in case of overdose or accidental oral administration of drug, especially children, can be observed excessive block, a visual disturbance, headaches, nervousness, disturbance of a warm rhythm, insomnia.
In case of overdose of drug it is necessary to contact the doctor.
Treatment: symptomatic.
A form of release and packing
On 10 g in polyethylene bottles with the pump doser. On 1 bottle together with the instruction for medical use in the state and Russian languages place in a pack from cardboard.
Storage conditions
In the place protected from light, at a temperature from 15 to 25 Pages.
To store out of children's reach!
A period of storage
3 years
the Period of storage after opening of primary packing of 12 weeks.
Not to apply after an expiration date.
Prescription status
Without prescription
the Producer
of Medan JSC Pharm,
V. Loketk St. 10, 98-200 Seradz, Poland
the Owner of the registration certificate
of JSC Varshavsky the pharmaceutical plant Polfa,
Karolkov St. 22/24, 01-207 Warsaw, Poland
the Address of the organization accepting in the territory of the Republic of Kazakhstan claims from consumers on quality of products (goods)
of JSC Khimpharm,
REPUBLIC OF KAZAKHSTAN, Shymkent, Rashidov St., 81,
Phone number 7252 (561342)
Fax number 7252 (561342)
the E-mail address of infomed@santo.kz
Additional information