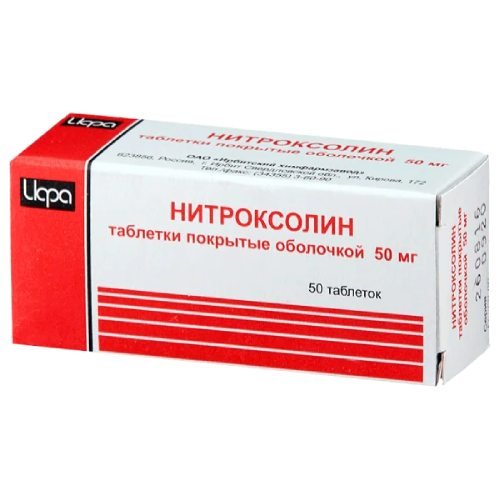 NITROXOLINE 50 mg, 50 coated tablets
Description
One tablet contains
Active ingredient: Nitroxoline 50 mg,
Excipients:
Core: milk sugar (lactose), potato starch, aerosil, talc, calcium stearate,
Shell: granulated sugar, basic magnesium carbonate, polyvinylpyrrolidone, aerosil, talc, titanium dioxide pigment (E171), tropeolin 0 (E103), acid red 2C (carmoisine, azorubine) (E122), beeswax.
Pharmacological properties
Pharmacokinetics
After oral administration, nitroxoline is well and rapidly absorbed from the gastrointestinal tract. The maximum concentration (Cmax) in plasma is reached 1.5-2 hours after ingestion. The half-life (T1 / 2) is approximately 2 hours.
It is excreted mainly by the kidneys in unchanged form, while high concentrations are formed in the urine (100 μg / ml and above).
Pharmacodynamics
Nitroxoline has a bacteriostatic effect due to selective inhibition of the synthesis of bacterial deoxyribonucleic acid (DNA). Able to damage the cytoplasmic membrane and reduce the adhesion of uropathogenic strains to urinary tract epithelial cells.
Nitroxoline acts on both gram-positive and gram-negative microorganisms: Staphylococcus spp., Streptococcus spp., Enterococcus faecalis, Corynebacterium diphtheriae, Bacillus subtilis, Escherichia coli, Neisseria gonorrhoeae, Proteus spp., Klebsiella spp., Salmonella spp., Enterobacter spp. .
Active against Mycobacterium tuberculosis, Trichomonas vaginalis, certain types of fungi (Candida spp., dermatophytes, molds and some pathogens of deep mycoses).
Indications for use
Urethritis
Cystitis
Pyelonephritis
Epididymitis
Infected prostate adenoma
Prevention of recurrent urinary tract infections
Dosage and administration
The drug is taken orally during or after a meal.
The tablets are swallowed whole, without chewing, with the necessary amount of water.
The duration of the course of treatment and the dose of the drug is determined by the attending physician individually for each patient.
Adults are usually prescribed 100-200 mg (2-4 tablets) of the drug 4 times a day. Daily dose for adults: 400 mg (2 tablets 4 times a day). In severe cases, the daily dose can be increased to 600-800 mg. The highest daily dose for adults is 800 mg.
The course of treatment is 2-3 weeks.
In chronic urinary tract infections, nitroxoline can be prescribed in repeated courses for 2 weeks with a two-week break.
Possible side effects
Often:
– dyspeptic reactions (nausea, vomiting, loss of appetite)
Rarely:
– skin allergic reactions
– decrease in serum uric acid and aminotransferases
Very rarely:
– tachycardia
– allergic thrombocytopenia
– intense yellow coloration of urine
– ataxia, paresthesia
– polyneuropathy
– headache
– liver dysfunction
Contraindications
– hypersensitivity to nitroxoline or any other components of the drug
– hypersensitivity to quinoline drugs
– severe liver failure
– severe renal failure (oligo-, anuria)
– neuritis, polyneuritis
– cataract
– deficiency of glucose-6-phosphate dehydrogenase
– pregnancy and lactation
– children and adolescents up to 18 years of age
Drug Interactions
With the combined use of nitroxoline with drugs of the tetracycline group, the summation of the effects of each drug is observed, with nystatin and levorin – potentiation of the action. It is impossible to combine nitroxoline with nitrofurans in order to avoid the summation of a negative neurotropic effect.
Special instructions
It should be used with caution in renal failure (under the control of the functional state of the kidneys) due to the possible cumulation of the drug.
During treatment, it is possible to stain the urine in a saffron-yellow color.
Features of the effect of the drug on the ability to drive a vehicle or potentially dangerous mechanisms
There are no data on the effect on the ability to drive a vehicle or potentially dangerous mechanisms.
Overdose
Symptoms: with prolonged use of the drug, toxic peripheral neuritis, myelopathy, and damage to the optic nerve may develop. The phenomena of possible cumulation are expressed in nausea, vomiting, general weakness.
Treatment: when the drug is discontinued, all phenomena usually disappear.
Storage conditions
Store in a dry, dark place at a temperature of 15 to 25°C.
Keep out of the reach of children!
Shelf life – 4 years
Do not use after the expiration date.
Additional information