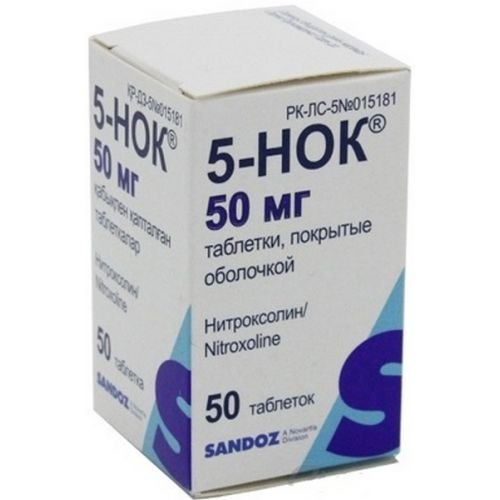 5-NOC (Nitroxoline) 50 mg, 50 coated tablets
Out of stock
Description
One tablet contains
Active ingredient –

 nitroxoline 50 mg,

Excipients:

 calcium hydrogen phosphate dihydrate, lactose monohydrate, corn starch, anhydrous colloidal silicon dioxide, povidone, talc, crospovidone, magnesium stearate,
Pharmacological properties
Pharmacokinetics
Nitroxoline is well and rapidly absorbed from the small intestine after oral administration. The highest serum concentrations after an oral dose of 200 mg are 4.0-4.7 mg / l and are observed after 1.5-2.0 hours.
The half-life is approximately 2 hours.
Nitroxoline is metabolized in the liver, where conjugates with glucuronic and sulfuric acids are formed.
It is excreted in the urine, mainly in the form of conjugates with glucuronic acid (55-60%) through glomerular filtration, some of it is excreted in the bile. Only 5% is excreted in the urine in unconjugated active form.
Pharmacodynamics
Nitroxoline is a synthetic uroantiseptic agent. Through the formation of chelate bonds, it blocks the activity of metalloenzymes by binding to metal ions of enzymes necessary for the reproduction of microorganisms. The result of this interaction is the bacteriostatic, bactericidal and fungistatic effects of the drug.
The spectrum of its antimicrobial and antifungal activity includes most of the microorganisms that cause urinary tract infections. The following microorganisms are sensitive to nitroxoline: Escherichia coli, Ureaplasma urealyticum, Mycoplasma hominis, Candida spp., Torulopsis spp.
Intermittent sensitivity to nitroxoline is possessed by: Proteus spp. , Staphylococcus spp.
Resistant to nitroxoline: Pseudomonas spp. , Providencia spp. , Klebsiella spp., Enterobacter spp. , Serratia spp. , anaerobic bacteria.
Sensitivity to nitroxoline has also been established for Streptococcus spp., Corynebacterium diphteriae , Enteroccocus spp., Salmonella spp., Shigella spp., Neisseria gonorrhoeae .
Indications for use
– acute, chronic and recurrent urinary tract infections of moderate severity caused by gram-positive and gram-negative bacteria and fungi sensitive to nitroxoline
– prevention of recurrent urinary tract infections
Dosage and administration
The daily dose of the drug is 400-800 mg, divided into 4 equal doses. The usual daily dose for adults is 400 mg. The drug is recommended to take 2 tablets per day before meals. If necessary, therapy is continued continuously or intermittently (for two weeks per month).
In severe cases, the dose can be doubled; however, it should not exceed 200 mg 4 times a day.
The duration of the course of treatment and the dose of the drug is determined by the attending physician individually for each patient. Patients can take the drug for a long time within one month. In the case of chronic diseases, after a short break, treatment can be continued periodically.
Elderly patients
There is no need for dose adjustment.
Patients with impaired renal function
With a general impairment of kidney function (creatinine clearance above 0.33 ml / s), the usual dose should be divided in half (1 tablet 4 times a day).
Patients with impaired liver function
The usual daily dose should be divided in half.
Side effects
Rarely
  – allergic reactions in the form of a skin rash
  – decrease in serum uric acid and aminotransferases
Very rarely
  – allergic thrombocytopenia
  – tachycardia
  – headache
  – paresthesia
  – polyneuropathy
unknown
  – nausea, vomiting
  – intense yellow coloration of urine
Contraindications
– hypersensitivity to the active substance or any of the excipients
– hypersensitivity to quinolines
– cataract
– severe renal failure (creatinine clearance below 0.33 ml/min)
– severe liver failure
– pregnancy and lactation
– children and adolescents up to 18 years of age
– hereditary fructose intolerance, malabsorption of glucose-galactose (due to the content of sucrose and lactose monohydrate), sucrase-isomaltase deficiency (due to the content of sucrose), deficiency of the Lapp-lactase enzyme, hereditary galactose intolerance, total lactase deficiency (due to the content lactose monohydrate)
Drug Interactions
5-NOK® should not be administered simultaneously with drugs containing hydroxyquinolines or their derivatives.
Special instructions
Caution must be exercised in patients with impaired renal function due to the possible accumulation of the drug.
With prolonged or repeated treatment with high doses of halogen derivatives of hydroxyquinoline, cases of development of peripheral neuritis and damage to the optic nerve have been described. Particular attention should be paid to patients with cataracts, with severe impairment of kidney and liver function.
5-HOK® coated tablets contain an orange dye (E 110, Al-lake), which can cause allergic-type reactions, including bronchial asthma. Allergic reactions are more common in people with hypersensitivity to acetylsalicylic acid.
Features of the effect of the drug on the ability to drive a vehicle and potentially dangerous mechanisms
There are no data on the effect on the ability to drive a car or potentially dangerous mechanisms.
Overdose
There are no data on overdose or clinical signs of 5-NOC® poisoning.
In case of overdose, treatment is symptomatic.
Storage conditions
Store at a temperature not exceeding 25 °C.
Keep out of the reach of children!
Shelf life – 5 years
Do not use after the expiration date.
Additional information