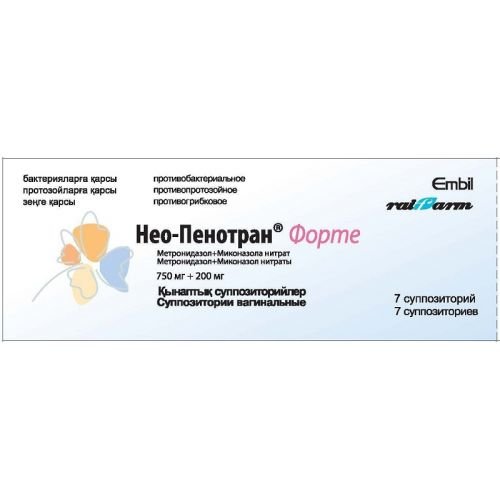 Neo-Penotran® Forte (Metronidazole + Miconazole) 7 Vaginal Suppositories
Description
Composition
One suppository contains active ingredients: metronidazole 0.750 g, miconazole nitrate 0.200 g,
excipient – witepsol S 55 – 1.550 g
Indications for use
– vaginal candidiasis
– bacterial vaginosis (also called nonspecific or gardnerella vaginitis or anaerobic vaginosis)
– Trichomonas vaginitis
– vaginitis caused by mixed infections
Method of administration and dosage
Inject 1 suppository deep into the vagina for 7 days at night.
For recurrent vaginitis or vaginitis resistant to other treatments, Neo-Penotran® Forte should be used within 14 days.
Suppositories should be inserted deep into the vagina using the disposable fingertips that are included in the package.
Elderly patients (over 65 years of age): Same recommendations as for younger adult patients.
Side effects
rarely
– allergic reactions (skin rash)
– headache
– stomach ache
– irritation, burning and itching in the vagina
very rarely:
– leukopenia
– fatigue, dizziness, psycho-emotional disorders
– movement disorders (ataxia), peripheral neuropathy (with prolonged use of the drug and overdose), convulsions
– loss of appetite, change in taste, metallic taste in vort, dry mouth, nausea, vomiting, constipation, diarrhea, abdominal cramps
Contraindications
– hypersensitivity to drug components
– I trimester of pregnancy
– porphyria
– epilepsy
– serious liver dysfunction
Drug interactions
Due to the absorption of metronidazole, the following interactions are possible.
Possible interaction of metronidazole with alcohol can cause disulfiram-like reactions.
When metronidazole interacts with oral anticoagulants, the anticoagulant effect is enhanced.
When metronidazole interacts with phenytoin, the level of phenytoin in the blood increases and the level of metronidazole in the blood decreases.
The interaction of phenobarbital with metronidazole lowers the level of metronidazole in blood plasma.
When metronidazole interacts with disulfiram, side effects from the central nervous system (psychotic reactions) are possible.
The interaction of cimetidine with metronidazole may increase the level of metronidazole in the blood and increase the risk of developing neurological side effects.
When lithium interacts with metronidazole, an increase in the toxicity of lithium may be observed.
Metronidazole and miconazole inhibit the metabolism of astemizole and terfenadine and increase their plasma concentration.
It is possible to change the results when determining the level of liver enzymes, glucose (hexokinase method), theophylline and procainamide in the blood.
Special instructions
Cannot be taken internally.
For intravaginal use only.
Patients should be warned against alcohol intake during treatment and at least 24-48 hours after the end of the course of treatment due to possible disulfiram-like reactions.
Caution should be exercised when using suppositories simultaneously with contraceptive diaphragms and condoms due to the possible interaction of rubber with the suppository base.
Irritation, burning and itching in the vagina occur with a frequency of 2-6% (due to the action of miconazole nitrate, as with intravaginal administration any other derivative-based antifungal drugs imidazole). In case of severe irritation of the vaginal mucosa, treatment should be discontinued.
Systemic side effects are very rare, since the level of metronidazole in plasma is very low during vaginal absorption (2-12% of the level, which is determined by oral administration).
Preclinical data indicate no risk to humans, based on the results of standard safety studies, pharmacology, repeated dose toxicity, genotoxicity, carcinogenic potential, toxicity to the reproductive system.
Application in pediatrics
Not recommended for children and adolescents under 18 years of age due to insufficient data on the use in this age group.
Pregnancy and lactation
After the first trimester, suppositories Neo-Penotran® Fortemno can be used only under strict medical indications and under close medical supervision. During treatment, breastfeeding should be discontinued, since metronidazole passes into breast milk. Breastfeeding can be resumed 24-48 hours after the end of the course.
Features of the influence of the drug on the ability to drive vehicles and potentially dangerous mechanisms.
The use of the drug does not affect the ability to drive vehicles and potentially dangerous mechanisms.
Overdose
There are no data on overdose with intravaginal administration of metronidazole. After the introduction into the vagina, metronidazole can be absorbed in quantities sufficient to cause systemic effects.
Symptoms: nausea, vomiting, abdominal pain, diarrhea, itching, decreased appetite, metallic taste in the mouth, sore throat and oral cavity, motor disorders (ataxia), dizziness, headache, paresthesias, and convulsions, leukopenia, dark urine.
Treatment: in case of accidental ingestion of large doses of the substance, gastric lavage can be performed if necessary. An improvement in the condition can be achieved in persons who have taken orally up to 12 g of metronidazole. There is no specific antidote. Symptomatic and supportive therapy is recommended.
Storage conditions
Store at temperatures below 25 ° C.
Storage in a refrigerator (2-8 ° C) is allowed. Do not freeze.
Keep out of the reach of children!
Shelf life – 2 years
Do not use after the expiration date.