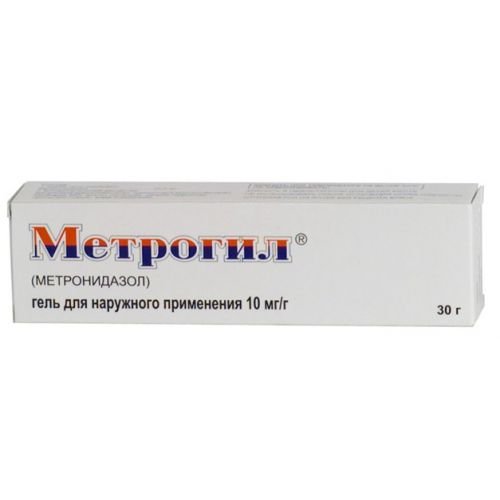 Description
The instruction for medical use
of Metrogil® medicine
the Trade name
of Metrogil®
the International unlicensed
name Metronidazole Dosage Form Gel for external use of 10 mg/g 30 g
Structure
of 1 g of gel contains
active agent – metronidazole of 10.0 mg
excipients: methylparahydroxybenzoate, propyl-parahydroxybenzoate, carbomer 940, propylene glycol, dinatrium edetat, sodium hydroxide, water purified.
The description
Uniform gel from colourless till yellow color
Pharmacotherapeutic group
Antimicrobial drugs for topical administration.
The code of automatic telephone exchange D06BX01
the Pharmacological
Metronidazole properties – synthetic antimicrobial and antiprotozoan broad-spectrum agent from group of imidazoles.
Pharmacokinetics
Absorption minimum, after external use of gel in blood serum only trace amounts of drug are found. The soaked-up metronidazole passes through a placenta and a blood-brain barrier.
The maximum concentration in blood plasma – up to 66 ng/ml (when drawing 1 g of the gel equivalent to 7.5 mg of metronidazole).
The pharmacodynamics
At topical administration of Metrogil® gel has antiacne effect. It is active concerning anaerobe bacterias (Bacteroides spp., Fusobacterium spp., Mobiluncus spp., Peptococcus spp., Peptostreptococcus spp., Clostridium, Eubacterium, Bacteroides fragilis, Prevotella) and protozoa (Trichomonas vaginalis, Giardia intestinalis, Entamoeba histolytica, Lamblia intestinalis).
Метрогил® gel for external use has antioxidant activity. Reduces products neutrophils of active oxygen, hydroxyl radicals and hydrogen peroxide which are the potential oxidizers capable to cause damage of fabrics to the place of inflammation. Метрогил® gel for external use is inefficient concerning the telangiectasias noted at pink eels.
Indications
– pink eels (including, pink eels after use of corticosteroid drugs)
– vulgar acne rash
– an oily seborrhea, seborrheal dermatitis
– trophic ulcers of the lower extremities (against the background of a varicosity, diabetes)
– badly healing wounds
– decubituses
– hemorrhoids, anal fissures
the Route of administration and doses
Outwardly. Метрогил® gel is applied on previously cleaned affected areas of skin with a thin layer by 2 times a day, in the morning and in the evening, within 3-9 weeks. If necessary apply an occlusive bandage. The average duration of treatment is 3-4 months, the therapeutic effect is noted after 3 weeks of treatment.
Side effects
At topical administration of Metrogila® of gel for external use concentration of metronidazole in blood plasma very low therefore risk of development of system side effects is small:
Seldom
– allergic reactions (urticaria, skin rash)
– hyperaemia, peeling, light dryness and burning of skin
– dacryagogue (when putting gel it is close to eyes).
Contraindications
– hypersensitivity to drug components.
Medicinal interactions
At topical administration of Metrogil® of gel for external use the interaction with other medicines is insignificant.
It is necessary to be careful at co-administration with warfarin and other indirect anticoagulants (increase a prothrombin time).
Special instructions
Only for external use!
To avoid hit in eyes! In case of hit of gel in eyes – immediately to wash out a large amount of water.
Pregnancy and a lactation
With care to apply during pregnancy (I trimester). When prescribing drug during a lactation it is necessary to stop breastfeeding.
Features of influence of medicine on ability to run vehicles or potentially dangerous mechanisms.
Drug does not affect ability to run vehicles or to serve potentially dangerous mechanisms.
The overdose
At external use in the recommended doses overdose is not revealed.
A release form
On 30 g of drug in the aluminum or plastic laminated tuba with the screwing-up cap.
On 1 tuba together with the instruction for medical use in the state and Russian languages place in a cardboard pack.
To Store storage conditions at a temperature not above 30 °C. Not to freeze.
To store out of children's reach!
3 years
not to use a period of storage after the expiry date specified on packing.
Prescription status
Without prescription
Additional information