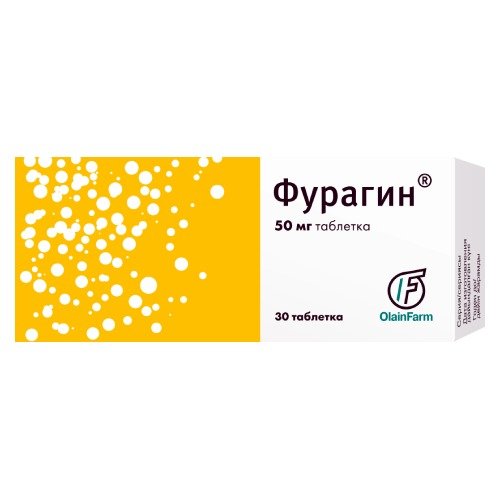 FURAGIN (Furazidine) 50 mg, 30 tablets
Description
One tablet contains the active substance – furagin 50 mg
Indications for use
– acute and chronic urinary tract infections (pyelonephritis, cystitis, urethritis) and prostate gland (prostatitis);
– postoperative infections of the genitourinary system (postoperative pyelonephritis, cystitis, prostatitis).
Dosage and administration
Furagin® tablets are taken orally after meals with plenty of water.
Adults are prescribed 100-200 mg 2-3 times a day. The course of treatment is 7-10 days and depends on the severity of the disease, as well as on the functional state of the kidneys. If necessary, the course of treatment is repeated after 10-15 days.
Children over 6 years: 5-8 mg / kg of body weight per day, dividing the daily dose into 3-4 single doses, for 7-8 days, in some cases, when urine tests are normalized for anti-relapse therapy, they switch to a dose of 1/2 – 1/3 of the maximum dose for 3-4 weeks.
Side effects
Sometimes
– loss of appetite, nausea;
– vomiting, diarrhea;
– dizziness, drowsiness, blurred vision;
– fever.
Rarely
– polyneuropathy;
– papular rash, itching, urticaria, transient alopecia.
VERY Rarely
– shortness of breath, rapid breathing, cough without or with sputum;
– pancreatitis;
– other: fever, weakness, acute or chronic pulmonary reactions;
– angioedema, exfoliative dermatitis, Erythemamultiforme;
– agranulocytosis, thrombocytopenia, aplastic anemia;
– arthralgia.
In some cases
– cholestatic jaundice, hepatitis, liver dysfunction
– disorders of the cardiovascular system: mild degree of intracranial hypertension;
– increased body temperature, weakness.
If side effects develop, reduce the dose or stop taking the drug. Side effects are reduced if the drug is taken after meals, drinking plenty of fluids.
Furagin can color urine brown.
Contraindications
– hypersensitivity to furagin, to drugs of the nitrofuran group or to excipients of the drug;
– severe renal failure (renal clearance less than 30 ml / min);
– liver diseases;
– polyneuropathy (including diabetic);
– deficiency of the enzyme glucose-6-phosphate dehydrogenase (risk of hemolysis);
– pregnancy and lactation;
– children under the age of 6 years.
Drug Interactions
Means that alkalize the urine (for example, sodium bicarbonate) reduce the therapeutic effect of furagin (accelerate the excretion of furagin in the urine). Means that acidify urine (acids, including ascorbic acid, as well as calcium chloride), increase the concentration of furagin in the urine (its excretion with urine slows down), thus increasing the therapeutic effect of the drug, but at the same time increasing the risk of developing toxic effects.
Aminoglycoside antibiotics and tetracycline enhance the antibacterial effect of furagin. In combination with chloramphenicol and ristomycin, the risk of hemotoxic events increases.
Antagonism of action with nalidixic acid (weakens the bacteriostatic effect of furagin).
With the simultaneous use of furagin and uricosuric agents (probenecid, sulfinpyrazone), the excretion of furagin in the urine decreases, which leads to cumulation of furagin and the possibility of developing toxic effects.
With the simultaneous use of furagin and antacids containing magnesium trisilicate, the absorption of furagin decreases.
Atropine slows down the absorption of furagin, but the total amount of absorbed drug does not change.
Special instructions
Precautionary measures
Caution should be observed in patients with impaired renal function, with anemia, deficiency of B vitamins and folic acid, with lung diseases (in patients over 65 years of age). With prolonged use of furagin inside, neuritis may develop. In the case of long-term therapy, lung and liver function should be monitored, especially in patients over 65 years of age. With caution, furagin should be used in patients with diabetes mellitus, tk. the drug may contribute to the development of polyneuropathy.
A laboratory study of patients taking furagin may give a false-positive reaction for the presence of glucose in the urine if the copper reduction method is used for determination. Furagin has no effect on the results of determining glucose in the urine, performed by the enzymatic method. In the case of long-term use of furagin, the number of leukocytes in the blood, as well as indicators of liver and kidney function, should be periodically monitored to avoid the development of undesirable side effects.
Use is contraindicated in persons with hereditary fructose intolerance, deficiency of the Lapp-lactase enzyme, malabsorption of glucose-galactose.
Overdose
Toxic effects are possible in patients with impaired renal function.
Symptoms: headache, dizziness, depression, peripheral polyneuritis, allergic reactions (urticaria, angioedema, bronchospasm), nausea, vomiting, hemolytic anemia (in persons with glucose-6-phosphate dehydrogenase deficiency), megaloblastic anemia.
Treatment: gastric lavage, intravenous infusion solution (0.9% sodium chloride solution). Providing symptomatic and supportive therapy. In severe cases, hemodialysis is indicated. The specific antidote is not known.
Storage conditions
Store in a dry, dark place at a temperature not exceeding 25 °C.
Keep out of the reach of children.
Shelf life 5 years.
The drug should not be used after the expiration date.
Additional information