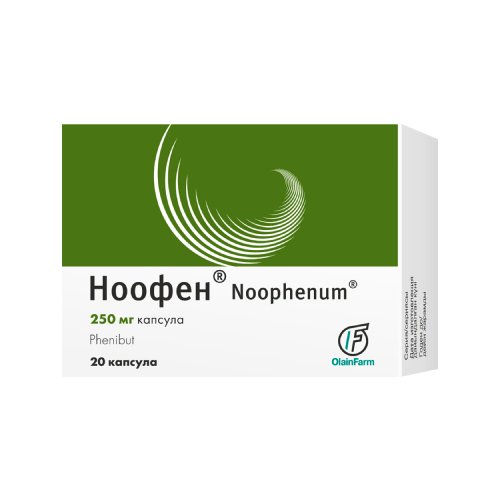 Noofen® (Phenibut) 250 mg/500 mg
$51.00-$53.00
Description
Noophenum reduces tension, anxiety, fear and improves sleep, therefore it is used to treat neuroses and before surgery. Noofen lengthens and enhances the effect of hypnotics, general anesthetics, antipsychotics and antiparkinsonian drugs.
Structure
One capsule contains active ingredient – Phenibut (g-amino-b-phenylbutyric acid hydrochloride) 250 mg / 500 mg
Indications for use
– asthenic and anxious-neurotic states: anxiety, fear, anxiety; obsessive-compulsive disorder, psychopathy
– insomnia, night anxiety in the elderly
– treatment of stuttering, enuresis, tics in children
– prevention of stressful conditions, before surgery or painful diagnostic tests
– as an aid during the treatment of alcoholism for the relief of psychopathological and somatovegetative disorders in withdrawal syndrome
– in combination with conventional detoxifying agents for the treatment of alcoholic predilirious and delirious conditions
– Meniere's disease, dizziness associated with dysfunction of the vestibular apparatus
– for the prevention of motion sickness
Method of administration and dosage
Inside with water. The capsule must not be chewed.
Adults are prescribed 250-500 mg 3 times a day. Higher single doses: for adults – 750 mg, for persons over 60 years old – 500 mg. The course of treatment is 2-3 weeks. If necessary, the course can be extended to 4-6 weeks.
Children from 11 to 14 years old – 250 mg 2-3 times a day. Children over 14 years of age – adult doses.
Noofen can be combined with other psychotropic drugs that increase its effectiveness, in which case you can increase the dose of Noofen and other drugs that are used simultaneously.
To relieve alcohol withdrawal symptoms in the first days of treatment, take 250-500 mg 3 times during the day and 750 mg at night, with a gradual decrease in the daily dose to the usual one.
To relieve dizziness with dysfunction of the vestibular analyzer of infectious origin (otogenic labyrinthitis) and Meniere's disease during an exacerbation, 750 mg is prescribed 3-4 times a day for 5-7 days. With a decrease in the severity of vestibular disorders – 250-500 mg of the drug 3 times a day for 5-7 days and then – 250 mg 1 time a day for 5 days. With a relatively mild course of the disease, take 250 mg 2 times a day for 5-7 days, then 250 mg 1 time a day for 7-10 days.
For the treatment of dizziness with dysfunctions of the vestibular analyzer of vascular and traumatic genesis, 250 mg is prescribed 3 times a day for 12 days.
For the prevention of motion sickness in sea navigation, 250-500 mg is prescribed once one hour before the expected start of rolling or when the first symptoms of seasickness appear. The anti-pumping effect of Noofen increases with an increase in the dose of the drug. With the onset of severe manifestations of seasickness (vomiting, etc.), taking the drug is ineffective even in doses of 750-1000 mg.
For the prevention of air sickness, a single dose of 250-500 mg is prescribed one hour before the flight.
If you missed an appointment, take the drug as soon as you remember, but skip it if it is almost time for your next appointment. Never take double doses.
Side effect
Noofen is generally well tolerated.
– drowsiness, nausea, increased irritability, agitation, anxiety, headache, dizziness (after the first doses)
– allergic reactions (skin rash, itching) sometimes
– hepatotoxicity (with prolonged use of high doses)
If you experience any side effects that are not listed in this manual, or any of the mentioned side effects are particularly pronounced, please consult a doctor.
Contraindications
Hypersensitivity to the active substance or excipients of the drug
Acute renal failure.
Children's age up to 11 years (for this dosage form)
Pregnancy and lactation
Noofen interactions
It lengthens and enhances the action of hypnotics, narcotic analgesics, antiepileptic and antiparkinsonian drugs, tranquilizers and neuroleptics.
Special instructions
Caution should be exercised in patients with erosive and ulcerative diseases of the gastrointestinal tract due to the irritating effect of the drug. These patients are prescribed smaller doses of the drug. With prolonged use, it is necessary to monitor the indicators of liver function and the peripheral blood picture.
Features of the effect of the drug on the ability to drive a vehicle or potentially dangerous mechanisms
Patients who have drowsiness, dizziness or other disorders of the central nervous system should not drive vehicles or operate machinery during treatment.
Overdose
Noofen is a low-toxic drug, only in a daily dose of 7-14 g with prolonged use it can be hepatotoxic.
The indicated doses significantly exceed the recommended dose (the average therapeutic dose is 500 – 2500 mg). Eosinophilia and fatty degeneration of the liver were observed only at the highest dose used. When using the drug in lower doses, there were no such changes.
Symptoms: drowsiness, nausea, vomiting, eosinophilia, decreased blood pressure.
Treatment: gastric lavage. Therapy is symptomatic.
Storage conditions
Store in a dry, dark place at a temperature not exceeding 25 ° C.
Keep out of the reach of children!
Shelf life – 2 years
The drug should not be used after the expiration date indicated on the package.
Additional information