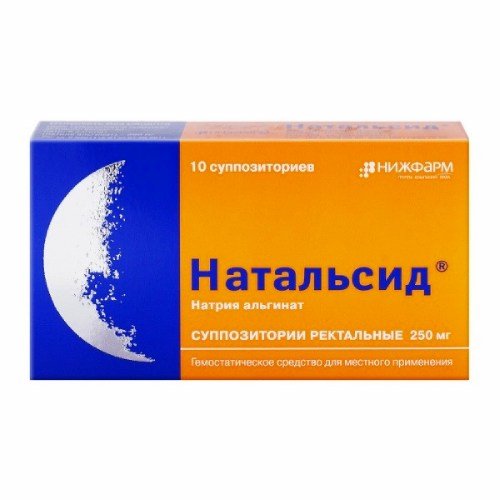 Natalsid® (Sodium Alginate) 250 mg x 10 Suppository
Description
Structure
1 suppository contains the active substance – sodium alginate, in terms of 100% dry matter, 250 mg
excipient: solid fat (witepsol (grades H 15, W 35), suppositor (grades NA 15, NAS 50)).
Indications for use
– chronic anal fissures in the epithelial stage
– chronic bleeding hemorrhoids
– proctosigmoiditis
– inflammation in the rectum in the postoperative period
Method of administration and dosage
Rectally. The suppository is injected into the rectum after spontaneous bowel movement or a cleansing enema, after moistening it with water. Adults and children over 14 years of age are prescribed 1 suppository 2 times a day. The duration of the course of treatment with Natalsid® is 7-14 days.
Side effects
– allergic reactions
Contraindications
– hypersensitivity to the components of the drug
– children under 14 years of age
Are there any other precautions or warnings for this medication?
Pregnancy and lactation
The drug is approved for use during pregnancy and lactation
Features of the effect of the drug on the ability to drive a vehicle or potentially dangerous mechanisms
Natalsid® does not affect the ability to drive a vehicle or potentially dangerous machinery.
Overdose
To date, no cases of overdose of Natalsid® have been reported.
Storage conditions
Store at a temperature not exceeding 25 ° C.
Keep out of the reach of children!
Shelf life – 3 years
Do not use the drug after the expiration date.
Additional information