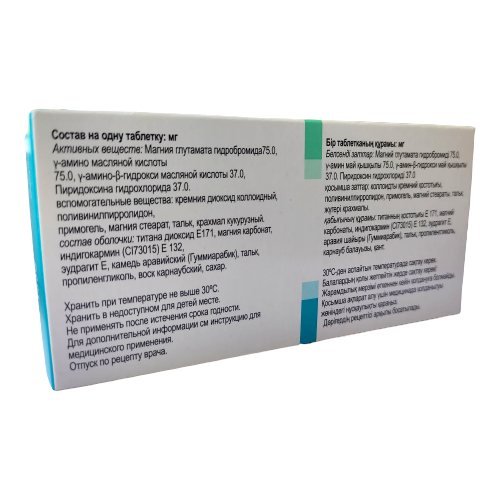 Gamalate® B6 (GB6) 60 coated tablets
Low stock!
We only have a few of this left,
Get it Now before it's compeletely gone!
Description
Gamalate® B6 Composition
One tablet contains active substances:
Magnesium Glutamate Hydrobromide (MGHB) – 75.0 mg,
Gamma-Aminobutyric Acid (GABA) – 75.0 mg,
Gamma-Amino Beta-Hydroxybutyric Acid (GABOB) – 37.0 mg,
Pyridoxine Hydrochloride (Vitamin B6)  – 37.0 mg,
Excipients: colloidal silicon dioxide, polyvinylpyrrolidone, primogel, magnesium stearate, talc, corn starch,
Shell composition: titanium dioxide (E171), magnesium carbonate, indigo carmine CI73015 (E132), eudragit E, gum arabic (gum arabic), talc propylene glycol, carnauba wax, sugar.
What is Gamalate® B6 used for?
It is prescribed as an adjuvant for functional asthenia with manifestations:
Stress, anxiety, depression
Complex therapy of psychosomatic diseases
Attention deficit hyperactivity disorder (ADHD) in children and teenagers
Memory and concentration disorders
Sleep disturbances
Irritability, emotional instability
Decreased academic performance among schoolchildren and students
After stroke and brain injuries to increase movement, restore coordination and improve cognitive function
List of information required prior to use
Gamalate® B6 Contraindications
Hypersensitivity to drug components
Pregnancy and lactation
Children and adolescents up to 18 years old
Necessary precautions for use
Due to the content of the dye Indigocarmine E132, it is not used in pediatric practice.
Features of the effect of the drug on the ability to drive a vehicle or potentially dangerous mechanisms
Care should be taken when driving vehicles or other potentially dangerous machinery.
How to use Gamalate® B6
Dosage regimen
Adults: inside, 2 tablets 2 – 3 times a day.
Method and route of administration
For oral administration
Frequency of application with indication of time of reception
3 times a day
Duration of treatment
The duration of the course of treatment is from 2 to 18 months.
Measures to be taken in case of overdose
Taking into account the low toxicity of the drug, the likelihood of poisoning is low, even if the therapeutic dose is accidentally exceeded.
Symptoms: Increased Side Effects
Treatment: Symptomatic
Recommendations for seeking advice from a healthcare professional to explain the method of using the medicinal product
Description of undesirable reactions that manifest themselves with the standard use of the drug and the measures to be taken in this case
– possible dyspeptic disorders
Storage conditions
Store at a temperature not exceeding 30 ° C. Keep out of the reach of children!
---
Scientific Studies
Additional information