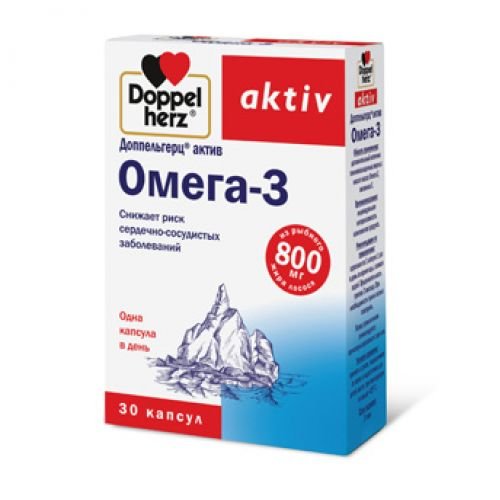 Doppelgerts Active Omega-3 (30 capsules)
Description
Доппельгерц® an asset the Omega – 3
Complex of high cleaning polyunsaturated Omega3 fatty acids (PNZhK) and vitamin E
the Sufficient physical activity and healthy food are important components of a healthy lifestyle. For health of heart the healthy nutrition limiting receipt in an organism of fats and cholesterol and consumption of necessary polyunsaturated fatty acids is especially important. Today it is known that polyunsaturated Omega-3 fatty acids are important components of healthy food for heart: they maintain balance between the content of cholesterol and triglycerides in a human body.
Доппельгерц® the asset the Omega-3 received from salmons — a natural source of polyunsaturated fatty acids. Other component of a complex — vitamin E — provides balance between the level of cholesterol and triglycerides of blood and reduces risk of developing cardiovascular diseases.
The complex of polyunsaturated Omega-3 fatty acids and vitamin E renders fortifying, antioxidant, gipolipidermichesky, membrane stabilizing, anti-modular, hypotensive, anti-inflammatory and immunocorrective action on a human body.
Indications:
Normalizes lipidic exchange and reduces cholesterol level, Protects cells and blood vessels from cholesterol deposits, Increases immunity of an organism, Normalizes cerebral circulation and improves work of a brain, Contains vitamin E for protection of cells against toxic influence of free radicals, Reduces risk of developing cardiovascular diseases and atherosclerosis. Instructions for patients with diabetes: 1 capsule corresponds to 8.3 kcal / 34.7 kJ and 0.01 grain units.
The capsule contains 800 mg of high cleaning fish Omega3 fat from a body of the Arctic salmon + vitamin E
Ingredients: 1 capsule contains: Active agents: fish fat from a body of the Arctic salmon — 800 mg (18% of eykozapentayenovy acid, 12% to – kozahexayenovy acid, the sum of PNZhK Omega-3 is not less than 30%), vitamin E — 16.22 mg. Excipients: glitserol, gelatin, purified water.
Packaging: 30 and 80 of capsules.
Route of administration and doses: the adult on 1 capsule a day at meal time, washing down with water.