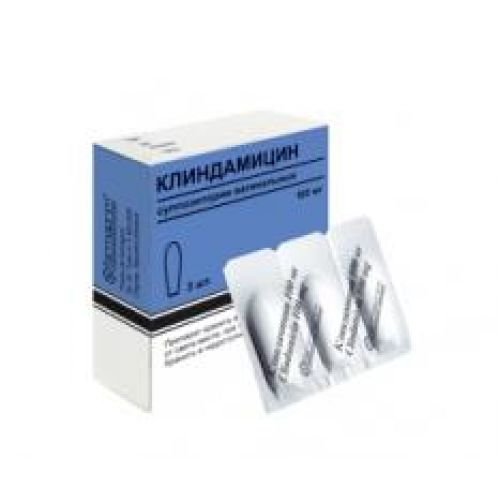 Clindamycin 100 mg vaginal suppositories 3's
Description
The instruction for use
of medicine for experts
CLINDAMYCIN
A trade name
Clindamycin
the International unlicensed
name Clindamycin Dosage Form
Suppositories vaginal 100 mg
Structure
One suppository contains active agent – clindamycin phosphate of 100 mg,
excipients semi-synthetic glycerides (weight estarinum, vitepsol or suppotsir) to 2.0 g.
Description
Suppositories of a tsilindrokonichesky form, color, white or white with a yellowish shade. On longitudinal section homogeneous mass, without impregnations. On a cut the existence of an air and porous core, and funneled deepening is allowed.
Pharmacotherapeutic group
of Antiseptics and antimicrobial drugs for treatment of gynecologic diseases.
The code of automatic telephone exchange G01AA10
the Pharmacological
Pharmacodynamics Possesses properties a broad spectrum of activity concerning a number of gram-positive cocci. In therapeutic doses renders bacteriostatic, and high doses – bactericidal action. It is active concerning stafilokokk (including St.epidermalis producing penicillinase), streptococci (excepting enterococci), pneumococci, anaerobic and mikroaerofilichesky gram-positive cocci (including peptokokk and peptostreptokokk), sticks of diphtheria, causative agents of gas gangrene and tetanus, mycoplasmas, bacteroids (including Bacterioides fragillis and Bacterioides melaningenicus), anaerobic gram-negative bacilli (including Fusobacterium), nomitset and clostridiums, the anaerobic gram-positive not forming spores of bacilli (including propionibakterium, eubakterium and actinomycetes). The majority of strains of Clostridium perfringens are sensitive to clindamycin, however, as other types of clostridiums (Clostridium sporogenes, Clostridium tertium) are resistant to effect of clindamycin, in the infections caused by clostridiums the definition of an antibiotikogramma is recommended.
The pharmacokinetics
At intravaginalny use of clindamycin system absorption makes about 5%. It is metabolized mainly in a liver by biotransformation. It is removed by kidneys and through intestines. Elimination half-life makes the 2-3rd, 10% of drug also about 4% are removed with urine – with a stake in not changed look. The main part is removed in the form of inactive metabolites. Slow excretion, within 7 days.
Indications
– gynecologic infections (infections of a neck of the uterus, an endometritis, an adnexitis, the abscesses of pipes and ovaries, a salpingitis, a pelviperitonitis) caused by microorganisms, sensitive to drug,
– infections of pelvic bodies and intraperitoneal infections (on condition of simultaneous use of the drugs active concerning gram-negative aerobic microbes).
The route of administration and
Intravaginalno's doses, enter whenever possible deeply into a vagina in a prone position. The adult on one suppository of 1 times a day, just before a dream within 3-7 days in a row.
Side effects
– abdominal pain, nausea, vomiting, diarrhea or a constipation, increase in activity in blood of hepatic transaminases, pseudomembranous colitis
– a leukopenia, a neutropenia, an eosinophilia, an agranulocytosis, thrombocytopenia
– allergic reactions
– a cervicitis, a vaginitis, vulvovaginal irritation.
Contraindications
– hypersensitivity
– a heavy liver and/or renal failure
– bronchial asthma
– ulcer colitis (in the anamnesis)
– a myasthenia
– pregnancy and the period of a lactation.
Medicinal interactions
are Strengthened (mutually) by effect of rifampicin, aminoglycosides of streptomycin, gentamycin, deepens the muscle relaxation caused by N-holinoblokatorami.
It is incompatible with erythromycin, ampicillin, diphenylhydantoin, barbiturates, Aminophyllinum, calcium a gluconate and magnesium sulfate.
Between clindamycin and lincomycin there is a cross stability.
The special
instructions Drug with care are appointed to elderly people.
It is not necessary to appoint clindamycin along with other intravaginalny means. For the period of treatment it is necessary to refrain from sex life.
Overdose
Due to the low system absorption the cases of overdose were not noted.
A form of release and packing
Suppositories vaginal 100 mg, on 3 suppositories in packing.
Storage conditions
In the dry, protected from light place, at a temperature from 15C to 25C. To store out of children's reach!
3 years not to use an expiration date after the term specified on packing.
Prescription status According to the prescription
FARMAPRIM SRL MD-2028 Producer,
Republic of Moldova, Chisinau, G. Tudor St., 3.
Additional information