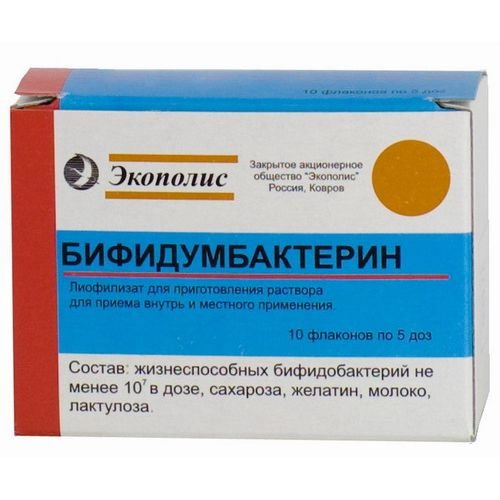 Bifidumbacterin 5 doses 10s for solution preparation lyophilizate for oral and topical use
Description
The instruction for medical use
of BIFIDUMBACTERIUM medicine
the Trade name
Bifidumbacterium
the International unlicensed name
Is not present
the Dosage form
Lyophilisate for preparation of suspension for oral and topical
administration
Structure
One dose contains
active agent – live bifidobacteria not less than 107 WHICH,
excipients: lactulose, sucrose, gelatin, powdered milk fat-free.
The description
Crystal or porous weight with possible stratification of biomass in an upper part, beige or whitish color, with a specific smell.
Pharmacotherapeutic group
Antidiarrheal drugs. Anti-diarrheal microorganisms.
The ATX A07FA code
the Pharmacological
Pharmacokinetics Drug properties is not soaked up from a GIT in blood and works locally.
The pharmacodynamics
Drug represents microbic weight live, antagonistic active bifidobacteria of strains of Bifidumbacterium bifidum No. 1, 791 liofilizirovainy in the environment of cultivation with addition of the protective sakharozo-zhelatozomolochny environment. Medicinal properties of bifidumbacterium define the live bifidobacteria which are contained in it having antagonistic activity concerning a wide range of pathogenic and uslovnopatogenny microorganisms. High quantitative level of bifidumbakteriya in drug allows to normalize intestinal microflora and by that to improve activity of digestive tract, exchange processes, pristenochny digestion, to increase nonspecific resistance of an organism.
Indications
– long intestinal dysfunctions of various etiology
– acute intestinal infections as a part of complex therapy
– dysfunction and an intestinal dysbiosis at newborns, including the premature children with the burdened premorbid background receiving antibiotics or milk from mothers who had heavy toxicosis with extragenital diseases had the long anhydrous period or other pathology, from mothers with laktostazy, nipple cracks or resumed feeding by a breast after mastitis
– at the weakened children with anemia, a hypotrophy, rickets, an allergy, whooping cough as a part of complex therapy
– intestinal dysfunction at early transfer of children of chest age to artificial feeding
– acute and chronic inflammatory diseases of a large and small intestine (colitis, a coloenteritis) against the background of dysbacteriosis
– an intestinal dysbiosis after treatment by antibiotics, streptocides, hormonal, radiation therapy
– prevention of mastitis at the nursing mothers of group of 'risk' (the woman with the pulled-in or flat nipple, decrease in an erection of a nipple, existence of cracks)
– inflammatory diseases of a female genital (bacterial colpitis, a senile colpitis of the hormonal nature)
– disturbance of purity of a vaginal secret to the III-IV degree at pregnant women
the Route of administration and doses
apply Bifidumbacterium in intestinal diseases inside, and in obstetric and gynecologic practice intravaginalno.
Contents of a bottle are dissolved boiled water of room temperature at the rate of 5 ml of water (teaspoon) on 1 dose of drug.
Dissolution is carried out as follows: in a glass pour a necessary amount of water (according to quantity of the doses specified on a bottle), delete a cap and a stopper and open a bottle, from a glass transfer a small amount of water to a bottle, after dissolution (drug is dissolved no more than 5 min. with formation of an opaque homogeneous suspension) pour contents of a bottle in the same glass and mix. One teaspoon of the dissolved drug makes 1 dose. The dissolved drug is not subject to storage.
Necessary quantity of doses accept in 20-30 min. prior to food. Chest children can give drug just before feeding.
In intestinal diseases to children:
– the first half of the year of life – on 5 doses on reception 2 times a day, the maximum dosages: single – 5 doses, daily – 10 doses,
– the second half of the year is also more senior – on 5 doses 3 times a day, the maximum dosages: single – 5 doses, daily – 15 dosed
by the Newborn with the burdened premorbid background use of drug in delivery room from first day of life to an extract on 2.5 doses on reception is reasonable to begin 2 times a day.
In acute chronic inflammatory diseases of a small and large intestine at adults about 5 doses 2-3 times a day are recommended to accept.
In intestinal diseases duration of a course of treatment of bifidumbacterium is defined by weight of clinical manifestations, age of the patient and is from 2 to 4 weeks, and in some cases up to 3 months.
If necessary the course of treatment bifidumbacterium can be repeated.
With the preventive purpose appoint 5 doses of 1 – 2 time a day within 1-2 weeks.
Processing of area of a nipple and areola of women in childbirth: impregnate with the dissolved drug (5 doses) 2 sterile tampons and put them to milk – the wood for 20-30 minutes before feeding. A course of treatment – 5 days.
In inflammatory diseases of female genitalias and prenatal training of pregnant women bifidumbacterium is appointed till 5-10 doses within 5-8 days under control of restoration of microbiological purity of a vaginal secret to the I-II extent and disappearance of clinical symptoms of inflammation once a day. The sterile tampon impregnated with drug is entered into a vagina and left for 2-3 hours.
Side effects
– individual intolerance
of the Contraindication
– hypersensitivity to drug components
Medicinal interactions
Effect strengthen group B vitamins. At reception with antibiotics and chemotherapeutic drugs the decrease in therapeutic effectiveness of drug is possible.
The special
instructions Drug it is unsuitable for use at:
– change of outward (discoloration, biomass wrinkling, existence of foreign inclusions)
– disturbance of integrity of individual packing (the cracked bottles)
– indistinct marking.
Not to apply water to cultivation of drug with a temperature above 40 °C and
not to store it in a divorced look.
Persons should appoint bifidumbacterium with care with
a lactose intolerance.
Features of influence of medicine on ability to run
the vehicle or potentially dangerous mechanisms.
Drug does not affect ability to run the vehicle or
potentially dangerous mechanisms.
The overdose
is not revealed
the Form of release and packing
On 5 doses in a bottle from glass. On 10 bottles together the instruction for medical use in the state and Russian languages in a pack from cardboard.
To Store storage conditions in the dry, protected from light place at
a temperature from 2 °C to 8 °C.
To store out of children's reach.
1 year
not to use a period of storage after an expiration date.
Prescription status
Without prescription
Russia CJSC Ecopolis Producer, 601900, Vladimir region, Kovrov, Kuznechnaya St., 143/1, ph./fax (49232) 4-88-70, 4-88-57.
Owner of the registration certificate
of CJSC Ecopolis, Russian Federation.
To send the consumer's claims on quality of drug to the address: SP Nesterenko N. A., Republic of Kazakhstan, 050000, Almaty, Furmanov St., 128, office 16, ph. (727) 2796659, fax (727) 2796659, e-mail: ip_n_nesterenko@list.ru.