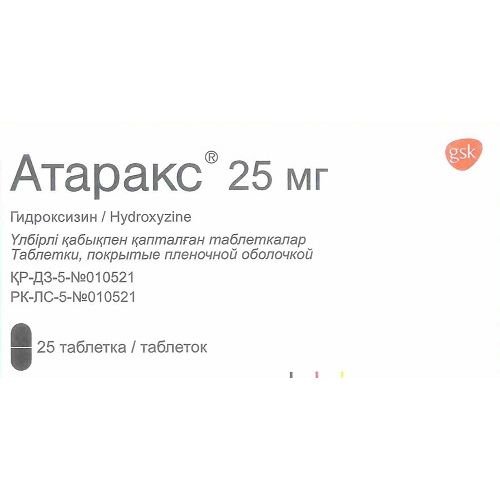 Description
The instruction for medical use
of medicine
Ataraxum
the Trade name
Ataraxum
the International unlicensed
name Hydroxyzinum Dosage Form
of the Tablet, film coated, 25 mg
Structure
One tablet contains
active agent of Hydroxyzinum a hydrochloride of 25 mg,
excipients: lactose monohydrate, cellulose microcrystalline, silicon dioxide colloidal (anhydrous), magnesium stearate,
structure of a film cover of Opadry Y-1-7000: titan dioxide (E171), gipromelloza, macrogoal 400.
The description
White oblong tablets, film coated, with cross risky for a break on both sides.
Pharmacotherapeutic group
Drugs for treatment of diseases of nervous system. Psychotropic drugs. Anxiolytics. Diphenylmethane derivatives. Hydroxyzinum
the ATX N05BB01 Code
the Pharmacological
Pharmacokinetics Quickly properties is soaked up from digestive tract. Time of achievement of the maximum concentration (Cmax) after oral administration of 2 h. After reception of a single dose of 25 mg of Cmax at adults makes 30 ng/ml and 70 ng/ml after reception of 50 mg of Hydroxyzinum. The bioavailability at intake is 80%.
Hydroxyzinum concentrates in skin more, than in blood plasma. The distribution coefficient makes 7-16 l/kg at adults. Hydroxyzinum gets through a blood-brain barrier and a placenta, concentrating more in fruit fabrics, than in maternal fabrics. Hydroxyzinum is metabolized in a liver. Metabolites are found in breast milk. Tsetirizin the main metabolite (45%), is the expressed H1 blocker. The general clearance is 13 ml/min. Only 0.8% of Hydroxyzinum are removed in not changed look through kidneys. At children the general clearance is 4 times shorter, than at adults, children have an Elimination half-life (T1/2) of 11 hours at the age of 14 years and 4 hours at the age of 1 year, at adults the elimination half-life makes 14 h.
At elderly sick T1/2 makes 29 hours, the distribution coefficient makes 22.5 l/kg.
At patients with liver diseases the elimination half-life increases till 37 o'clock owing to what it is necessary to lower a day dose or frequency of reception.
The pharmacodynamics
Hydroxyzinum well gets through hematoencephalic a barrier, has high affinity to histamine receptors of a brain, communicating with which provides sedative and anxiolytic effect.
Antihistaminic and bronkhodilatiruyushchy action was shown experimentally and confirmed clinically. The antiemetic effect is shown on tests with use of an apormorfin and veriloid.
Pharmacological and clinical trials showed that Hydroxyzinum in therapeutic doses does not increase gastric secretion or acidity and in most cases shows soft anti-secretory activity. Hydroxyzinum also confirmed the efficiency in simplification of an itching in urticaria, eczema or dermatitis.
Antihistaminic action begins approximately in 1 hour at use inside. Sedation begins in 30-45 minutes after reception of tablets.
Against the background of intake of Ataraxum the lengthening of duration of a dream, decrease in frequency of night awakenings after reception once or repeatedly Hydroxyzinum in a dose of 50 mg is observed. Decrease in muscular tension is noted at administration of drug in a dose 50 mg 3 times a day.
Does not cause mental dependence and accustoming. At long reception the withdrawal and deterioration in cognitive functions is noted.
Indications
– symptomatic treatment of alarm at adults
– relief of symptoms of a skin itching of allergic origin
– for the purpose of premedication
the Route of administration and doses
Adult
the Single maximum dose should not exceed 200 mg (8 tablets), the maximum daily dose makes no more than 300 mg (12 tablets).
Symptomatic treatment of disturbing states
the Standard dose of 50 mg a day (12.5 mg in the morning, 12.5 mg in the afternoon and 25 mg for the night). If necessary the dose can be increased up to 300 mg a day.
Relief of symptoms of a skin itching
the Initial dose of 25 mg for the night, if necessary can be increased up to 25 mg three or four times a day.
The dosage and duration of reception is defined by the attending physician.
Premedication
From 50 to 200 mg/days in 1 or 2 receptions, single dose in 1 hour prior to surgical intervention to which 1 reception for the night before anesthesia can precede.
Children (aged from 12 months is also more senior)
One tablet can be divided into two parts after risk and medicine is taken in stages depending on the weight of the child and strictly on doctor's orders. The appointed dosage is recommended to be crushed and diluted with clear water.
Relief of symptoms of a skin itching
– Aged from 12 months up to 6 years: From 1 mg/kg/day to 2.5 mg/kg/days in stages.
– 6 years are aged more senior: from 1 mg/kg/day to 2 mg/kg/days in stages.
For premedication before surgical intervention
Single dose in a dose of 1 mg/kg in 1 hour prior to surgical intervention to which reception can precede 1 mg/kg for the night before anesthesia.
Separate groups of patients
the Dosage has to be adapted in the recommended range of doses, depending on reaction of the patient to treatment.
Elderly people
to Elderly people, it is recommended to begin with a half of the recommended dose in connection with the prolonged action.
Patients with a renal failure
the Dosage has to be reduced at patients with a moderate or heavy renal failure due to reduction of discharge of a metabolite of a tsetirizin.
Patients with a liver failure
the Patients with an abnormal liver function are recommended to reduce a daily dose by 33%.
Side effects
Side effects are generally connected with suppression of central nervous system or paradoxical stimulation of central nervous system, anticholinergic activity, or with hypersensitivity reaction.
The undesirable reactions given below are listed according to defeat of bodies and the systems of bodies and occurrence frequency. Frequency of occurrence is defined as follows: very often (& ge, 1/10), it is frequent (& ge, 1/100 and & lt, 1/10), infrequently (& ge, 1/1,000 and & lt, 1/100), is rare (& ge, 1/10,000 and & lt, 1/1,000), is very rare (& lt, 1/10,000).
Disturbances from nervous system
Very often
– drowsiness
Often
– a headache
– fatigue
– block
Infrequently
– dizziness
– insomnia
– disturbance of attention
– excitement, confusion of consciousness, a tremor, an indisposition
Is rare
– a disorientation, hallucinations, spasms, dyskinesia
– accommodation disorders, illegibility of sight,
Disturbance from digestive tract
Often
– dryness in a mouth
Infrequently
– constipations, nausea
Seldom
– vomiting
– disturbance of functions of a liver
Is unknown
–
Disturbance hepatitis from a cardiovascular system
Seldom
– tachycardia, hypotension
It is unknown
– lengthening of an interval of QT on the ECG
the General disorders, damages of skin and hypodermic cellulose
Often
– fatigue
Infrequently
– an asthenia, an indisposition
– fever
Seldom
– reactions of hypersensitivity
– an itching, erythematic rash, rash spotty and papular, urticaria, dermatitis
– an ischuria
Very seldom
– an acute anaphylaxis, a bronchospasm, Stephens-Johnson's syndrome, a multiformny erythema, sharp generalized exanthematous pustulez, a Quincke's disease, rash, increase in sweating
At use of the recommended doses of clinically significant respiratory depression was not observed.
The side reactions described at use of a tsetirizin, main metabolite of Hydroxyzinum are possible at Hydroxyzinum use
– thrombocytopenia
– aggression, a depression, a tic, dystonia, paresthesias, okulogirny crisis
– diarrhea, a dysuria, urine incontinence, weakness, hypostases, increase in weight
of the Contraindication
– hypersensitivity to Hydroxyzinum or any of drug components, to a tsetirizin or other derivatives of piperazin, Aminophyllinum or ethylene diamine in the anamnesis
– the patients suffering from a porphyria
– patients with lengthening of an interval of QT
– pregnancy, the lactation period
– children's age up to 12 months
Medicinal interactions
It is necessary to consider exponential effect of the drug Ataraxum at joint appointment with the medicines oppressing the central nervous system such as narcotic analgetics, barbiturates, tranquilizers, sleeping medicines, anticholinergic drugs. In this case their dosages have to be selected individually.
Alcohol also enhances effect of Hydroxyzinum.
Hydroxyzinum works as the antagonist of effects of a betagistin and antikholinesterazny drugs.
In order to avoid influence on results of analyses, treatment it has to be stopped at least in 5 days prior to conducting allergy tests or the inhalation provocative test with metasincaline.
It is necessary to avoid joint appointment with monoaminooxidase inhibitors.
Drug interferes with vasoconstrictive effect of adrenaline and anticonvulsant activity of Phenytoinum.
As Hydroxyzinum is metabolized in a liver by the system of alcohol dehydrogenase and CYP3A4/5, at combined use of Hydroxyzinum with other drugs known as powerful inhibitors of enzymes of a liver, it is possible to expect increase in concentration of Hydroxyzinum in blood.
Combined use of Hydroxyzinum with potentially aritmogenny drugs can increase risk of lengthening of an interval of QT and developing of bidirectional ventricular tachycardia.
Special instructions
As Ataraxum possesses anticholinergic action, it is necessary to appoint it with care at a generalized myasthenia, urination difficulty, constipations, increase in intraocular pressure, dementia, tendency to convulsive attacks, arrhythmias, simultaneous use of the medicines possessing aritmogenny action.
Elderly patients are recommended to begin use with a half of the recommended dose at the expense of the prolonged action. The dosage has to be reduced by the patient with an abnormal liver function and to patients with a moderate or heavy renal failure.
In need of carrying out allergological tests the intake of Ataraxum has to be stopped in 5 days prior to a research, in a type of formation of its main metabolite of Tsetirizin having antihistaminic effect.
The patients accepting Ataraxum should abstain from alcohol intake.
Tablets contain lactose. Patients with rare hereditary problems of intolerance of a galactose, deficit of Lapp of lactase or malabsorption of a glyukozo-galactose should not accept this medicine.
Features of influence of medicine on ability to run the vehicle or potentially dangerous mechanisms.
The patients accepting Ataraxum have to be warned that drug can affect concentration of attention and speed of psychomotor reactions.
Overdose
Symptoms: the overdoses observed later, are generally connected with excessive anticholinergic loading, oppression of central nervous system or paradoxical stimulation of central nervous system. They include nausea, vomiting, tachycardia, temperature increase, drowsiness, disturbance of pupillary reflexes, a tremor, confusion of consciousness or a hallucination. It can be followed by a depression of various level of consciousness, respiratory depression, spasms, hypotonia, or cardiac arrhythmia. There can come deepening of a coma and cardiorespiratory collapse. There has to be stringent control of breath and blood circulation with continuous record ECG and adequate supply with oxygen. Monitoring of heart and arterial blood pressure have to continue within 24 hours after disappearance of symptoms of a disease. Patients with the changed mental status have to be checked for a concomitant use of other drugs or alcohol, in case of need to use Naloxonum, glucose, thiamine.
Noradrenaline or metaraminol should be used if vazopressor are necessary. Adrenaline should not be used.
Treatment: Gastric lavage with a preliminary intubation of a trachea can be carried out if clinically significant reception did not happen. Activated carbon can be left in a stomach, but there are poor data confirming its efficiency. It is doubtful that the hemodialysis or hemoperfusion can have effect. There is no specific antidote.
The form of release and packing
On 25 tablets place in blister strip packaging from a film of polyvinylchloride and aluminum foil. 1 planimetric packing together with the instruction for medical use in the state and Russian languages is put in a cardboard box.
To Store storage conditions in the dry place at a temperature not over 25C.
To store out of children's reach!
A period of storage
of 5 years
not to take the drug after expiry date!
Prescription status from drugstore
According to the prescription
the Name and the country
of the YuSB manufacturing organization of Pharma S.A.,
Cheman du Faure
1420 Breyn-LAllyu Belgium
the Name and the country of the owner of the registration certificate
GlaksoSmitKlyayn Export of Ltd., Great Britain
980 Great West Road, Brentford, Middlesex, TW8 9GS, UK
The address of the organization accepting in the territory of the Republic of Kazakhstan claims from consumers on quality of products (goods)
of Predstavitelstvo GlaksoSmitKlyayn Export Ltd in
Kazakhstan 050059, Almaty, Furmanov St., 273
Phone number: +7 727 258 28 92, +7 727 259 09 96
Fax number: + 7 727 258 28 90
E-mail address:
To develop kaz.med@gsk.com
Additional information