Highlight
New Arrivals

Sale

Hot items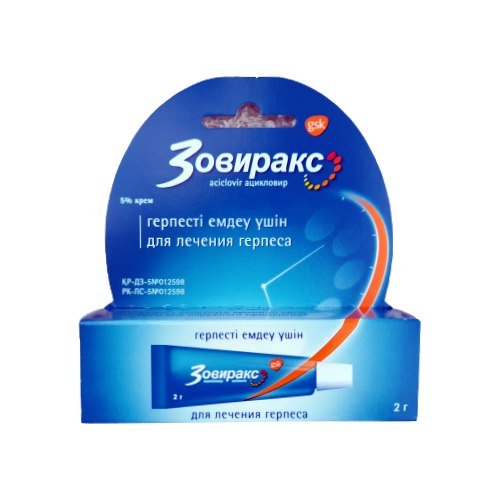 Zovirax® Cream (Acyclovir Cream, 5%) 2g Tube
Description
Composition
100 g of cream contains active ingredient – acyclovir 5.00g,
Excipients: propylene glycol, white soft paraffin, cetostearyl alcohol, liquid paraffin, Arlacel 165, poloxamer 407, dimethicone 20, sodium lauryl sulfate, purified water.
Pharmacological properties
Pharmacokinetics
When using the cream, systemic absorption is minimal.
Pharmacodynamics
Zovirax® is active against Herpes simplex types 1 and 2. Thymidine kinase of cells infected with a virus through a series of sequential reactions actively converts acyclovir to mono-, di- and acyclovir triphosphate. The latter interacts with viral DNA polymerase and is incorporated into deoxyribonucleic acid (DNA), which is synthesized for new viruses. Thus, "defective" viral DNA is formed, which leads to suppression of replication of new generations of viruses.
Indications for use
Infections of the lips and face caused by the Herpes simplex virus types 1 and 2.
Method of administration and dosage
The drug is recommended to be applied 5 times a day (every 4 hours) in a thin layer on the affected and adjacent areas of the skin.
Duration of treatment is at least 4 days. In the absence of healing, treatment can be continued for up to 10 days. If healing does not occur within 10 days, you should consult a doctor.
The cream is applied either with a cotton swab or with clean hands to avoid additional infection of the affected areas.
Possible side effects
– not often (≥ 1/1000 and <1/100): redness, itching, peeling, burning sensation at the sites of application of the drug
– rarely (≥ 1/10000 and <1/1000): erythema, contact dermatitis, more often associated with a reaction to auxiliary components of the drug
– very rare (<1/10000): immediate-type hypersensitivity reactions, including angioedema
Contraindications
Hypersensitivity to acyclovir, valacyclovir and other components of the drug.
Special instructions
To achieve the maximum therapeutic effect, it is necessary to use the drug already at the first signs of the disease (burning, itching, tingling, feeling of tension and redness). However, treatment can be started at a later stage (papule or vesicle).
The cream is not recommended to be applied to the mucous membranes of the oral cavity and eyes, as the development of local inflammation is possible. People with particularly severe recurrent herpes of the lips should see a doctor.
Do not use to treat genital herpes.
Immunocompromised patients are not recommended and should consult a doctor regarding the treatment of any infection.
Pregnancy and lactation
Adequate and strictly controlled clinical studies of the safety of the drug during pregnancy and lactation have not been conducted. The use is indicated only in cases where the intended benefit to the mother outweighs the potential risk to the fetus and child.
Application in pediatrics
There are no restrictions on use in childhood.
Features of the influence of the drug on the ability to drive a vehicle or potentially dangerous mechanisms
There are no restrictions on driving a car and working with mechanisms.
Overdose
Not identified. If you suspect an overdose, you should consult a doctor.
Storage conditions
Store at a temperature not exceeding 25°C.
Do not freeze.
Keep out of the reach of children.
Shelf life – 3 years
Do not use after the expiration date printed on the package.
Additional information