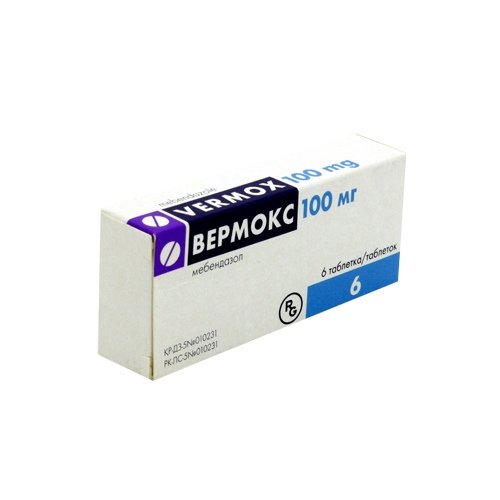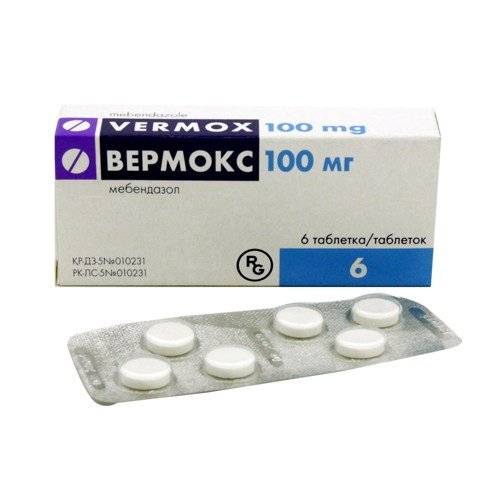 Description
VERMOX is an effective antiparasitic drug, the active substance of which is mebendazole. With the help of this tool, it will be possible to cope with roundworms, parasitic worms, pinworms and many other types of worms.
Other brand names: All Farm Benzicare, Boots Threadworm, Elmizin, Ovex, Mebendazole Copley, Telmintic, Telmin, Mebendoral, Meben, Mebendazol SAM, Fugacar, Lomper, Quemox
---
One tablet contains the active ingredient – Mebendazole 100 mg
Excipients: sodium lauryl sulfate, anhydrous colloidal silicon dioxide, magnesium stearate, sodium saccharin, talc, corn starch, lactose monohydrate
Pharmacological properties
Pharmacokinetics
Mebendazole is poorly absorbed when administered orally.
In the recommended (average therapeutic) dose, the drug has low bioavailability due to a pronounced first pass metabolism and a very low solubility of the drug substance. 90% of the drug binds to plasma proteins. Bioavailability increases while taking the drug with fatty foods. It is excreted mainly unchanged in the feces.
Pharmacodynamics
Vermox is a synthetic broad-spectrum anthelmintic drug. The agent affects the formation of tubulin in helminth cells, which leads to disruption of glucose uptake and normal digestive function in the helminth to such an extent that autolytic processes are triggered
Indications for use
Diseases caused by invasions:
– enterobiasis (Enterobius vermicularis)
– ascariasis (Ascaris lumbricoides)
– trichinosis (Trichuris trichiura)
– hookworm (Ancylostoma duodenale)
– necatoriasis (Necator americanus)
– Strongyloidiasis (Strongyloides stercoralis)
– taeniasis (Taenia spp)
– mixed gastrointestinal invasions
Dosage and administration
With enterobiasis: Children over 2 years old and adults, regardless of body weight – 100 mg of the drug (1 tablet) once. Treatment should be repeated after 2-4 weeks due to frequent recurrences of infection.
Simultaneous treatment of all family members is recommended.
With ascariasis, trichinosis, ankylostomiasis and mixed infections: Children over 2 years old and adults for 3 days, 200 mg / day. (1 tablet in the morning and evening).
With teniasis, strongyloidiasis:
– adults for three days, 2 tablets in the morning and evening (400 mg / day);
– children for three days, one tablet in the morning and evening (200 mg / day).
Application in children:
The tablet may be chewed or swallowed whole. When used in young children under 6 years of age, the tablet should be crushed into powder.
Side effects
Very rare (<1/10,000)
– convulsions in infants
– abdominal pain, diarrhea (may be the result of invasion)
– hypersensitivity reactions of the type of anaphylactic and anaphylactoid reactions
– toxic epidermal necrolysis, Stevens-Johnson syndrome, rash, angioedema, urticaria
Frequency unknown (no reliable statistics)
– neutropenia
When used in high doses for a long time:
Frequency unknown (no reliable statistics)
– Liver dysfunction, hepatitis
– glomerulonephritis
Contraindications
– hypersensitivity to any of the components of the drug
– hereditary intolerance to galactose, lactose, lactase deficiency, malabsorption of glucose / galactose
– pregnancy and lactation
– children's age up to 2 years
Drug Interactions
The simultaneous appointment of cimetidine with mebendazole increases the concentration of the latter in plasma during long-term treatment. It is recommended to determine the concentration of the drug in plasma, to ensure the required doses of both drugs. The simultaneous use of mebendazole and metronidazole should be avoided.
special instructions
With prolonged use, it is necessary to control the general blood test, liver and kidney function.
The drug is incompatible with alcohol.
During the treatment period, there is no need to prescribe laxatives and diet. Vermox reduces the need for insulin in diabetic patients. In patients with impaired liver function, caution should be exercised when using the drug.
In case of lactose intolerance, it should be noted that each tablet of the drug contains 110 mg of lactose monohydrate.
Features of the influence of the drug on the ability to drive a vehicle and potentially dangerous mechanisms
Vermox does not affect the ability to drive a car and control working mechanisms.
Overdose
Symptoms: spasmodic abdominal pain, nausea, vomiting, diarrhea.
Treatment: There is no specific antidote. In the first hour after an overdose – gastric lavage, activated charcoal.
Storage conditions
Store at temperatures from 15 ºС to 30 ºС.
Keep out of the reach of children!
Shelf life – 5 years
Do not use after the expiration date.
Additional information