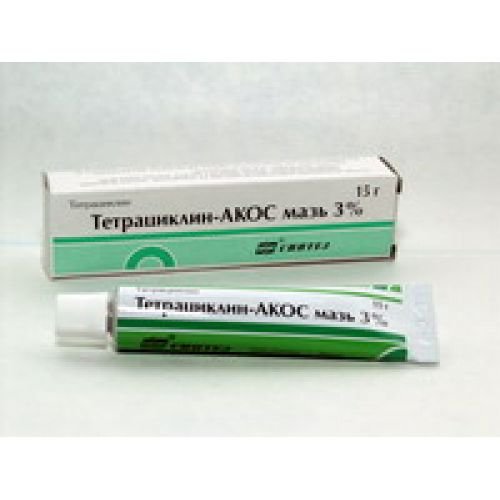 Tetracycline-Akos 3% 15g ointment tube
Out of stock
Description
The instruction
for medical use
of TETRATSIKLIN-AKOS medicine
the Trade name
of TETRATSIKLIN-AKOS
the International unlicensed
name Tetracycline Dosage Form Ointment for external use of 3%
Structure
of 100 g of ointment contain
active agent – tetracycline a hydrochloride (in terms of tetracycline) – 3 g,
excipients: anhydrous lanolin, paraffin oil firm, ceresin, sodium disulphite, vaseline
the Description
Ointment of yellow color
Pharmacotherapeutic group
Antibacterial drugs for topical administration. Tetracycline and its derivatives. Tetracycline.
The ATX D06AA04 code
the Pharmacological
Pharmacokinetics At properties drawing on the uninjured skin is practically not soaked up.
TETRATSIKLIN-AKOS pharmacodynamics – a bacteriostatic antibiotic of a wide range from group of tetracyclines. Breaks formation of a complex between acceptor RNA and a ribosome that leads to disturbance of synthesis of protein. It is active concerning gram-positive microorganisms of Staphylococcus spp. (including Staphylococcus aureus, including the strains producing penicillinase),
Streptococcus spp. (including Streptococcus pneumoniae), Listeria spp., Bacillus anthracis and gram-negative microorganisms (Haemophilus influenzae, Haemophilus ducreyi, Bordetella pertussis, Escherichia coli, Enterobacter spp., Klebsiella spp., Salmonella spp., Shigella spp.) and also Ricketsia spp., at contraindications to prescribing of penicillin – Clostridium spp., Neisseria gonorrhoeae, Actinomyces spp., is active concerning activators of a venereal and inguinal lymphogranuloma, Treponema spp. Are steady: Pseudomonas aeruginosa, Proteus spp., Serratia spp., majority of strains of Bacteroides spp. and mushrooms, viruses, beta and hemolytic streptococci of group A (including 44% of strains of Streptococcus pyogenes and 74% of strains of Streptococcus faecalis).
Indications
– ordinary eels
– purulent infections of soft tissues
– a furunculosis
– the eczemas infected
– rash
– a folliculitis
the Route of administration and doses
Outwardly, apply ointment on affected areas of skin 1-2 times a day (possibly imposing of a gauze bandage). Course of treatment of 5-7 days.
Side effects
– burning, a dermahemia, puffiness or other signs of irritation.
Contraindications
– hypersensitivity to drug
– a tuberculosis cutis
– skin tumors
– mycosis
– viral diseases of skin (herpes, chicken pox)
– children's age up to 11 years
Medicinal interactions
are not established
Special instructions
it is not recommended to apply in deep or chipped wounds, heavy burns, in ophthalmology (use 1% oculentum).
It must be kept in mind that use of antibacterial medicines for external use can lead to the sensitization of an organism which is followed by development of hypersensitivity reactions.
If within 2 weeks the state does not improve, it is necessary to consult with the doctor.
In need of use of drug on face skin, treatment has to
be short because of a possibility of emergence of side effect.
Adequate and strictly controlled researches at children up to 11 years are not conducted, doses for this category of patients are not defined.
Pregnancy and the period of a lactation
With care it is necessary to apply TETRACYCLINE – AKOS during pregnancy and in the period of a lactation.
Features of influence of medicine on ability to run the vehicle or potentially dangerous mechanisms:
The Overdose does not influence
the Form of release and packing
On 15 g in tubas aluminum is not revealed.
Each tuba with the instruction for medical use in the state and Russian languages is placed in a pack from cardboard.
To Store storage conditions in the dry place at a temperature from 15 °C to 25 °C.
To store in the inaccessible place for children!
3 years
not to use a period of storage after an expiration date.
Prescription status
Without prescription
JSC Sintez Producer,
Russian Federation, 640008, Kurgan, Konstitutsii Avenue, 7.
Ph./ fax (3522) 48-16-89
E – mail: real@ kurgansintez.ru
Website: http://www.kurgansintez.ru
the Owner of the registration certificate
of JSC Sintez, the Russian Federation
the Address of the organization accepting in the territory of the Republic of Kazakhstan claims from consumers on quality of products
of STOFARM LLP,
000100, Republic of Kazakhstan, Kostanay region, Kostanay, Uralskaya St., 14, ph. 714 228 01 79