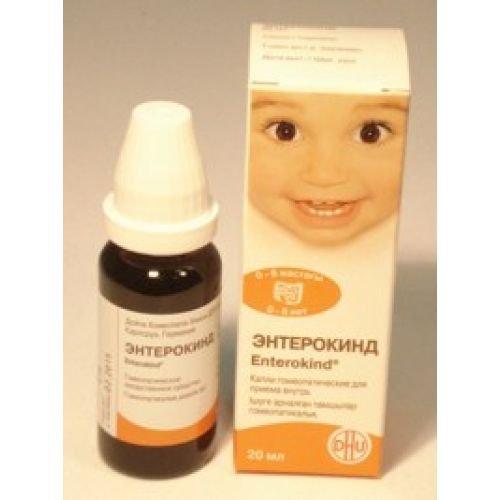 Enterokind homeopathic 20ml drops for oral administration
Description
The instruction for medical use
of Enterokind® Enterokind medicine
the Trade
name Enterokind
Enterokind®
the International unlicensed name
Is not present
the Dosage form
of the Drop homeopathic for intake, solution
Structure
In 100 g of solution contains
active agents: Chamomilla D6 10.000 g Cina D6 10.000 g Colocynthis D6 10.000 g
Lac defloratum D6 10.000 g
Magnesium chloratum D6 10.000 g,
excipients: glycerin of 85%, the water purified, xylitol.
Concentration of alcohol (ethanol) of 2.69% (volume fraction of a component).
Description
Transparent, colourless, viscous liquid.
Pharmacotherapeutic group
Various other drugs for treatment of gastrointestinal diseases and disbolism.
The code of automatic telephone exchange A16AX
Pharmacological
Enterokind properties is homeopathic complex medicine which well proved in treatment of children's colic and a meteorism at children of chest and younger age. Active ingredients of drug are effective concerning such typical symptoms as irritability, an abdominal pain, intestinal gripes and a meteorism.
Indications – nurseries colic and a meteorism at children of chest and younger age
apply the Route of administration and doses in the absence of other instructions Enterokind as follows:
Children from 0 to 6 years:
at acute symptoms on 3 drops in each hour, but no more than 6 times a day, after weakening of symptomatology on 3 drops 3 times a day.
Drops are recommended to be taken for half an hour to or in half an hour after a meal. Try to force the child to take drops a little in a mouth before swallowing them. At treatment of babies of a drop it is possible to mix from about 20 ml (2nd tablespoons)) boiled and chilled water.
Side effects
– allergic reactions to one of drug components
If you suspect that your child has signs of side effect after administration of drug Enterokind, inform on it your doctor or the druggist.
Contraindications
– hypersensitivity to one of drug components
Medicinal interactions
are not established
Inform your doctor or the druggist if your child accepts or accepted other medicines in the recent past. It concerns also medicines which can be bought without prescription.
Special instructions
this medicine contains a small amount of alcohol (ethanol). In this regard parents have to control its use.
In the absence of improvement, ambiguity of a state or emergence of new symptoms see a doctor as in that case can there be a speech about the disease demanding medical assistance.
The overdose
is not revealed
in case of overdose symptomatic treatment.
The form of release and packing
of the Drop for intake, place solution in glass bottles on 20 ml together with the instruction for medical use in a cardboard box.
To Store storage conditions at a temperature not above 25 °C.
To store out of children's reach!
Not to apply a period of storage of 5 years after an expiration date.
Prescription status
Without prescription
the Producer
Deutsche Homeopati-Union, DHU-Artsnaymittel GmbH & Co. KG
Ottostrasse 24, 76227 Karlsruhe, Germany
Ph. +49 / 721 / 4093 236