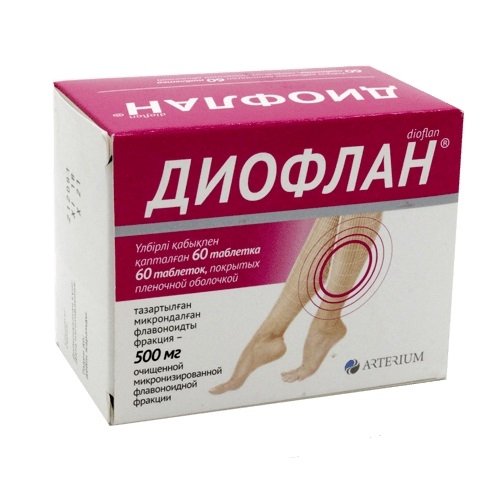 Dioflan 60s 500 mg film-coated tablets
Description
The instruction for medical use
of DIoFLAN® medicine
(DIOFLAN)
the Trade name
of Dioflan®
the International unlicensed name
Is not present
the Dosage form
of the Tablet, film coated, 500 mg
Structure
One tablet contains
active agent – the cleaned micronized flavonoidny fraction of 500 mg containing: diosmin of 450 mg and gesperidina1 50 mg,
excipients: microcrystalline cellulose, sodium of starch glikolit (type A), a gipromelloz, sodium lauryl sulfate, talc, magnesium stearate, mix for a covering of Opaglos 2 Orange
No. 97A239672 1 – Under the name hesperidin means mix of flavonoids: the izoroifolina, hesperidin, a linarin, a diosmetin
2 – Mix for a covering of Opaglos 2 Orange No. 97A23967 supports: sodium carboxymethylcellulose, maltodextrin, Dextrosums monohydrate, the titan dioxide (E 171), stearic acid, talc, ferrous oxide yellow (E 172), ferrous oxide red (E 172), a yellow sunset of FCF (E 110)
the Description
of the Tablet, coated light pink color, an oval form, with a biconvex surface, with risky on one party and the inscription KMP on other party. On a break the kernel of beige color is visible.
Pharmacotherapeutic group
Vasoprotectives. The drugs reducing permeability of capillaries. Bioflavonoids. Diosmin in a combination with other drugs.
The ATX C05CA53 code
the Pharmacological
Pharmacokinetics Elimination Half-life properties makes 11 hours. Removal of active ingredient of drug happens, mainly, through intestines. Through urine 14% of a dose are removed on average.
The pharmacodynamics
Drug possesses venomotor and angioprotektorny action, raises a venous tone, reduces extensibility of veins and venostaz, improves microcirculation, reduces permeability of capillaries and increases their resistance, improves a lymphatic drainage, increases lymphatic outflow. Drug also reduces interaction of leukocytes and an endothelium, adhesion of leukocytes in post-capillary venules. It reduces the damaging action of mediators of inflammation on walls of veins and a shutter of valves of veins.
Indications
Symptomatic treatment of venolimfatichesky insufficiency (weight in legs, pain, hypostases). Symptomatic treatment of hemorrhoids.
A route of administration and doses
For oral administration.
It is appointed the adult.
Treatment of venolimfatichesky insufficiency (hypostases, pain, weight in legs, night spasms, trophic ulcers, a limfedema, etc.): 2 tablets a day in two steps (1 tablet – in the afternoon, 1 tablet – in the evening) at meal time. After a week of use it is possible to take 2 pill a day at the same time at meal time.
Treatment of chronic hemorrhoids: 2 tablets a day (in two steps) at meal time. After a week of use it is possible to take 2 pill a day at the same time at meal time.
Treatment of acute hemorrhoids: 6 tablets a day for the first 4 days and on 4 tablets a day for the next 3 days. To apply at meal time. To divide daily quantity of tablets into 2–3 receptions.
The course of treatment depends on indications for use and a course of the disease. The average duration of treatment is 2–3 months.
Side effects
Neurologic disorders: headache, dizziness, indisposition.
From a digestive tract: diarrhea, dyspepsia, nausea, vomiting, colitis.
From skin and hypodermic cellulose: rash, an itching, urticaria, the isolated edema of face, lips, a century, a Quincke's edema.
Contraindications
– hypersensitivity to any component of drug in the anamnesis.
– the lactation period
– children's and teenage age up to 18 years.
Medicinal interactions
of the Research of interaction were not carried out. The interactions given about cases are absent.
The special
instructions Use of This Medicine in acute hemorrhoids does not replace specific treatment and does not interfere with treatment of other proctologic diseases. In case during a short course of treatment the symptoms do not disappear quickly, it is necessary to perform proctologic examination and to reconsider therapy. At disturbances of venous blood circulation more effective treatment is provided with a therapy combination to observance of the following recommendations about lifestyle:
– to avoid long stay in the sun, long stay standing, excess body weight,
– to go on foot and in certain cases to wear special stockings for blood circulation improvement.
Pregnancy and the period of a lactation
Pregnant women should use drug with care. Before use to consult with the doctor.
Data on teratogenic effect of drug are absent.
Due to the lack of data on penetration of drug into breast milk, use of medicine during feeding by a breast should be avoided.
There are data about lack of influence on fertility for rats.
Features of influence of medicine on ability to run the vehicle or potentially dangerous mechanisms.
Drug does not affect ability to run vehicles and to work with different mechanisms. In case of signs of side effect of drug it is necessary to be careful.
Overdose
About cases of overdose it was not reported.
In case of exceeding the recommended doses it is necessary to wash out a stomach, to accept a sorbent and to see a doctor. Strengthening of side effects is possible.
Treatment: Symptomatic
the Form of release and packing
On 10 tablets in blister strip packaging from a film of the polyvinylchloride and printing aluminum foil varnished.
On 3 or 6 planimetric packs together with the instruction for medical use in the state and Russian languages place in a pack from cardboard.
To Store storage conditions in original packing, at a temperature not over 25 of 0C.
To store out of children's reach!
2 years
not to apply a period of storage after the expiry date specified on packing.
Prescription status
Without prescription
Ukraine PJSC Kiyevmedpreparat Producer, 01032, Kiev, Saksagansky St., 139
the Owner of the registration certificate
of PJSC Kiyevmedpreparat, Ukraine
the Address of the organization accepting in the territory of the Republic of Kazakhstan claims from consumers on quality of products: Representative office of Arterium corporation in the Republic Kazakhstan050060, Almaty, Al-Farabi Avenue 97, 3 entrance, office 54 Ph. / fax: 8 (727) 315-82-09, 8 (727) 315-82-10, E-mail: Almaty@arterium.ua