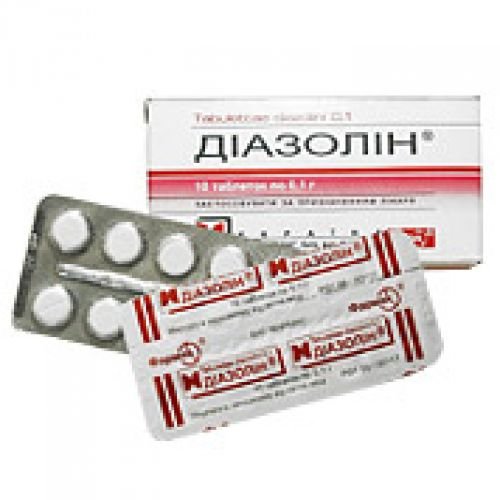 Description
The instruction for medical use
of DIAZOLINUM medicine
the Trade name
Diazolinum
the International unlicensed
name Mebgidrolin Lekarstvennaya a form
of the Tablet of 0.1 g
Structure
One tablet contains
active agent: a mebgidrolina in terms of 100% substance – 0.1 g,
excipients: lactoses monohydrate, potato starch, povidone, sucrose, calcium stearate.
The description
of the Tablet of round shape with a flat surface with risky and a facet, white or almost white color.
Pharmacotherapeutic group
Antihistamines for system use.
Mebgidrolin.
ATH R06AX15 code
the Pharmacological
Pharmacokinetics Quickly properties is soaked up from a digestive tract. The bioavailability fluctuates within 40-60%. The therapeutic effect develops 15-30 min. later, the maximum action is observed in 1-2 h. Duration of effect can reach 2 days. Drug practically does not get through
a blood-brain barrier, is metabolized in a liver by methylation, induces liver enzymes, is removed from an organism by kidneys.
The pharmacodynamics
Mebgidrolin belongs to antihistaminic drugs, is a blocker of Hl-receptors of a histamine. Mebgidrolin weakens spazmogenny effect of a histamine concerning unstriated muscles of bronchial tubes, intestines and also its influence on permeability of vessels. Unlike antihistaminic drugs of the first generation (Dimedrol, Suprastinum, etc.) less significant sedative and somnolent effect has. Possesses slight m-holinoblokiruyushchimi and the anesthetizing properties.
Indications
– prevention and treatment of seasonal and allergic rhinitis
– a pollinosis
– urticaria
– food and medicinal allergy
– skin reactions after stings of insects
– the dermatosis which is followed by a skin itching (eczema, neurodermatitis)
the Route of administration and doses
Apply inside to adults and children aged from 6 years. To adults and children 12 years are more senior appoint 100-200 mg of 1 – 2 time a day. The highest single dose – 300 mg, the highest daily – 600 mg.
To children of 6 years – on 50 mg of 1 – 3 time a day.
Duration of treatment is defined by the doctor depending on clinical effect and tolerance of drug.
Side effects
– heartburn, nausea, pains in epigastric area, etc.
– dryness in a mouth
– urination disturbance
– allergic reactions
– dizziness, paresthesias, increased fatigue, drowsiness, illegibility of visual perception, delay of speed of reactions, a tremor, uneasiness (night)
Seldom
– a granulocytopenia and an agranulocytosis
At children are sometimes observed paradoxical reactions: hyperexcitability, tremor, sleep disorders.
In isolated cases in the post-registration period the following side reactions were noted: headache, itching, rashes, urticaria, Quincke's edema.
Contraindications
– hypersensitivity to drug components
– a peptic ulcer of a stomach and duodenum during aggravation, inflammatory diseases of digestive tract
– a pylorostenosis
– a prostate hyperplasia
– closed-angle glaucoma
– epilepsy
– disturbance of a warm rhythm
– pregnancy and the period of a lactation
– children's age up to 6 years
Medicinal interaction
Diazolinum exponentiates effect of the somnolent, sedative and other drugs oppressing the central nervous system and also alcohol.
The special
instructions Diazolinum with care are appointed in a heavy liver and/or renal failure.
During treatment by Diazolinum consumption of alcoholic beverages is not recommended.
The feature of influence of drug on ability to run transport and potentially dangerous mechanisms
At use of drug is not recommended to run motor transport and to be engaged in other potentially dangerous types of activity which demand concentration of attention.
The overdose
At overdose of drug increases risk of emergence of the by-effects described in appropriate section.
Treatment: administration of drug is stopped, carry out symptomatic therapy, in case of need – actions of the general detoxication (gastric lavage, an artificial diuresis).
The form of release and packing
On 10 tablets place in blister strip packaging from a film of the polyvinylchloride colourless or light-protective color and printing aluminum foil varnished.
On 1 or 2 blister strip packagings together with the instruction for medical use in the state and Russian languages place in a pack from cardboard.
To Store storage conditions in the place protected from light at a temperature not over 25 ºС.
To store out of children's reach!
A period of storage
3 years
not to use drug after the termination of the expiration date specified on packing.
Prescription status
According to the prescription
PJSC Pharmak Producer, Ukraine, 04080, Kiev, st. of Frunze, 63.
The owner of the registration certificate
of PJSC Pharmak, Ukraine
the Address of the organization accepting in the territory of the Republic of Kazakhstan claims from consumers on quality of products (goods) the Republic of Kazakhstan, 050009 Almaty, st. of Abay 157, office 5tel/fax: +7 (727) 250 66 23, the e-mail address: Djatlova88@mail.ru
Additional information