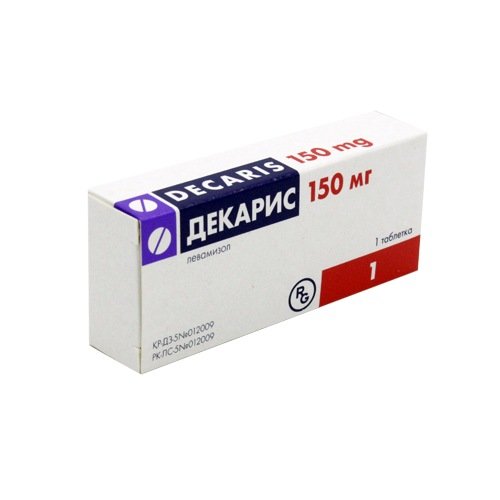 Description
One tablet contains the active ingredient – levamisole hydrochloride 177 mg (equivalent to levamisole 150 mg)
Pharmacological properties
Pharmacokinetics
Levamisole, when taken orally at a dose of 50 mg, is rapidly absorbed from the gastrointestinal tract.
The average maximum plasma concentration (0.13 μg / ml) is reached within 1.5-2 hours.
The elimination half-life from the body is 3-6 hours. Levamisole undergoes extensive metabolism in the liver, forming many metabolites, which are excreted mainly by the kidneys (approximately 70% within 3 days) and to a lesser extent through the intestines (5%). Less than 5% of a dose of levamisole is excreted unchanged in the urine and less than 0.2% is excreted in the feces.
The main metabolite found in urine is p-hydroxy-levamisole and its glucuronide (conjugate) (12% of the dose).
Pharmacodynamics
Mechanism of action
The active substance of the drug Decaris – levamisole – is a fast-acting anthelmintic agent. Levamisole paralyzes the muscles of helminths within a few seconds from the moment of contact, affecting the ganglion-like formations of nematodes. Thus, paralyzed nematodes are removed from the body by normal intestinal motility within 24 hours after taking levamisole. Although it has been established that levamisole affects the neuromuscular system of nematodes, it is possible that in some helminths, inhibition of the enzyme fumarate reductase also contributes to the anthelmintic effect of levamisole.
Indications for use
– ascariasis (Ascaris lumbricoides)
– necatorosis (Necator americanus)
– hookworm (Ancylostoma duodenale).
Dosage and administration
Take in one dose, preferably in the evening, after meals, with a small amount of water.
Reception of laxatives and compliance with a special diet is not required.
If necessary, treatment can be repeated after a 7-14-day break.
Adults: single dose 1 tablet 150 mg.
Side effects
Common (≥1/100 to <1/10)
– stomach ache
Uncommon – ≥1/1000 to <1/100
– headache
– itching
Rare (≥1/10000 to <1/1000)
– increased body temperature
Frequency unknown (cannot be estimated from available data)
– nausea, vomiting, diarrhea
– rash
– encephalopathy
Contraindications
– hypersensitivity to any of the components of the drug
– hereditary intolerance to galactose, lactose, lactose, fructose, malabsorption of glucose-galactose or sucrase-isomaltase deficiency
– drinking alcohol during and after treatment, during the first 24 hours
– children under 18 years of age due to the high content of levamisole in the preparation
– pregnancy and lactation
Drug Interactions
Levamisole may enhance the effect of coumarin-like anticoagulants. The effect of anticoagulants must be carefully titrated and monitored.
Decaris can increase the level of phenytoin in the blood plasma, therefore, with their simultaneous use, it is necessary to control the level of phenytoin in the blood.
With the simultaneous use of the drug Decaris and albendazole, the area under the curve (AUC) of the concentration of albendazole sulfoxide is significantly reduced. The safety and efficacy of co-administration of Decaris and albendazole have not been established.
With the simultaneous use of the drug Decaris and ivermectin, the AUC of ivermectin increases significantly. The safety and efficacy of concomitant administration of Decaris and ivermectin have not been established.
Special instructions
During prolonged or repeated treatment with Decaris, a blood test should be performed periodically (at least 1 time in 3 weeks), since repeated use of levamisole can cause allergic reactions, including hematological disorders such as leukopenia. For this reason, the recommended dose should not be exceeded.
Simultaneous administration of the drug Decaris and drugs that can adversely affect hematopoiesis requires caution.
Levamisole must be used strictly for its intended purpose, since a case of necrotizing vasculitis has been noted when used as a diluent for cocaine.
During and after taking the drug, for at least 24 hours, it is not recommended to drink alcohol. With the simultaneous administration of the drug Decaris with alcoholic beverages, disulfiram-like phenomena are observed.
Excipients
Decaris 150 mg tablets contains lactose monohydrate and sucrose.
Patients with rare hereditary problems of galactose, lactose, fructose intolerance, glucose-galactose malabsorption or sucrase-isomaltase insufficiency should not take Decaris 150 mg tablets.
Pregnancy and lactation
Decaris should not be used in pregnant women.
In view of possible adverse reactions in newborns, it is necessary to decide whether to stop breastfeeding or stop taking the drug, depending on how necessary the drug is for the mother.
Features of the influence of drugs on the ability to drive vehicles and control mechanisms
While taking the drug, slight and short-term dizziness is possible, so care should be taken while driving a car and performing work associated with an increased risk of injury.
Overdose
After taking large doses (more than 600 mg), the following symptoms were observed: nausea, vomiting, diarrhea, dizziness, lethargy, confusion, lethargy, convulsions.
When the recommended doses are exceeded, cases of convulsions were noted.
Treatment: gastric lavage, symptomatic, supportive therapy and monitoring of vital body functions. If anticholinesterase symptoms occur, atropine should be considered as an antidote.
Storage conditions
Store at temperatures between 15°C and 25°C.
Keep out of the reach of children!
Shelf life – 5 years
Do not use after the expiration date
Additional information