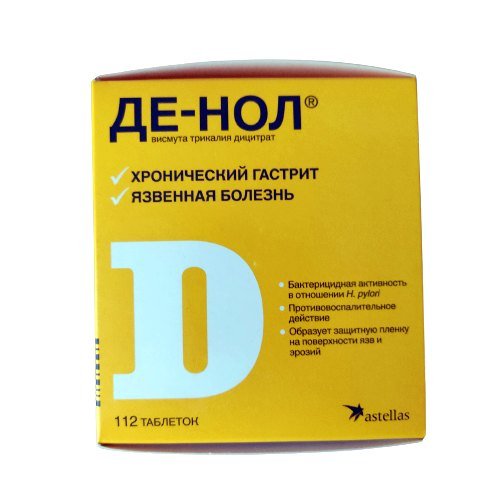 DE-NOL® (Bismuth Tripotassium Dicitrate) 120 mg, 112 coated tablets
There are very few De-Nol left in stock.
At one fine moment, when it is completely out of stock, be prepared that we will offer an analogue – ULCAVIS® with the same active ingredient and in the same dosage.
> Or you can immediately Order ULCAVIS® Here
Description
One tablet contains
Active ingredients – Bismuth tripotassium dicitrate 304.6 mg, in terms of bismuth oxide Bi2O3 120 mg
Excipients: corn starch, povidone K30, potassium polyacrylate, macrogol 6000, magnesium stearate
Shell composition: Opadry OY-S-7366 (hypromellose 5 mPa s, macrogol 6000)
Pharmacological properties
Pharmacokinetics
Absorption
De-Nol® is a surface-active agent, negligible amounts of bismuth, derivatives of bismuth subcitrate, are absorbed during treatment (less than 0.2% of the dose).
Distribution
Bismuth is mainly deposited in the kidneys, other organs also contain traces of bismuth.
Biotransformation
De-Nol® is deposited in the stomach into insoluble bismuth complex compounds, possibly into bismuth oxychloride and bismuth citrate.
Selection
The main part of bismuth taken orally is excreted in the feces. Urinary clearance with a small amount of absorbed bismuth is approximately 50 ml/min. However, most of the absorbed bismuth is excreted during a half-life of 5-11 days.
Pharmacodynamics
De-Nol® is an antiulcer agent with bactericidal activity against Helicobacter pylori. It also has anti-inflammatory and astringent properties. In the acidic environment of the stomach, insoluble bismuth oxychloride and citrate are precipitated, chelate compounds with a protein substrate are formed in the form of a protective film on the surface of ulcers and erosions. By increasing the synthesis of prostaglandins E, the formation of mucus and the secretion of bicarbonate, it stimulates the activity of cytoprotective mechanisms, increases the resistance of the mucous membrane of the gastrointestinal tract to the effects of pepsin, hydrochloric acid, enzymes and bile salts. Leads to the accumulation of epidermal growth factor in the area of ​​the defect. Reduces the activity of pepsin and pepsinogen.
Indications for use
Peptic ulcer of the stomach and duodenum
Chronic gastritis and gastroduodenitis in the acute phase, including those associated with Helicobacter pylori
Dosage and administration
inside. For adults, De-Nol® is prescribed 1 tablet 4 times a day 30 minutes before meals and at night, or 2 tablets 2 times a day 30 minutes before meals. The maximum single dose is 240 mg, the maximum daily dose is 480 mg.
Tablets should be taken 30 minutes before meals with a small amount of water.
The duration of the course of treatment is 4-8 weeks.
For the next 8 weeks, preparations containing bismuth should not be used.
For the eradication of Helicobacter pylori, it is advisable to use De-Nol® in combination with other antibacterial agents that have anti-Helicobacter pylori activity and proton pump inhibitors, the so-called quadrotherapy.
Possible side effects
Very common (≥ 1/10)
– staining of feces in a dark color due to the formation of bismuth sulfide, but it can be easily distinguished from melena
Uncommon (≥ 1/1000, <1/100)
– nausea, vomiting, constipation, diarrhea,
– allergic reactions: moderate allergic skin reactions
Very rare (<1/10000), not known
– anaphylactic reactions
Contraindications
– hypersensitivity to any component of the drug
– severe impairment of kidney function
– pregnancy and lactation
Drug Interactions
Within half an hour after taking De-Nol®, it is not recommended to use other medicines orally, as well as the intake of food and liquids, in particular, antacids, milk, fruits and fruit juices. This is due to the fact that, when taken orally, they can affect the effectiveness of De-Nol®. De-Nol reduces the absorption of tetracycline.
Special instructions
Long-term use of bismuth compounds in high doses is not recommended, since there have been cases of reversible encephalopathy.
The risk of developing reversible encephalopathy is minimal, provided that De-Nol® is used in recommended doses.
It is not recommended to use the drug in combination with other bismuth-containing drugs.
When using De-Nol, it is possible to stain the feces in a dark color due to the formation of bismuth sulfide. Sometimes there is a darkening of the tongue.
Not recommended for children under 18 years of age.
It is not recommended to take alcohol during therapy.
Features of influence on the ability to drive a vehicle and potentially dangerous mechanisms
Does not affect.
Overdose
Symptoms: dyspepsia, rash, inflammation of the mucous membranes of the mouth, characteristic darkening in the form of blue lines on the gums, impaired renal function.
Treatment: drug withdrawal, gastric lavage, activated charcoal, saline laxatives. The control of kidney function, the concentration of bismuth in the blood and urine is shown. In the future, symptomatic therapy is carried out. In case of impaired renal function, accompanied by a high level of bismuth in the blood plasma, it is possible to introduce complexing agents – dimercaptosuccinic and dimercaptopropane-sulfonic acids. In severe renal failure, hemodialysis is indicated.
Storage conditions
Store at a temperature not exceeding 25 °C.
Keep out of the reach of children!
Shelf life – 4 years
Do not use after the expiration date.
Additional information