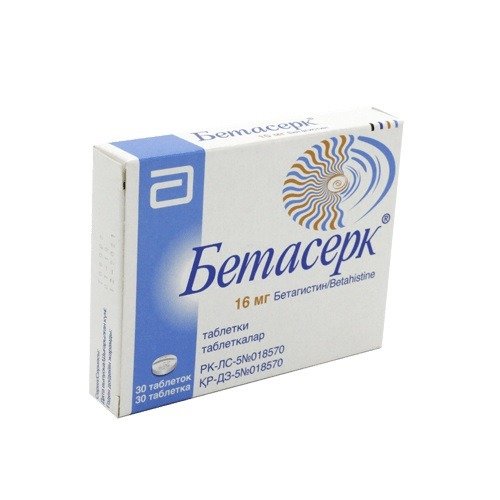 Betaserc® (Betahistine Dihydrochloride) 16 mg, 30 tablets
Description
One tablet contains
Active ingredients – betahistine dihydrochloride 8 mg, or 16 mg, or 24 mg,
Excipients: microcrystalline cellulose, mannitol, citric acid monohydrate, anhydrous colloidal silicon dioxide, talc
Pharmacological properties
Pharmacokinetics
When taken orally, betahistine is absorbed from the gastrointestinal tract and is rapidly and almost completely metabolized. The main metabolite is 2-PAA (2-pyridylacetic acid), which has no pharmacological activity. Plasma levels of betahistine are very low. Therefore, the entire pharmacokinetic analysis is based on the determination of the level of 2-PAA in plasma and urine.
The maximum concentration of 2-PAA when taking Betaserc with food
lower than when taken on an empty stomach. However, food intake does not affect the degree of absorption of betahistine, but only slows it down, since the overall absorption rate is the same under both conditions.
The degree of binding of betahistine to plasma proteins is less than 5%.
The maximum concentration of 2-PAA in blood plasma is reached after 1 hour after taking Betaserc. The half-life is approximately 3.5 hours.
2-RAA is rapidly excreted by the kidneys. In the dose range between 8 and 48 mg, about 85% of the administered dose is excreted in the urine. The renal or fecal route of excretion of betahistine is of little importance.
Excretion rate that remains constant at an oral dose betahistine from 8 to 48 mg, indicates the linear nature of its pharmacokinetics and that the metabolic pathways involved are not saturated.
Pharmacodynamics
The mechanism of action of betahistine is not well understood. There are several compelling hypotheses that are supported by clinical and preclinical data.
Betahistine acts on the histaminergic system:
In biochemical studies, it has been established that betahistine is a weak H1 agonist and a strong H3 receptor antagonist both in the tissue of the nervous system and has practically no affinity for H2 receptors. Betaserc® increases the production and release of histamine by blocking presynaptic H3 receptors, as well as reducing the number of H3 receptors.
Betahistine improves microcirculation both in the cochlear region and in the tissue of the entire brain:
Pharmacological data indicate an improvement in microcirculation in the vascular stria of the inner ear, possibly through relaxation of the precapillary sphincter of the microvessels of the inner ear. Betaserc® has also been shown to increase cerebral blood flow in humans.
Betahistine facilitates vestibular compensation:
Betahistine accelerates the recovery of vestibular function after unilateral neuroectomy in animals, facilitating and accelerating the processes of central vestibular compensation. This effect is characterized by an increase in the production and release of histamine and is mediated by H3 receptor antagonism. In humans, the recovery period after vestibular neurectomy is reduced by treatment with Betaserc®.
Betahistine changes the excitation of neurons in the vestibular nuclei:
Betaserc® has a dose-dependent inhibitory effect on the generation of peaks in the neurons of the lateral and medial vestibular nuclei.
Pharmacodynamic properties demonstrated in preclinical studies may explain the therapeutic benefits of betahistine in the treatment of vestibular disorders. The effectiveness of Betaserc has been proven in clinical studies in the treatment of patients with vestibular vertigo and Meniere's disease by improving the severity and frequency of vertigo attacks.
Indications for use
Meniere's syndrome, which is characterized by a triad of main symptoms, including dizziness (accompanied by nausea and vomiting), tinnitus, progressive hearing loss (hearing loss)
Symptomatic treatment of vestibular vertigo
Dosage and administration
Tablets 8 and 16 mg:
The daily dose for adults is 24-48 mg, which is divided into 2-3 doses: 1/2-1 tablet 3 times a day
During treatment, the dose is adjusted depending on the therapeutic effect. A stable therapeutic effect occurs after two weeks of treatment. The best results are sometimes seen after several months of treatment. Early treatment prevents hearing loss in the later stages of the disease.
Children and adolescents: Betaserc® is not recommended for use in persons under 18 years of age, as there is insufficient data on safety and efficacy.
Special groups of patients: no special dose selection of Betaserc is required in the elderly, patients with renal and hepatic insufficiency.
Possible side effects
Often (according to clinical studies):
– nausea, dyspepsia
– headache (frequency comparable to the placebo group)
Frequency unknown (according to post-marketing experience):
– hypersensitivity reactions (anaphylactic reactions), including from the skin (Quincke's edema, rash, itching, urticaria)
– vomiting, abdominal pain, flatulence (you can alleviate the development of these symptoms if you take the drug with food or reduce the dose)
Contraindications
– hypersensitivity to the active or any of the auxiliary components of the drug
– pheochromocytoma
Drug Interactions
No specific interaction studies have been conducted. Based on in vitro data, no interaction is expected with cytochrome P450 enzymes in vivo.
In vitro studies have shown that the metabolism of betahistine is inhibited by drugs that inhibit monoamine oxidase (MAO), including subtype B (eg, seleginine). Therefore, it is recommended to be careful when prescribing Betaserc and MAO inhibitors (including selective MAO-B).
Since betahistine is an analogue of histamine, the co-administration of Betaserc with antihistamines may reduce the effectiveness of one of the drugs.
Special instructions
Patients with a history of bronchial asthma and/or gastric ulcer need careful monitoring during treatment with Betaserc.
Pregnancy and breastfeeding
There are insufficient data on the safety of Betaserc in pregnant women. The potential risk to the human fetus and neonates is unknown. Betaserc should not be used during pregnancy unless the intended benefit to the mother outweighs the potential risk to the fetus/child. It is not known whether betahistine passes into breast milk. If it is necessary to prescribe Betaserk to a nursing woman, breastfeeding should be discontinued.
Features of the effect of the drug on the ability to drive a vehicle or potentially dangerous mechanisms
Betahistine is used to treat Meniere's syndrome, which is characterized by a triad of main symptoms: dizziness, hearing loss, tinnitus, as well as for the symptomatic treatment of vestibular vertigo. Both conditions can adversely affect the ability to drive a car and operate other mechanisms.
According to clinical studies that studied the effect of this drug on the ability to drive a car or operate machinery, Betaserc® did not affect or had a slight effect on this ability.
Overdose
Symptoms: nausea, drowsiness, mild to moderate abdominal pain at doses up to 640 mg. More serious complications (convulsions, pulmonary or cardiac symptoms) have been observed in cases of deliberate overdose, especially in combination with other drugs.
Treatment: symptomatic and supportive therapy.
Storage conditions
Store at a temperature not exceeding 25°C, in the original packaging to protect from light.
Keep out of the reach of children!
Shelf life – 3 years
Do not use after the expiry date stated on the packaging.
Additional information