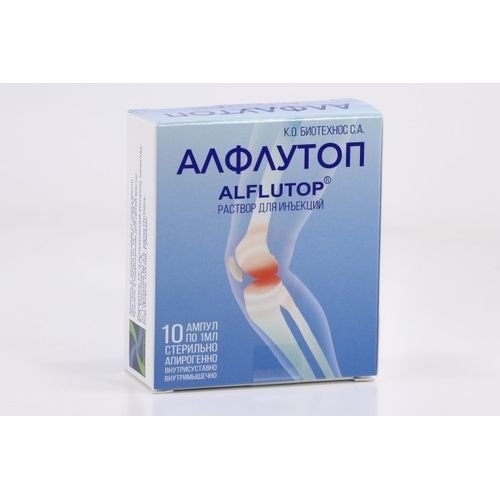 ALFLUTOP® 10 mg/1ml x 10 ampoules
Injectable ALFLUTOP® (the bioactive concentrate from small sea fish (BCSSF)) belongs to the pharmacological group of symptomatic slow-acting drugs for osteoarthritis.
Description
ALFLUTOP® is a drug intended for the treatment of diseases of the spine and joints. These diseases are mainly degenerative-dystrophic. The use of ALFLUTOP® thus improves metabolic processes in the cartilage tissue, has an anti-inflammatory effect, stimulates the synthesis of collagen and inhibits the synthesis of substances that destroy the structure of cartilage.
---
Structure
1 ml of solution contains:
Active ingredient – bioactive concentrate of small marine fish 0.1 ml:
Concentrate of bioactive shallow marine fish (Kilkee (Sprattus sprattus sprattus)
Black Sea whiting (Odontogadus merlangus Euxinus)
Black Sea shad (Feed tanaica nordmanni)
Black Sea anchovy (Engraulis encrassicholus ponticus)
Excipients: phenol, water for injection up to 1 ml
Pharmacological properties
Pharmacokinetics
The effect of the extract of marine organisms is the cumulative effect of its active components; therefore, the study of the pharmacokinetic characteristics is not possible.
Pharmacodynamics
ALFLUTOP is a preparation of biological origin, a chondroprotector, the active component of which is a bioactive concentrate of small sea fish. The concentrate contains glycosaminoglycans (hyaluronic acid, chondroitin-6-sulfate, chondroitin-4-sulfate, dermatan sulfate, keratan sulfate; amino acids), polypeptides with a molecular weight of 50,000 daltons, macro- and microelements (sodium, potassium, calcium, magnesium, iron, zinc, copper). The drug regulates the metabolism in cartilage tissue: it has a chondroprotective effect based on inhibition of the activity of hyaluronidase and other enzymes, and normalizes the biosynthesis of hyaluronic acid and collagen type II. ALFLUTOP stimulates recovery processes in interstitial tissue and articular cartilage tissue, inhibits the biosynthesis of inflammatory mediators, including anti-inflammatory cytokines.
A pronounced anti-inflammatory and analgesic effect appears on the 8-10th day of treatment.
Indications for use
Osteochondrosis and osteoarthritis
Fibromyalgia
Spondylosis
Traumatic dysostosis
Periarthritis
Periodontal disease
Chondral and endochondral disorders of ossification
Method of administration and dosage
Adults
In osteoarthritis and osteochondrosis, the drug is administered deeply intramuscularly, 1 ml per day for 20 days.
With a predominant lesion of large joints, the drug is injected intra-articularly in 1-2 ml into each joint with an interval of 3 days under the supervision of a doctor. In total, the course of treatment is 5 injections into each joint.
It is advisable to repeat the course of treatment after 6 months after consulting a doctor.
Possible side effects
Adverse events are presented in accordance with organ systems and frequency of development: often – from 1% to 10%; infrequently – from 0.1% to 1%; rarely – from 0.01% to 0.1%; very rarely – less than 0.01%.
Seldom
– itchy dermatitis, skin redness and burning sensation at the injection site
– short-term myalgias
– increased blood pressure
In some cases
– with intra-articular injections, a transient increase in pain is possible
Rarely
– development of anaphylactic reactions is possible
Contraindications
– hypersensitivity to any component of the drug
– pregnancy and lactation
– children's age up to 18 years
Drug interactions
Not identified
Special instructions
The drug should be used with caution in cases of autoimmune diseases (rheumatoid arthritis, ankylosing spondylitis, erythematosis, scleroderma), under strict medical supervision.
In case of individual intolerance to seafood (sea fish), the risk of developing allergic reactions increases.
Features of the effect of the drug on the ability to drive vehicles or potentially dangerous mechanisms
Does not affect
Overdose
Symptoms: Allergic reactions may occur in predisposed patients
Treatment: drug withdrawal, symptomatic therapy
Storage conditions
Store in a dark place at temperatures from 15 °C to 25 °C.
Keep out of the reach of children!
Shelf life – 3 years
Do not use after the expiration date.