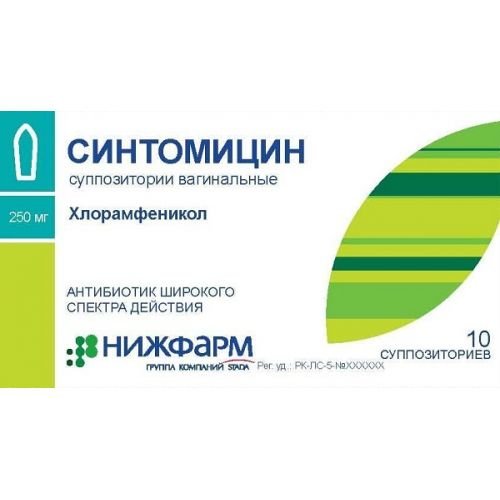 Synthomycin (Chloramphenicol) 250 mg, 10 suppositories
Description
1 suppository contains
Active ingredient – D,L-Chloramphenicol (synthomycin) – 250 mg
Auxiliary substance – solid fat (vitepsol) – a sufficient amount to obtain a suppository weighing 1.8 g.
Pharmacological properties
Pharmacokinetics
With intravaginal administration, it is practically not absorbed and does not have a systemic effect.
Pharmacodynamics
Synthomycin is a broad-spectrum bacteriostatic antibiotic that disrupts the process of protein synthesis in a microbial cell at the stage of transfer of t-RNA amino acids to ribosomes. Active against many gram-positive and gram-negative bacteria, pathogens of purulent, intestinal infections, meningococcal infections: Escherichia coli, Shigella dysenteria, Shigella flexneri spp., Shigella boydii spp., Shigella sonnei, Salmonella spp. (including Salmonella typhi, Salmonella paratyphi), Staphylococcus spp., Streptococcus spp. (including Streptococcus pneumoniae), Neisseria meningitidis, Neisseria gonorrhoeae, a number of strains of Proteus spp., Burkholderia pseudomallei, Rickettsia spp., Treponema spp., Leptospira spp., Chlamydia spp. (including Chlamydia trachomatis), Coxiella burnetii, Ehrlichia canis, Bacteroides fragilis, Klebsiella pneumoniae, Haemophilus influenzae.
Does not affect acid-resistant bacteria (including Mycobacterium tuberculosis), anaerobes, methicillin-resistant strains of staphylococci, Acinetobacter, Enterobacter, Serratia marcescens, indole positive strains of Proteus spp., Pseudomonas aeruginosa spp., protozoa and fungi.
Resistance of microorganisms to chloramphenicol develops slowly.
Indications for use
Bacterial infections of the pelvic organs caused by susceptible microorganisms (vaginitis, cervicitis)
Prevention of purulent-inflammatory diseases in gynecology (before invasive procedures: abortions, gynecological operations (diathermocoagulation of the cervix, hysterography), before and after the installation of an intrauterine device).
Dosage and administration
Intravaginally. Having previously released the suppository from the contour packaging, it is administered, lying on the back, deep into the vagina, 1 suppository 2-3 times a day.
The maximum daily dose is 4 suppositories.
The average duration of treatment is 8-10 days.
Possible side effects
– allergic reactions
– oppression of hematopoiesis (rarely)
– burning sensation when urinating
– hyperemia of the mucous membrane of the external genitalia
– vaginal dysbacteriosis.
Contraindications
– hypersensitivity to the components of the drug
– suppression of bone marrow hematopoiesis
– acute intermittent porphyria
– deficiency of glucose-6-phosphate dehydrogenase
– liver and / or kidney failure
– fungal vaginitis
– girls under 16
– pregnancy, lactation
Drug Interactions
Reduces the antibacterial effect of penicillins and cephalosporins. With simultaneous use with erythromycin, clindamycin, lincomycin, a mutual weakening of the action is noted.
Storage conditions
Store at a temperature not exceeding 25 ºС.
Keep out of the reach of children!
Shelf life – 3 years
Do not use after the expiration date.
Additional information