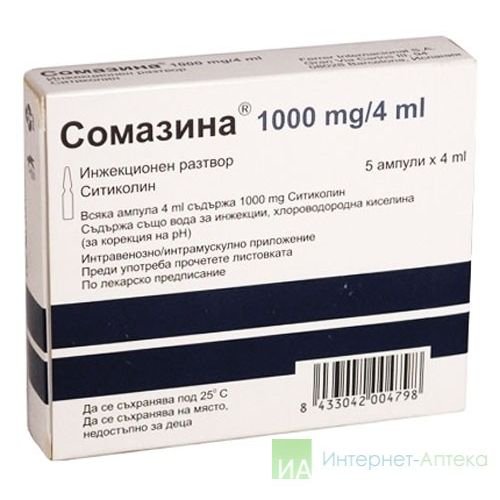 Somazina® (Citicoline) 1000 mg/4 ml 5's solution for injection in ampoules
Description
The instruction for medical use
of SOMAZINA® medicine
the Trade name
of Somazina®
the International unlicensed
name Tsitikolin Lekarstvennaya a form
Solution for intramuscular and intravenous administration, 1000 mg / 4мл
Structure
of 4 ml of solution contains
active agent – tsitikolin (in the form of sodium salt) 1000 mg, excipient – water for injections to 4 ml.
Description
Transparent colourless solution
Pharmacotherapeutic group
Other psychostimulants and nootropic drugs.
The code of automatic telephone exchange N06BX06
the Pharmacological
Pharmacokinetics Absorption properties of Tsitikolin almost full, less than 1% of a dose is defined in excrements for 5 days after reception. Two peaks of radioactivity in blood plasma owing to metabolism in a liver and intestines, in 1 and 24 hours respectively are noted. Bioavailability researches with use it is radioactive marked samples of drug showed that Tsitikolin has almost identical bioavailability at intake and parenteral administration.
It is metabolized in a liver. Removal very slow, mainly, through airways and with mochy in the form of metabolites and an invariable look (16%).
The pharmacodynamics
Tsitikolin stimulates biosynthesis of structural phospholipids of membranes of neurons. By such action tsitikolin improves functioning of such membrane structures as ionic pumps and receptors without which regulation normal carrying out nervous impulses is impossible.
Thanks to the stabilizing action on a membrane, tsitikolin shows antiedematous properties and reduces wet brain.
Tsitikolin weakens expressiveness of the symptoms connected with conditions of cerebral dysfunction owing to various pathological processes, such as craniocereberal injuries and acute disorders of cerebral circulation. Tsitikolin reduces the level of amnesia, manifestation of the cognitive, sensitive and motor disorders connected with these pathologies.
Clinical trials also showed Tsitikolin's efficiency for treatment of the cognitive, motor and neuropsychological disorders connected with cerebral pathology of degenerative origin.
Indications
– disturbances of cerebral circulation in an acute period and the period of rehabilitation
– craniocereberal injuries and their consequences
– the cognitive, sensitive, motor and neuropsychological disorders connected with cerebral pathology of degenerative or vascular origin.
A way of use and a dose
1 or 2 injections a day depending on weight of a state. The drug can be administered intramusculary, slowly intravenously (within 3-5 minutes) or intravenously by drop infusion. The drug Somazina® is compatible to all isotonic physical solutions and also to hypertonic salt solution of glucose. Duration of treatment depends on disease severity and is defined by the attending physician.
Side effects
– sometimes: slight hypotension, drowsiness, an insignificant lowering of arterial pressure (which is quickly normalized)
Are possible (but in practice did not meet):
– feeling of heat
– temperature increase
– short-term increase or pressure decline
– insomnia
– a loss of appetite
– minor changes of indicators of function of a liver.
Contraindications
– an allergy to one of drug components
– patients with the raised tone of parasympathetic nervous system (vagus nerve).
Medicinal interactions
it should not be applied along with the drugs containing Meclofenoxatum (meclofenoxate). Enhances effect of a levodopa.
Special instructions
in case of persistent intracranial bleeding it is recommended to administer the drug in the form of very slow intravenous infusion (30th thaw/minute) and not to exceed a daily dose of 1000 mg.
Use in pediatric practice
Should be applied with care at newborns, babies and at early children's age. In these cases it is recommended to appoint drug in the form of solution for oral administration.
Pregnancy and lactation
Drug can be used only in case the expected positive effect exceeds possible risk,
Influence on ability to run the vehicle
the Overdose
In view of hypotoxicity of drug, poisoning probability low, even does not influence at accidental exceeding a therapeutic dose.
Treatment: it is necessary to carry out the corresponding symptomatic therapy.
A form of release and packing
of 5 ampoules on 4 ml in cardboard boxes together with the instruction for use.
To Store storage conditions at a temperature not higher than + 300C.
To store out of children's reach!
3 years
not to use a period of storage after an expiration date.
Prescription status
According to the prescription
the Producer Ferrer International, S.A.
Adres: 08028 Barcelona, Spain, Gran Via Carlos III, 94.
Additional information