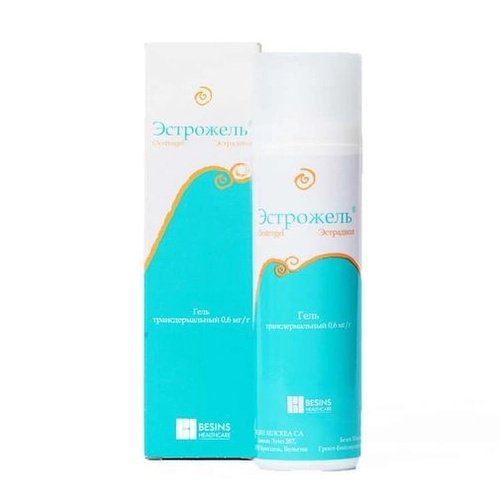 Description
COMPOSITION
1 G GEL CONTAINS
ACTIVE SUBSTANCE – ESTRADIOL HEMIHYDRATE (IN TERMS OF ESTRADIOL) 0.60 MG
AUXILIARY SUBSTANCES: CARBOMER (CARBOPOL® 980 NF), TROLAMINE (TRIETHANOLAMINE), ETHANOL 96%, PURIFIED WATER.
PHARMACHOLOGIC EFFECT
PHARMACOKINETICS
ABSORPTION AND DISTRIBUTION.
ESTROGEL IS AN ALCOHOL-BASED GEL OF ESTRADIOL. WHEN THE GEL IS APPLIED TO THE SKIN, THE ALCOHOL EVAPORATIONS QUICKLY, ALLOWING THE ESTRADIOL TO ENTER THE circulatory system. MOST OF ESTRADIOL GOES INTO THE SYSTEMIC BLOOD FLOW IMMEDIATELY, AND SOME OF IT IS RETAINED IN THE SUBCUTANEOUS FIBER AND IS RELEASED INTO THE SYSTEMIC BLOOD FLOW GRADUALLY.
THE SYSTEMIC ABSORPTION OF ESTRADIOL IN THE TRANSDERMAL USE OF THE DRUG IS ABOUT 10% OF THE USED DOSE. PLASMA HALF-LIFE OF ESTRADIOL (T ½) ABOUT 1 HOUR. PLASMA CLEARANCE OF METABOLITES VARIES IN THE RANGE OF 650 – 900 L/DAY/M².
DURING THE FIRST HOURS AFTER USING ESTROGEL®, ESTRADIOL LEVELS REACH VALUES DIRECTLY PROPORTIONATE TO THE DOSE AND AREA OF APPLICATION.
THE CONCENTRATIONS OF ESTRADIOL IN SERUM WAS DETERMINED EXPERIMENTALLY AFTER 24 HOURS WITH DAILY APPLICATION OF 2.5 G OR 5 G OF GEL ON A SKIN AREA OF 750 CM² AND AMOUNTED TO 75 PG / ML AND 98 PG / ML, RESPECTIVELY. INDIVIDUAL DIFFERENCES BETWEEN PATIENTS RANGE FROM 42 PG/mL TO 122 PG/mL FOR 2.5 G GEL AND FROM 67 PG/mL TO 160 PG/mL FOR 5 G GEL. AVERAGE ESTRADIOL LEVELS REMAINED STABLE AND COMPARABLE FOR 72 HOURS WITH DAILY USE OF THE GEL, INCLUDING WHEN USED FOR SIX CONSECUTIVE CYCLES.
THE LEVELS OF ESTRADIOL IN THE BLOOD REMAIN STABLE EVEN AFTER SEVERAL MONTHS OF USE OF THE DRUG (INDIVIDUAL DIFFERENCES ARE ABOUT 11%).
The transdermal path of the administration of estradiol eliminates the effect of the primary passage through the liver: the physiological ratio of the levels of circulating estradiol E2 and estron E1 is in the range of 0.78 – 0.97 (close to one) and comparable to those observed before menopause.
METABOLISM.
ESTRADIOL IS METABOLIZED MAINLY IN THE LIVER TO ESTRIOL, ESTRON AND THEIR CONJUGATED METABOLITES (GLUCURONIDES, SULPHATES). THESE METABOLITES ARE SUBJECTED TO HEPATIC INTESTINAL RECIRCULATION.
AFTER THERAPY IS DISCONTINUED, SERUM ESTRADIOL AND URINARY CONJUGED ESTRADIOL LEVELS RETURN TO BASELINE VALUES AFTER APPROXIMATELY 76 HOURS.
PHARMACODYNAMICS
Systemic absorption of 17β-estradiol through the skin replenishes the deficiency of estrogen in women with natural menopause and after ovariectomy, reducing the severity of menopausal disorders, such as "stuff", an increased night sweating, atrophic changes in the urinary tract (atrophic vulvovaginitis, dispositions, urinary incontinence), psycho-emotional disorders .
THE MEDICINE PROVIDES ESTROGENIC EFFECT ON THE MAIN TARGET ORGANIS (OVARY, ENDOMETRIUM, BREAST GLANDS, HYPOTHOLAMUS, PITUITARY GLANDS, VAGINAL EPITHELIUM, URINARY CANAL, LIVER) SIMILARLY TO THE ACTION OF ENDOGENOUS ESTROGENS IN THE FOLLICULAR PHASE OF THE CENIAL.
THE CLINICAL EFFICACY OF ESTROGEL® IN THE TREATMENT OF MENOPAUSAL SYMPTOMS IS COMPARABLE TO THAT WHEN USE OF ESTROGEN BY ORAL.
ESTRADIOL REDUCES TOTAL CHOLESTEROL WITHOUT CHANGING THE CHOLESTEROL / HDL RATIO, PROVIDES A PROCOAGULANT EFFECT, INCREASES THE SYNTHESIS IN THE LIVER OF VITAMIN K-DEPENDENT BLOOD COAGULATION FACTORS (II, VII, IX, X), REDUCES CONCENTRATION
ESTRADIOL PREVENTS BONE LOSS ASSOCIATED WITH NATURAL MENOPAUSE OR OVARIECTOMY. POST-MENOPAUSE ESTROGEN DEFICIENCY IS ASSOCIATED WITH REDUCED BONE MINERAL DENSITY (BMD). THE EFFECT OF ESTROGEN ON MBCM IS DOSE-DEPENDENT AND APPEARS TO CONTINUE UNTIL HORMONONE REPLACEMENT THERAPY (HRT) IS CARRIED OUT. AFTER CANCELING HRT, the MPCM BEGINS TO DECLINE AT THE SAME SPEED AS BEFORE THE BEGINNING OF ITS CARRYING OUT. The data of the randomized placebo-controlled study "Initiative in the Name of Women's Health" (WHI) and the meta-analysis of clinical studies have shown that the GHT is only estrogens or estrogens in combination with gestages in healthy women during postmenopause reduces the risk of fractures of the thigh, spine and other osteoporotic fractures . THERE IS ALSO LIMITED Evidence THAT HRT CAN PREVENT BONE FRACTURES IN WOMEN WITH LOW BMD AND/OR ESTABLISHED OSTEOPOROSIS.
INDICATIONS FOR USE:
– HORMONAL REPLACEMENT THERAPY (HRT) WITH SYMPTOMS OF ESTROGEN DEFICIENCY; TREATMENT OF CLIMACTERIC SYNDROME ASSOCIATED WITH NATURAL OR SURGICAL MENOPAUSE;
– PREVENTION OF OSTEOPOROSIS IN POSTMENOPAUSE WOMEN WITH A HIGH RISK OF FRACTURES WITH INTOLERANCE OR CONTRAINDICATIONS TO OTHER DRUGS FOR THE PREVENTION OF OSTEOPOROSIS.
EXPERIENCE IN THE TREATMENT OF WOMEN OVER 65 YEARS OLD IS LIMITED.
METHOD OF APPLICATION AND DOSES
ESTROGEL® IS APPLIED EXTERNALLY IN A CONTINUOUS OR CYCLIC MODE. THE DOSE OF THE PREPARATION IS SELECTED INDIVIDUALLY.
MINIMUM EFFECTIVE DOSE FOR THE TREATMENT OF MENOPS
FOR AUSAL SYMPTOMS IS 1.25 G GEL (0.75 MG ESTRADIOL) 1 TIME A DAY FOR 21-28 DAYS A MONTH. TO START AND CONTINUE THERAPY, THE MINIMUM EFFECTIVE DOSE MUST BE USED FOR A SHORT TIME.
WHEN USING THE GEL IN THE FORM OF A BOTTLE, ONE PRESS ON THE DISPENSER PUMP RELEASES 1.25 G OF THE GEL (0.75 MG OF ESTRADIOL).
THE AVERAGE DAILY DOSE IS 2.5 G GEL PER DAY, CORRESPONDING TO 2 PRESSES ON THE DISPENSER PUMP (1.5 MG ESTRADIOL).
APPLICATION OF THE GEL: BEFORE USING IT IS NECESSARY TO REMOVE THE CAP FROM THE BOTTLE AND PRESS THE PUMP-DISPENSER HARDLY, SUBSTITUTING THE OTHER HAND TO COLLECT THE GEL. THE DOSE THAT IS RELEASED AT THE FIRST PRESS MAY BE INACCURATE, SO IT IS RECOMMENDED TO THROW IT OUT. THE BOTTLE IS DESIGNED FOR 64 PUSHES. AFTER 64 PRESSES, THE AMOUNT OF GEL THAT IS RELEASED AT A SINGLE PRESS MAY BE LESS THAN REQUIRED, SO IT IS NOT RECOMMENDED TO USE THE BOTTLE AFTER 64 PRESSES ON THE DISPENSER PUMP.
THE USE OF THE DRUG ESTROGEL® WITHOUT THE ADDITION OF PROGESTAGEN IS POSSIBLE ONLY IN WOMEN WITH REMOVED UTERUS.
IN WOMEN WITH A PRESERVED (INTACT) UTERUS, ESTROGEN TREATMENT WITHOUT PROGESTAGEN COVERAGE IS NOT RECOMMENDED BECAUSE OF THE POSSIBLE RISK OF ENDOMETRIAL HYPERPLASIA AND DYSPLASIA.
– TREATMENT FOR PERIMENOPAUSED WOMEN SHOULD BE DONE FOR A MINIMUM OF THREE CONSECUTIVE WEEKS FOLLOWED BY ONE WEEK IN COMBINATION WITH ORAL PROGESTERONE GIVEN FOR 12-14 DAYS (IN A 28 DAY CYCLE). TREATMENT IS POSSIBLE ALSO FROM DAY 1 TO 25 OF THE MONTH IN COMBINATION WITH ORAL PROGESTERONE. DURING A WEEK BREAK, BLEEDING MAY OCCUR DUE TO REDUCED HORMONES. IT IS RECOMMENDED TO USE ONLY THOSE GESTAGENS WHICH ARE ALLOWED TO BE USED IN COMBINATION WITH ESTROGENS.
– IN POST-MENOPAUSE WOMEN, ESTROGEN IN COMBINATION WITH GESTAGEN IS TREATED IN CONTINUOUS MODE.
– LONG-TERM ESTROGEN MONOTHERAPY IN CONTINUOUS MODE IS SHOWN FOR WOMEN AFTER HYSTERECTOMY. IF THERE IS NO HISTORY OF ENDOMETRIOSIS, THE SUPPLEMENT OF GESTAGEN IN WOMEN WITH A REMOVED UTERUS IS NOT RECOMMENDED.
DEPENDING ON CLINICAL SYMPTOMS AFTER 2-3 TREATMENT CYCLES, DOSAGE ADJUSTMENT IS CARRIED OUT:
– WHEN SYMPTOMS OF HYPERESTROGENIA APPEAR, SUCH AS A FEELING OF TENSION IN THE BREAST GLANDS, A FEELING OF BLOOD IN THE ABDOMEN AND PELVIS, ANXIETY, NERVOUSNESS, AGGRESSION, THE DOSE IS NECESSARY.
– AT SYMPTOMS OF HYPOESTROGENIA SUCH AS PRESENT FLUSHES, DRY VAGINAL MUCOSA, HEADACHE, SLEEP DISTURBANCES, ASTHENIA, TENDENCY TO DEPRESSION, THE DOSE MUST BE INCREASED.
IF THE PATIENT FORGOT TO APPLY THE GEL ON TIME, IT SHOULD BE DONE AS SOON AS POSSIBLE, BUT NO LATE THAN 12 HOURS FROM THE LAST USE. IF MORE THAN 12 HOURS HAVE PASSED, YOU SHOULD WAIT FOR THE NEXT RECEPTION. IRREGULAR USE OF THE DRUG (MISSED DOSES) MAY CAUSE BREAKTHROUGH BLEEDING AND SPOTTING HEATING DISCHARGE.
THE GEL IS APPLIED BY THE PATIENT INDEPENDENTLY, IN THE MORNING OR EVENING, PREFERRED AT THE SAME TIME – IN A THIN LAYER ON CLEAN, DRY, UNDAMAGED SKIN OF THE ABDOMEN, lumbar region, SHOULDERS OR FOREARMS UNTIL COMPLETE SUCTION.
DO NOT MASSAGE THE PLACE OF GEL APPLICATION. AVOID CONTACT OF THE GEL ON THE AREA OF THE BREAST AND THE MUCOSA OF THE VULVA OR VAGINA.
APPLICATION IS CORRECT AND EFFECTIVE IF THE GEL IS COMPLETELY ABSORBED WITHIN 2-3 MINUTES.
IF THE STICKY CONSISTENCY CONTINUES FOR MORE THAN 5 MINUTES AFTER APPLICATION, TOO SMALL THE SKIN SURFACE IS COVERED WITH THE GEL. NEXT TIME, APPLY THE GEL TO A LARGE AREA OF SKIN.
HANDS SHOULD BE WASHED IMMEDIATELY AFTER APPLYING THE GEL.
SIDE EFFECTS
POSSIBLE ADVERSE REACTIONS WITH HORMONONE REPLACEMENT THERAPY, ADVERSE REACTIONS ARE LISTED BELOW IN ORDER OF DECREASING DETECTION FREQUENCY: FREQUENTLY (>1/100 TO <1/10); UNCOMMON (>1/1000 TO <1/100):
OFTEN
– NERVOUSNESS, DEPRESSION
– HEADACHE
– PAIN IN THE ABDOMEN, INTESTINAL COLICA, bloating, NAUSE, VOMITING
– MUSCLE CRAMPS, PAIN IN THE LIMB
– dysmenorrhea, menorrhagia, bleeding (spotting bleeding), menstrual disorders, leukorrhea
INFREQUENTLY
– MIGRAINE, Dizziness, Drowsiness
– THROMBOSIS OF SUPERFICIAL OR DEEP VEINS, THROMBOPHLEBITIS
– ABNORMAL LIVER FUNCTION TESTS, LIVER ADENOMA, CHOLELITHIASIS
– SKIN RASH, ITCHING, CHLOASMA
– ARTRALGIA
– BENIGN BREAST TUMORS, ENDOMETRIAL POLYPS, INCREASED UTERINE MYOMA, ENDOMETRIOSIS, MASTODYNIA, EXAMINATION OF ESTROGEN-DEPENDENT TUMORS
– PERIPHERAL EDEMAL, SODIUM RETENTION, FEELING OF BLOOD, CHANGES IN BODY WEIGHT
CONTRAINDICATIONS
– INCREASED SENSITIVITY TO ESTRADIOL OR ANY COMPONENT OF THE DRUG;
– BREAST CANCER (DIAGNOSATED, SUSPECTED OR IN HISTORY);
– ESTROGEN-DEPENDENT MALIGNANT TUMORS (DIAGNOSED, SUSPECTED OR IN HISTORY), FOR EXAMPLE, ENDOMETRIAL CANCER;
– BLEEDING FROM THE POLO
EXIT WAYS OF UNCLEAR ETIOLOGY;
– UNTREATED ENDOMETRIAL HYPERPLASIA;
– CURRENT OR HISTORY IDIOPATHIC VENOUS THROMBOEMBOLISM (EG, DEEP VEIN THROMBOSIS, PULMONARY EMBOLISM)
– DIAGNOSED BLOOD COAGULATION DISORDERS (SUCH AS PROTEIN C, PROTEIN S OR ANTITHROMBIN DEFICIENCY)
– ACUTE OR RECENT ARTERIAL THROMBOEMBOLIC DISEASES (eg, ANGINA, MYOCARDIAL INFARCTION)
– ACUTE LIVER DISEASE OR HISTORY OF LIVER DISEASE IF THE RESULTS OF LIVER FUNCTION TESTS HAVE NOT RETURNED TO NORM;
-PORPHYRY
– PREGNANCY AND LACTATION PERIOD.
DRUG INTERACTIONS
In standard doses, the drug estodel® does not cause excessive stimulation of hepatic enzymes: does not adversely affect the lipid balance, coagulation factors (fibrinogen activity, antithrombin III), circulating levels of renin and globulin binding sex steroids, in connection with which there is no hyperitriglyceridemic, diabetogenic OR HYPERTENSIVE ACTION.
Estrogen metabolism can be increased while simultaneously use with the inductors of microslomal liver enzymes, in particular cytochrome P450 enzymes, which include anticonvulsant (phenobarbital, phenytoin, carbamazepine, meepobamate, phenylbutazone) and some antimicrobial means (rifampicin, rifabutin, neviurapin, efavirenz).
RITONAVIR AND NELFINAVIR, ALSO POWERFUL INHIBITORS, WHEN USED WITH STEROID HORMONES, ON THE CONTRAST, SHOW INDUCING EFFECT.
HERBAL PRODUCTS CONTAINING St. John's wort (HYPERICUM PERFORATUM) CAN INDUCATE ESTROGEN AND PROGESTAGENE METABOLISM.
THE TRANSDERMAL ROUTE OF ESTROGEN ADMINISTRATION ALLOWS TO AVOID THE EFFECT OF PRIMARY PASSAGE THROUGH THE LIVER, THANKS TO TRANSDERMAL ESTROGENS ARE EXPOSED TO LESS IMPACT OF MICROSOMAL LIVER ENZYME INDICATORS THAN ORAL.
IN CLINICAL PRACTICE, INCREASED ESTROGEN METABOLISM MAY LEAD TO REDUCED EFFECT AND CHANGES IN UTERINE BLEEDING.
SPECIAL INSTRUCTIONS
HRT SHOULD BE ADMINISTERED ONLY FOR THE TREATMENT OF POST-MENOPAUSE SYMPTOMS THAT HAVE A NEGATIVE AFFECT ON QUALITY OF LIFE. IN ALL CASES, AT LEAST ONCE A YEAR, A CAREFUL BENEFITS AND RISK EVALUATION SHOULD BE CARRIED OUT AND HRT PRODUCED TO BE CONTINUED UNTIL THE BENEFITS EXCEED THE RISKS.
THERE IS LIMITED INFORMATION REGARDING THE RISKS ASSOCIATED WITH HRT FOR THE TREATMENT OF PREMATURE MENOPAUSE. HOWEVER, BECAUSE OF THE LOW ABSOLUTE RISK OF HRT IN YOUNG WOMEN, THE BENEFITS AND RISK RATIO FOR THESE WOMEN MAY BE MORE FAVORABLE THAN FOR OLDER WOMEN.
MEDICAL EXAMINATION AND OBSERVATION:
Before starting or reappointing the UGT, it is necessary to collect and take into account the full personal and family history of the patient, to conduct a medical examination (including the examination of the abodes of the small pelvis and the mammary glands) in order to identify contraindications and compliance with precautionary measures when applying the drug. PERIODIC EXAMINATION IS RECOMMENDED DURING TREATMENT; THE FREQUENCY AND THE METHODS INCLUDED IN IT ARE DETERMINED INDIVIDUALLY FOR EACH PATIENT. Women should be informed about what changes in molk glaze they should inform their doctor or nurse. Investigations, including mammography, should be carried out in accordance with currently used screening methods and be adapted to the individual clinical needs of each patient.
CONDITIONS REQUIRING OBSERVATION
IF ANY OF THE FOLLOWING CONDITIONS CURRENTLY, IN THE PAST AND/OR HAVE EXACTED DURING PREGNANCY OR PREVIOUS HORMONAL THERAPY, THE PATIENT SHOULD BE CAREFULLY OBSERVED BY A PHYSICIAN. It is necessary to take into account the likelihood of recurrence or exacerbation of these states during treatment with a reproach with the following states: the frayomaoma of the uterus, endometriosis, the presence of risk factors of estrogen-dependent tumors (breast cancer in relatives of the first line of kinship), hypertension, liver disease (including liver adenoma ), DIABETES MELLITUS WITH OR WITHOUT DIABETIC ANGIOPATHY, GALL BLADDER DISEASES (INCLUDING CHOLELITHIASIS), MIGRAINE OR Severe Headache, Systemic Lupus Erythematosus, HISTORY OF ENDOMETRIAL HYPERPLASIA, EPILEPSY, BRONCHIAL ASTHMA,
AT SIMULTANEOUS USE WITH GESTAGENS, POTENTIAL CONTRAINDICATIONS OF THE LAST SHOULD BE CONSIDERED: PREGNANCY FOR ANDROGENIC PROGESTAGENS, BREAST, OVARIAN OR ENDOMETRIAL CANCER.
USE WITH CAUTION IN THE PRESENCE OF RISKS OF CARDIOVASCULAR DISEASE, CORONARY DISEASE AND/OR CEREBROVASCULAR DISEASE THAT ARE INCREASED IN THE EVENT OF HYPERTENSION AND/OR SMOKING.
DETECTION OF CHANGES DURING PALPATION OF THE BREAST GLANDS REQUIRES ADDITIONAL GYNECOLOGICAL EXAMINATION AT ANY TIME OF TREATMENT. THE PATIENT SHOULD ALSO SEE A DOCTOR IN CASE OF IRREGULAR UTERINE BLEEDING (EXCEPT WITHDRAWAL DURING THE CYCLIC REGIME OF HRT), HEADACHE AND VISUAL DISORDERS, PAINFUL Swelling of the LOWER LIMB, OR ABDOMINAL PAIN.
REASONS FOR IMMEDIATELY WITHDRAWAL OF THERAPY
THERAPY SHOULD BE CANCELED WHEN THERE IS A CONTRAINDICATION AND IN THE FOLLOWING CASES:
– JAUNDICE OR IMPAIRED LIVER FUNCTION;
– SIGNIFICANT INCREASE IN BLOOD PRESSURE;
– NEW MIGRAINE HEADACHES;
– PREGNANCY.
HYPERPLASIA AND ENDOMETRIAL CANCER
IN WOMEN WITH AN INTACT UTERUS, THE RISK OF ENDOMETRIAL HYPERPLASIA AND CANCER IS INCREASED WHEN USING ESTROGEN FOR A LONG TIME. THE RISK OF ENDOMETRIAL CANCER IN WOMEN RECEIVING ESTROGEN ONLY IS REPORTED TO BE 2-12 TIMES INCREASED AS WOMEN WHO DO NOT RECEIVE ESTROGEN, DEPENDING ON THE DURATION OF TREATMENT AND THE DOSE OF ESTROGEN. THE INCREASED RISK MAY CONTINUE FOR AT LEAST 10 YEARS AFTER TREATMENT IS DISCONTINUED. GESTAGEN SUPPLEMENT IN THE LAST 12 DAYS OF A MONTH (DURING A 28-DAY CYCLE) OR CONTINUOUS COMBINED ESTROGEN-GESTAGEGEN THERAPY IN WOMEN WITH UNREMOVED UTERUS REDUCES THE RISK OF DEVELOPMENT OF HYPERPLASIA AND ENDOMETRIAL CANCER ASSOCIATED WITH HRT
DURING THE FIRST MONTHS OF TREATMENT, BREAKTHROUGH BLEEDING AND SMOOTHING HEATING MAY BE OPERATED. IF BREAKTHROUGH BLEEDING OR SPOTTING BLEEDING APPEARS AFTER A PERIOD OF TREATMENT OR CONTINUES AFTER THERAPY IS DISCONTINUED, AN INVESTIGATION IS NECESSARY TO UNDERSTAND THE CAUSES OF THEIR CAUSE, INCLUDING ENDOMETRIAL BIOPSYSIS TO EXCLUDING CALM.
ESTROGEN-ONLY HRT MAY CAUSE PRECANCER OR MALIGNANT TRANSFORMATION OF RESIDUAL ENDOMETRIOSIS.
IN THIS REGARD, WOMEN WHO HAVE A HYSTERECTOMY FOR ENDOMETRIOSIS SHOULD BE ADDITIONAL TO ESTROGEN REPLACEMENT THERAPY, ESPECIALLY IF THEY HAVE RESIDUAL ENDOMETRIOSIS.
MAMMARY CANCER
THE AVAILABLE DATA SHOW AN INCREASED RISK OF BREAST CANCER IN WOMEN USING COMBINED ESTROGEN-GESTAGEN MEDICINES AND POSSIBLY ALSO ESTROGEN-ONLY HRT MEDICINES. THIS RISK DEPENDS ON THE DURATION OF HRT.
COMBINED ESTROGEN – GESTAGE HRT.
The results of a randomized placebo-controlled study "Initiative in the Name of Women's Health" (WHI) and epidemiological studies indicate an increase in the risk of developing breast cancer in women who received combined estrogen -Gest drugs for the HGT, which occurs approximately 3 years of treatment.
ESTROGEN MONOTHERAPY
THE WHI STUDY DID NOT FIND AN INCREASED RISK OF BREAST DEVELOPMENT IN WOMEN WHO HAD A HYSTERECTOMY AND RECEIVED ESTROGEN-ONLY HRT. OBSERVATIONAL STUDIES REPORT PRIORLY A SMALL RISK OF BREAST CANCER DIAGNOSIS WHICH IS SIGNIFICANTLY LOWER THAN WOMEN RECEIVING COMBINED ESTROGEN-HESTAGETHERAPY.
ADDITIONAL RISK APPEARS AFTER SEVERAL YEARS OF TREATMENT AND RETURNS TO BASELINE IS NORMALIZED TO BASELINE, GENERALLY WITHIN 5 YEARS AFTER TREATMENT IS DISCONTINUED.
HRT, PARTICULARLY COMBINED ESTROGEN-GESTAGEN THERAPY, LEADS TO AN INCREASED DENSITY OF MAMMOGRAPHIC IMAGES, WHICH MAY OBSTRUCT RADIOLOGICAL DIAGNOSIS OF BREAST CANCER.
OVARIAN CANCER
OVARIAN CANCER IS SIGNIFICANTLY LESSER THAN BREAST CANCER. Epidemiological data obtained during a large meta-analysis point to a slight increase in risk in women receiving SGT only with estrogen or, as in the case of combined estrogen-gestagne therapy, risk becomes apparent for 5 years of use and decreases over time after canceling treatment.
OTHER STUDIES, INCLUDING THE WHI STUDY, INDICATE THAT COMBINED HRT MAY PRESENT A SIMILAR OR LESS RISK.
VENOUS THROMBOEMBOLISM (VTE)
HRT IS ASSOCIATED WITH A 1.3-3-FOLD INCREASED RISK OF VENOUS THROMBOEMBOLISM, IN PARTICULAR DEEP VEIN THROMBOSIS AND PULMONARY THROMBOEMBOLISM. THE PROBABILITY OF VTE DEVELOPMENT IS HIGHEST IN THE FIRST YEAR OF HRT THAN IN SUBSEQUENT YEARS.
PATIENTS WITH KNOWN THROMBOPHILIC DISORDERS ARE AT AN INCREASED RISK OF VTE, AND HRT MAY EXTEND THIS RISK. IN THIS REGARD, HRT IS CONTRAINDICATED FOR THESE PATIENTS.
Generally accepted risk factors for WTE development include individual or family history, the use of estrogen, elderly age, extensive operational interventions, long-term immobilization, obesity (BMI> 30 kg / m2), pregnancy / postpartum period, systemic red lupus (SLE), malignant neoplasms. THERE IS NO UNIFIED OPINION REGARDING THE POSSIBLE IMPACT OF VARICOSE VEINS ON THE RISK OF VTE.
FOR ALL PATIENTS IN THE POSTOPERATIVE PERIOD, PREVENTIVE MEASURES SHOULD BE PROVIDED TO PREVENT VTE. IF LONG-TERM IMM IS SUPPOSED AFTER AN EMPTY SURGICAL INTERVENTION
OBILIZATION, 4-6 WEEKS BEFORE SURGERY IT IS RECOMMENDED TO TEMPORARILY STOP HRT. TREATMENT IS NOT RENEWED UNTIL THE PATIENT IS COMPLETELY RECOVERED.
For women who do not have an imnesis, but having relatives of the first line of kinship, who suffered thrombosis at a young age, after careful counseling regarding possible restrictions, screening may be proposed (only some thrombophylastic disorders are detected when screening).
IF THE PATIENT HAS A THROMBOPHILIC DISORDER MANIFESTED IN FAMILY THROMBOSIS, OR A SERIOUS DEFECT (SUCH AS A DEFICIENCY OF ANTITHROMBIN, PROTEIN S OR PROTEIN C, OR A COMBINATION OF THESE), HRT IS CONTRAINDICATED.
PATIENTS USING LONG-TERM ANTICOAGULANTS NEED A CAREFULLY EVALUATION OF THE BENEFIT-RISK RATIO OF HRT.
IF VTE DEVELOPES AT THE BEGINNING OF TREATMENT, THERAPY SHOULD BE STOP.
PATIENTS SHOULD BE INSTRUCTED TO CONTACT A PHYSICIAN IMMEDIATELY WHEN THEY APPEAR POTENTIAL SYMPTOMS OF THROMBOEMBOLISM (PAIDIC LEG Swelling, SUDDEN CHEST PAIN, Difficulty BREATHING).
CORONARY HEART DISEASE (CHD)
IN RANDOMIZED CONTROL STUDIES, THERE IS NO DATA THAT HRT WITH COMBINED ESTROGEN-GESTAGEN DRUGS OR ESTROGEN ONLY PROVIDES A PREVENTIVE EFFECT OF MYOCARDIAL INFARCTION IN WOMEN WITH NO OR CAD.
COMBINED ESTROGEN-GESTAGEN THERAPY
THERE IS A SLIGHTLY INCREASED RELATIVE RISK OF CHD WHEN USING ESTROGEN-GESTAGEN COMBINATION THERAPY.
Since the absolute risk of developing IBS largely depends on the age, the number of additional cases of IWC, due to the use of combined estrogen-gestagne therapy in healthy women aged, close to the onset of menopause, is extremely small, but increases with age.
ESTROGEN MONOTHERAPY
IN RANDOMIZED CONTROL STUDIES, THERE WERE NO DATA ON INCREASED CHD RISK IN WOMEN WHO HAVE HYSTERECTOMY AND USED HRT CONTAINING ONLY ESTROGENS.
ISCHEMIC STROKE
HRT WITH COMBINED ESTROGEN-GESTAGEN DRUGS AND ESTROGEN ONLY IS ASSOCIATED WITH AN INCREASED RISK OF ISCHEMIC STROKE BY ALMOST 1.5 TIMES. THE RELATIVE RISK IS NOT CHANGING WITH AGE AND DEPENDING ON THE TIME OF MENOPAUSE. HOWEVER, BECAUSE THE INITIAL RISK OF STROKE DEPENDS TO A SIGNIFICANT EXTENT WITH AGE, THE OVERALL RISK OF STROKE IN WOMEN RECEIVING HRT WILL INCREASE WITH AGE.
OTHER STATES
– ESTROGENS CAN CAUSE FLUID RETENTION, THEREFORE, PATIENTS WITH HEART OR RENAL INSUFFICIENCY MUST BE CAREFULLY MONITORED.
– WOMEN WITH HYPERTRIGLYCERIDEMIA WHEN CARRYING OUT HRT, CAREFUL OBSERVATION IS NECESSARY, AS IN PATIENTS OF THIS GROUP, RARE CASES OF A SHARP INCREASE IN THE LEVEL OF TRIGLYCERIDES IN THE BLOOD PLASMA ON THE BACKGROUND OF THE USE OF ESTROGENS, LEADING TO THE DEVELOPMENT OF THE DEVELOPMENT, ARE DESCRIBED.
– ESTROGENS INCREASE THE LEVEL OF THIROXINE-BINDING GLOBULIN (TSG), THAT LEADS TO INCREASE OF THE TOTAL CONCENTRATION OF CIRCULATION THYROGEN HORMONES. FREE T4 AND T3 CONCENTRATIONS ARE CHANGING.
In the serum, the concentrations of other proteins may increase, for example, corticosteroid-binding globulin (KSG), globulin binding sex hormones (GSPG), which, accordingly, leads to an increase in the concentration of circulating corticosteroids and genital steroid hormones. THE CONCENTRATIONS OF FREE OR BIOLOGICALLY ACTIVE HORMONES DO NOT CHANGE. POSSIBLE INCREASE IN THE LEVEL OF OTHER BLOOD PLASMA PROTEINS (ANGIOTENSINOGEN (REnin SUBSTRATE), Α-1-ANTITRYPSIN, CERULOPLASMIN).
– HRT DOES NOT IMPROVE COGNITIVE FUNCTIONS. THERE IS SOME EVIDENCE OF A POSSIBLE INCREASED RISK OF DEMENTIA IN WOMEN WHO START USING COMBINED HRT OR ESTROGEN ONLY THERAPY AFTER 65.
THE PERIOD OF PREGNANCY AND LACTATION
ESTROGEL® IS NOT USED DURING PREGNANCY. IF PREGNANCY OCCURS AND IF PREGNANCY IS SUPPOSED, TREATMENT SHOULD BE IMMEDIATELY STOP. THREATS OF MISSION AND SUPPRESSION OF LACTATION ARE NOT INDICATIONS FOR ESTROGENS.
THE RESULTS OF MOST EPIDEMIOLOGICAL STUDIES CONFIRM THE ABSENCE OF A TERATOGENIC OR FETOTOXIC EFFECT IN WOMEN UNINTENDEDLY EXPOSED TO THERAPEUTIC DOSES OF ESTROGENS.
ESTROGEL® IS NOT USED DURING BREASTFEEDING.
FEATURES OF THE DRUG INFLUENCE ON THE ABILITY TO DRIVE AND POTENTIALLY DANGEROUS MECHANISMS
ESTROGEL DOES NOT AFFECT THE ABILITY TO DRIVE AND OPERATE POTENTIALLY DANGEROUS MECHANISMS.
OVERDOSE
SYMPTOMS: BREAST PAIN, BLEEDING, IRRITABILITY.
SYMPTOMS WILL GENERALLY DISAPPEAR WHEN THE VOLUME OF GEL APPLIED IS REDUCED.
STORAGE CONDITIONS
DO NOT STORE ABOVE 25°C
KEEP OUT OF THE REACH OF CHILDREN!
SHELF LIFE 3 YEARS
DO NOT USE AFTER THE EXPIRATION DATE.
Additional information