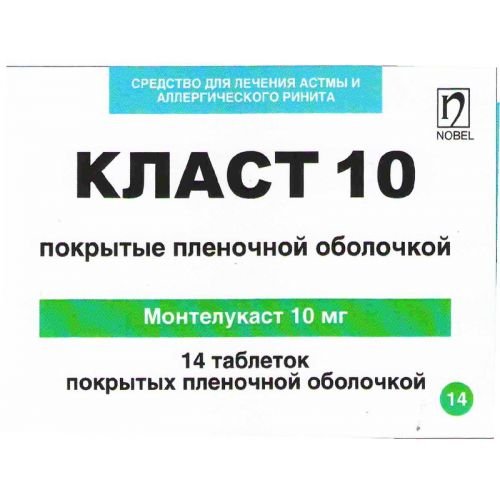 Klast 10 mg (Montelukast) 14 film-coated tablets
Description
Structure
One tablet contains
active substance – sodium montelukast 5.2 mg and 10.4 mg,
equivalent to 5 mg and 10 mg of montelukast,
Indications for use
– treatment of bronchial asthma, including prevention of day and night symptoms of the disease, including aspirin-sensitive patients with bronchial asthma and prevention of bronchospasm caused by exercise
– treatment of seasonal allergic rhinitis
Method of administration and dosage
Inside 1 time per day, regardless of food intake.
For the treatment of bronchial asthma, CLAST should be taken in the evening. In case of seasonal allergic rhinitis, the patient determines the time of admission at his own discretion. Patients suffering from both asthma and seasonal allergic rhinitis should take CLAST once in the evening. The drug must be taken 1 hour before or 2 hours after a meal. The duration of the course of treatment is determined by the attending physician.
General recommendations
The therapeutic effect of CLASTA on indicators reflecting the course of bronchial asthma develops during the first day.
The patient should continue to take CLAST both during the period of achieving control over the symptoms of bronchial asthma, and during periods of exacerbation of bronchial asthma.
For the elderly, patients with renal or mild to moderate hepatic impairment, dose adjustment is not required.
Side effects
Side effects are generally minor and do not require discontinuation of the drug.
– nausea, vomiting, abdominal pain, dyspepsia, diarrhea, gastroenteritis
– headache
Rarely
– skin rash
– hypersensitivity reactions (anaphylaxis,
angioedema, rash, pruritus, urticaria)
– dizziness, disorientation, abnormal dreams, drowsiness,
irritability, tremors, fatigue, anxiety, hallucinations,
aggressive behavior, paresthesia / hypesthesia, suicidal thoughts and
behavior, somnambulism
– muscle cramps, myalgia, arthralgia
– nosebleeds, hematomas
– the formation of subcutaneous hemorrhage
– edema
– increased body temperature, weakness
– cough, nasal congestion, flu
– eosinophilic liver infiltration
– an increase in the level of serum transaminases (ALT, AST),
cholestatic hepatitis
Very rarely
– pancreatitis
– convulsions
– Cherg-Strauss syndrome (SCS)
Contraindications
– hypersensitivity to montelukast or any other
component of the drug
– phenylketonuria
– children and adolescents up to 18 years old
– pregnancy and lactation
Drug interactions
KLAST can be used with other drugs for the prevention and long-term treatment of asthma without increasing side effects.
KLAST at the recommended dose did not cause clinically significant changes in the pharmacokinetics of the following drugs: theophylline, prednisone, prednisolone, oral contraceptives (norethindrone 1 mg / ethinyl estradiol 35 μg), terfenadine, digoxin, warfarin.
The area under the plasma concentration curve (AUC) decreased in approximately 40% of patients with co-administration of phenobarbital, however, correction of the KLAST dosage regimen is not required in such patients.
Since montelukast is metabolized by CYP A4, caution should be exercised, especially in children, when KLAST is used in conjunction with CYP 3A4 inducers such as phenytoin, phenobarbital and rifampicin.
Treatment with bronchodilators: KLAST can be added to the treatment of patients in whom bronchial asthma is not controlled by the use of bronchodilators alone. When a therapeutic effect is achieved (usually after the first dose) during therapy with KLAST, the dose of bronchodilators can be gradually reduced.
Inhaled glucocorticosteroids: Treatment with KLAST provides an additional therapeutic effect for patients receiving treatment with inhaled glucocorticosteroids. When stabilization of the patient's condition is achieved, it is possible to reduce the dose of glucocorticosteroids. The dose of glucocorticosteroids should be reduced gradually, under the supervision of a physician. In some patients, the intake of inhaled glucocorticosteroids can be completely canceled. Abrupt replacement of therapy with inhaled glucocorticosteroids by the appointment of CLAST is not recommended.
Preparations containing St. John's wort may reduce plasma levels of montelukast.
Special instructions
CLAST is not intended for relief of bronchospasm in acute asthma attacks, as well as for the treatment of status asthmaticus.
In the acute course of bronchial asthma, it is recommended to use appropriate drugs to treat patients. In the acute phase of bronchial asthma, CLAST treatment can be continued.
Even with a gradual, controlled dose reduction of an inhaled glucocorticosteroid, CLAST should not be immediately prescribed instead of an inhaled corticosteroid.
Features of the effect of the drug on the ability to drive vehicles or potentially dangerous mechanisms
CLAST can cause headache, drowsiness, lethargy, and slowness. This should be taken into account if it is necessary to use the drug in persons whose activities are related to driving, servicing machines and mechanisms, and performing work in an unstable position.
Overdose
Symptoms: dehydration, drowsiness, mydriasis, hyperkinesia, abdominal pain.
Treatment is symptomatic. There are no data on the possibility of excretion of montelukast by peritoneal dialysis or hemodialysis.
Release form and packaging
14 tablets are placed in a blister strip of aluminum format and printing aluminum foil.
1 or 2 contour packaging together with instructions for medical use in the state and Russian languages ​​are placed in a cardboard box with a hologram of the manufacturer
Storage conditions
Store at a temperature not exceeding 25 ºС, in a dry, dark place.
Keep out of the reach of children!
Shelf life – 2 years
Do not use after the expiration date
Additional information