Highlight
New Arrivals

Sale

Hot items
Hot items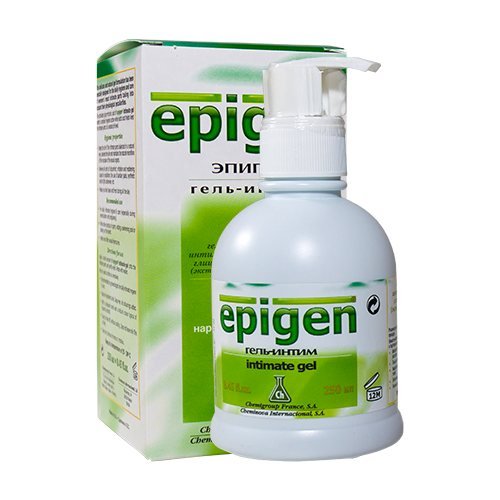 Epigen® Intimate Gel (Glycyrrhizic Acid) 250 ml
Description
Gel for intimate hygiene Epigen Intim contains only natural ingredients. It does not contain soap, fragrances and dyes. Activated glycyrrhizic acid (licorice root extract), which is part of the gel, has a complex hygienic effect. Glycyrrhizic acid is an interferon inducer, which explains one of the effects on humoral immunity and its antiviral effect. The immunostimulatory effect is enhanced by an increase in the level and activity of T-lymphocytes, a decrease in the level of immunoglobulin G and an increase in the level of immunoglobulins A and M.
Hygienic properties:
Maintains the necessary physiological pH level of intimate areas, cleanses the skin, maintains the natural microflora of the mucous membranes of the genital organs.
Relieves discomfort (irritation, redness) after epilation, use of panty liners, synthetic underwear, thongs, etc.
Does not cause dryness or irritation.
It is easily washed off without forming a "film".
Provides a feeling of cleanliness and freshness throughout the day.
Indications for use
treatment of infection with Herpes simplex type 1 and 2 viruses;
therapy for papillomavirus infection, including asymptomatic isolation of HPV of a high degree of oncogenic risk;
treatment of infection of the skin, affected by the Varicella zoster virus (in the course of combination therapy);
treatment of cytomegalovirus lesions as part of complex and combination therapy;
anti-relapse therapy of infections caused by Herpes simplex type 1 and 2 viruses, Varicella zoster, as well as HPV and cytomegalovirus lesions;
prevention and treatment of conditions leading to a decrease in local immunity (including vulvovaginal candidiasis, nonspecific colpitis and bacterial vaginosis), as part of a course of combined Epigen therapy;
prevention and treatment of lesions of genital warts and diseases of the cervix, provoked by Herpes simplex type 1 and 2 viruses, as well as cytomegaloviruses and HPV;
uncomfortable symptoms in the genital area, accompanied by itching, burning sensation and dryness (including after intercourse, with ovarian dysfunction).
Application is provided in the following cases
For daily hygiene procedures (especially on critical days and during pregnancy)
After active sports, swimming in the pool or swimming in open water.
before and after intimacy
Instructions for use and method of application
Apply a small amount of Epigen Intimate gel for intimate hygiene to the intimate parts of the body, lather and rinse thoroughly. As a preventive measure, regular (daily) use of the Epigen intimate gel for intimate hygiene is recommended.
Soft natural formula allows you to use the gel several times a day.
Side negative effects
Rare: local allergic reactivity (sometimes in the form of contact dermatitis).
Terms and conditions of storage
Store at temperatures from 4º C to 30º C, out of the reach of children.
Shelf life – 3 years.
Do not use after the expiration date.
Additional information
| | |
| --- | --- |
| Weight | 0.260 kg |
| Ingredient | |