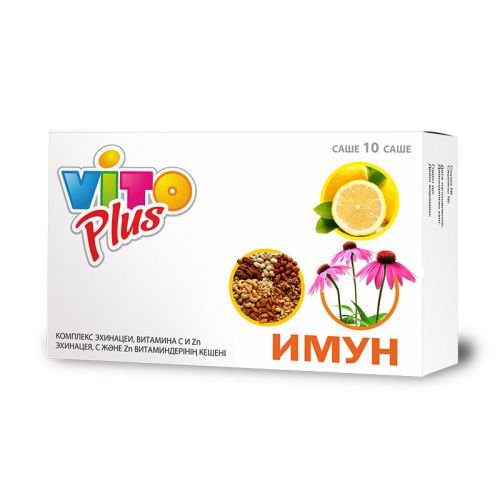 Vito Plus Imun Echinacea complex, vitamin C and zinc 10s sachet
Description
soluble is always on the lips the powder weighing 2 g packaged in individual sachets packages on 10 sachets in a pack cardboard.
Ingredients: main substances: dry extract of a purple cone-flower of purple (Echinacea purpurea) (16.7%), ascorbic acid (4.9%), zinc citrate (1.9%), excipients: filler: E420 sorbite (72.4%), antislezhivayushchy agents: silicon dioxide amorphous (aerosil) E551 (1.0%), E553 talc (iii) (1.0%), magnesium E470 stearate (1.0%), fragrance identical natural currant (dextrose, maltodextrin, aromatic substances, arabic gum, sodium acetate, aromatic ingredients, triacetin) (0.7%), sweetener stevioside (stevia extract) of E960 (0.4%).
Content of active agents in powder, mg: % *
vitamin C
of 90 mg
the 129th
zinc
of 12 mg
80
Hydroxycinnamon acids,
not less than 10 mg
100
* – does not exceed top acceptable level
the Scope: as dietary supplement to food, a source of hydroxycinnamon acids, an additional source of vitamin C and zinc.
 Type of goods Vitamins
Short description:
Producer::
Vneshtorg of LLC Pharm (Russia) – Vito Plus