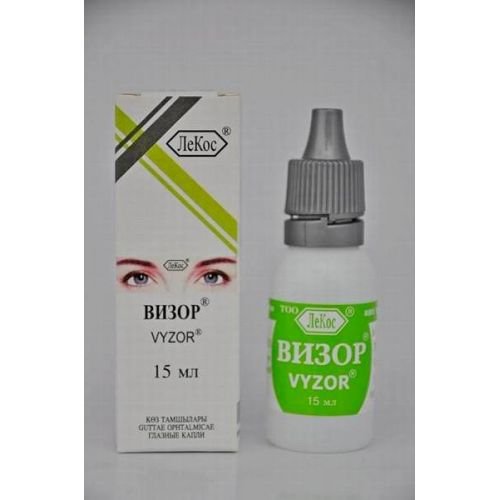 Description
The instruction for medical use
of VIZOR medicine
the Trade name
Vizor
Mezhdunarodnoye the unlicensed
name Oxymetazoline Dosage Form
Eye drops, 15 ml
Structure
of 100 ml of solution contains
active agent – oxymetazoline a hydrochloride of 0.025 g,
excipients: boric acid, sodium pyroborate to rn 5.8-6.8, water for injections.
Description
Transparent colourless or yellowish liquid.
Pharmacotherapeutic group
the Sympathomimetics used as decongestants.
The code of automatic telephone exchange S01GA04
the Pharmacological
Pharmacokinetics Action properties is shown in 15 minutes after use and 6-8 hours remain.
A pharmacodynamics
Vizor Medicine – adrenomimetichesky means for topical administration in ophthalmology. Has vasoconstrictive effect, reduces puffiness of a conjunctiva. The boric acid which is a part of drug has weak bactericidal and fungicide effect.
Indications
– allergic conjunctivitis
– conjunctivitis of a non-infectious etiology (smoke, dust, impact of wind and the sun, the chlorinated water, artificial lighting)
– fatigue and reddening of eyes (for example, during the work on the computer)
– developments of stagnation and a chemosis
the Route of administration and doses
to Adults and children are more senior than 6 years dig in in the lower conjunctival sac or in the eye corner adjacent to a nose on 1-2 drops up to 3-4 times a day.
Drug should be used within 5-7 days. In need of treatment continuation over 7 days, consultation with the attending physician is necessary.
Side effects
Usually drug is well transferred.
Seldom
– the irritation of a conjunctiva and surrounding fabrics
– retraction of a century
– a mydriasis
– paresis of accommodation
Is extremely rare
– a sleep disorder, excitement, hypertensia, tachycardia
– nausea,
Contraindication dizziness
– hypersensitivity to active agent or its excipients
– closed-angle glaucoma
– arrhythmias
– chronic heart failure
– arterial hypertension
– diabetes
– a thyrotoxicosis, a hyperthyroidism
– chronic kidney disease
– pregnancy and the period of a lactation
– the children's age up to 6 years
Medicinal interactions
Drug slows down absorption of mestnoanesteziruyushchy medicines and prolongs their action. Other vasoconstrictive drugs promote manifestation of side effects.
At co-administration of inhibitors of a monoaminooxidase (including the period within 14 days after their cancellation) and tricyclic antidepressants, causes increase in arterial blood pressure.
Special instructions
not to exceed ordered dosed
the Content of boric acid are not exceeded by 1.8%.
Use in pediatrics
the Data on efficiency and safety of medicine at children up to 6 years are absent.
The feature of influence of medicine on ability to run the vehicle or potentially dangerous mechanisms
In view of possible manifestations of side effects after burying drug is not recommended to apply it just before control of vehicles or service of the mechanical equipment.
It is necessary to watch that the tip of a bottle dropper did not contact to other objects and surfaces. After burying it is dense to close a bottle dropper a cap.
Overdose
Symptoms: irritation and xerophthalmus, mydriasis, increase in intraocular pressure.
Treatment: symptomatic.
A form of release and packing
On 15 ml in bottles droppers polyethylene, hermetically corked by the screwing-up covers with control of the first opening.
On 1 bottle together with the instruction for medical use in the state and Russian languages place in a pack cardboard.
To Store storage conditions at a temperature from 15 wasps up to 25 wasps, in the place protected from light.
To use the opened packing no more than 4 weeks.
To store out of children's reach!
3 years
not to apply a period of storage after the expiration date specified on packing.
Prescription status from drugstore
Without prescription
LeKos LLP Producer,
Republic of Kazakhstan 050000, Almaty, Kabangbai St. of the batyr, 114-13, ph.: 223-13-62.
The owner of the registration certificate
of LeKos LLP,
Republic of Kazakhstan 050000, Almaty, Kabangbai St. of the batyr, 114-13.
The address of the organization accepting in the territory of the Republic of Kazakhstan claims from consumers on quality of products
050000, Almaty, Kabangbai St. of the batyr, 114-13, ph./fax: 223-13-62.
e-mail: lecos1@mail.ru
Additional information