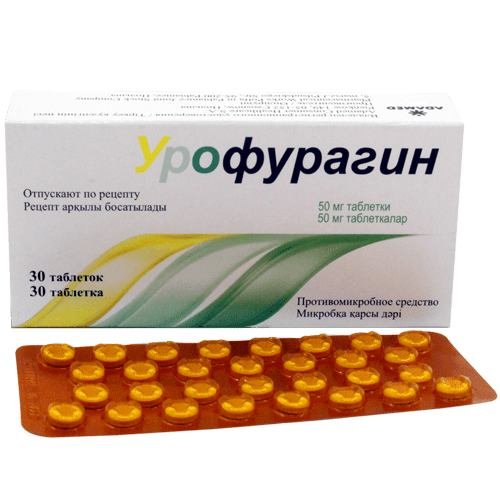 uroFuraginum® (Furazidine) 50 mg, 30 tablets
Description
One tablet contains the active ingredient – furagin (furazidine) 50 mg,
Excipients: corn starch, sucrose, colloidal silicon dioxide, stearic acid
Pharmacological properties
Pharmacokinetics
After oral administration, furagin is absorbed very quickly and reaches its maximum serum concentration in about 0.5 hours. The course of the serum drug concentration curve indicates an open homogeneous distribution pattern. This concentration is very important from a therapeutic point of view and is about 4.2 µg/ml. The binding of nitrofuran derivatives to plasma proteins is determined differently by different authors: from 40-60% to 90-95%. This drug is metabolized in the liver and in peripheral tissues.
About 13% of the dose of furagin is excreted unchanged during the first day of administration. Observed mean urinary concentrations of furagin are in the range of minimum inhibitory concentrations (MICs) for about 81% of pathogenic strains of Escherichia coli (E. coli), most frequently isolated from the urine of children. They range from 0.45 mg/ml to 6.25 mg/ml.
Pharmacodynamics
Furagin (nitrofuriloacrylidino-amino-hydantoin) are derivatives of nitrofuran. Preparations of this group have a bacteriostatic effect on a wide range of microorganisms, including some gram-positive bacteria (Staphylococcus epidermidis, Staphylococcus aureus, Staphylococcus faecalis) and many strains of gram-negative bacteria (Enterobacteriaceae: Salmonella, Shigella, Proteus, Klebsiella, Escherichia, Enterobacter). Nitrofuran derivatives have an antiparasitic effect and only a slight antifungal effect. Does not affect Pseudomonas aeruginosa and most strains of mismatch bacilli (Proteus vulgaris).
Furagin shows the strongest effect in an acidic environment (pH 5.5), an alkaline environment weakens its effect. The strong bacteriostatic effect of furagin is associated with the presence of an aromatic substituent from the nitro group.
Nitrofuran derivatives are reduced to active derivatives of bacterial flavoproteins. These derivatives are then transformed into bacterial ribosomal proteins and other compounds necessary for the synthesis of cellular proteins, nucleic acids (DNA and RNA), as well as in the processes of cellular respiration. The occurrence of cross-resistance to antibiotics of nitrofuran derivatives and sulfonamides was not observed.
Indications for use
– acute and chronic urinary tract infections (pyelonephritis, cystitis, urethritis) and prostate gland (prostatitis);
– postoperative infections of the genitourinary system (postoperative pyelonephritis, cystitis, prostatitis).
Dosage and administration
Urofuragin tablets are taken orally after meals with plenty of water.
Adults are prescribed 100-200 mg 2-3 times a day. The course of treatment is 7-10 days and depends on the severity of the disease, as well as on the functional state of the kidneys. If necessary, the course of treatment is repeated after 10-15 days.
Children over 6 years: 5-8 mg/kg of body weight per day, divided into 3-4 single doses per day, for 7-8 days.
Side effects
Sometimes
– loss of appetite, nausea;
– vomiting, diarrhea;
– dizziness, drowsiness, blurred vision;
– fever.
Rarely
– polyneuropathy;
– papular rash, itching, urticaria, transient alopecia.
Rarely
– shortness of breath, rapid breathing, cough without or with sputum;
– pancreatitis;
– other: fever, weakness, acute or chronic pulmonary reactions;
– angioedema, exfoliative dermatitis, Erythemamultiforme;
– agranulocytosis, thrombocytopenia, aplastic anemia;
– arthralgia.
In some cases
– cholestatic jaundice, hepatitis, liver dysfunction
– disorders of the cardiovascular system: mild degree of intracranial hypertension;
– increased body temperature, weakness.
If side effects develop, reduce the dose or stop taking the drug. Side effects are reduced if the drug is taken after meals, drinking plenty of fluids.
Urofuragin may stain urine brown.
Contraindications
– hypersensitivity to nitrofuran derivatives or to any of its components
– renal failure (creatinine clearance less than 60 ml/min or elevated creatinine)
– polyneuropathy (including diabetic);
– deficiency of glucose-6-phosphate
– pregnancy and lactation
– children's age up to 6 years
Drug Interactions
Furagin is an antagonist of nalidixic acid, which prevents its bacteriostatic action. Aminoglycoside antibiotics and tetracycline, taken together with furagin, increase the antibacterial effect. Chloramphenicol and ristomycin increase the hemotoxic effect of furagin.
Uricosuric agents such as probenecid (in high doses) and sulfinpyrazone reduce tubular secretion of nitrofuran derivatives and can cause accumulation of furagin in the body, increasing its toxicity and reducing urinary concentrations below the minimum bacteriostatic concentration, and therefore reducing the therapeutic effect. With the joint use of antacid preparations containing magnesium trisilicate, it reduces the absorption of furagin.
Atropine delays the absorption of nitrofuran derivatives, but the total amount of absorbed substance does not change. Simultaneous intake of B vitamins increases the absorption of nitrofuran derivatives.
When taking nitrofuran derivatives, false positive results were observed for the determination of glucose in the urine using Benedict's and Fehling's solutions. The results of the determination of glucose in the urine, obtained by enzymatic methods, were correct.
Special instructions
Caution should be exercised in patients with impaired renal function, with anemia, deficiency of B vitamins and folic acid, with lung diseases (in patients over 65 years of age). With prolonged use of nitrofuran inside, neuritis may develop. In the case of long-term therapy, lung and liver function should be monitored, especially in patients over 65 years of age. With caution, nitrofuran should be used in patients with diabetes mellitus, tk. the drug may contribute to the development of polyneuropathy.
A laboratory study of patients taking furagin may give a false-positive reaction for the presence of glucose in the urine if the copper reduction method is used for determination. Furagin has no effect on the results of determining glucose in the urine, performed by the enzymatic method. In the case of long-term use of nitrofuran, the number of leukocytes in the blood, as well as indicators of liver and kidney function, should be periodically monitored to avoid the development of unwanted side effects.
The drug contains sucrose. It is not recommended for patients with rare hereditary problems of fructose intolerance, glucose-galactose malabsorption or sucrase-isomaltase deficiency.
Features of influence on the ability to drive a vehicle or potentially dangerous mechanisms
Since the drug can cause dizziness and nausea during treatment, potentially hazardous activities associated with the need for concentration and increased speed of psychomotor reactions should be avoided.
Overdose
Symptoms: headache, dizziness, allergic reactions, nausea, vomiting, anemia.
Treatment: gastric lavage and intravenous fluids, complete blood count, liver laboratory tests, and lung function monitoring are recommended. In severe cases, hemodialysis is necessary.
Storage conditions
Store at a temperature not exceeding 25 0С
Keep out of the reach of children!
Shelf life – 3 years
Additional information