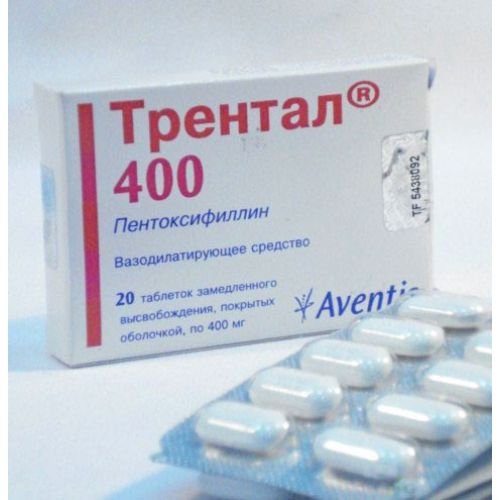 TRENTAL® (Pentoxifylline) 400 mg, 20 tablets with PR
Description
Composition
One tablet contains the active substance – pentoxifylline 400 mg
Pharmacological properties
Pharmacokinetics
After oral administration, absorption of pentoxifylline occurs quickly and almost completely.
After administration, pentoxifylline is released slowly, over 10-12 hours, so that constant plasma levels are maintained for about 12 hours.
After almost complete absorption, pentoxifylline undergoes primary passage metabolism. The absolute bioavailability of the parent compound is 19 ± 13%. The main active metabolite 1- (5-hydroxyhexyl) -3,7-dimethyl-xanthine (metabolite I) is measured in plasma at a concentration twice that of the parent compound, with which it is in a reversible biochemical redox equilibrium. For this reason, pentoxifylline and metabolite I must be considered as the active unit, and therefore the availability of the active substance is much higher.
The half-life of pentoxifylline after oral administration is approximately 1.6 hours.
Pentoxifylline is completely metabolized, and more than 90% of it is excreted by the kidneys in the form of unconjugated, water-soluble, polar metabolites.
Special population
Liver dysfunction
In patients with impaired liver function, the half-life of pentoxifylline is lengthened, and the absolute bioavailability is increased.
Impaired renal function
Excretion of metabolites is slow in patients with severe renal impairment.
Pharmacodynamics
Pentoxifylline inhibits the aggregation of erythrocytes and platelets, improving the pathologically altered deformability of erythrocytes, reduces the level of fibrinogen and the adhesion of leukocytes to the endothelium, reduces the activation of leukocytes and the endothelial damage caused by them, reduces increased blood viscosity. Consequently, pentoxifylline promotes microcirculatory perfusion, improves the rheological properties of blood, and has an antithrombotic effect.
Peripheral resistance may decrease slightly if pentoxifylline is given in high doses or with rapid infusion. Pentoxifylline has a moderate positive inotropic effect on the heart.
Indications for use
– occlusive peripheral arterial disease (OBA) of atherosclerotic or diabetic origin (for example, intermittent claudication or pain at rest)
– trophic disorders (for example, trophic ulcers, gangrene of the lower extremities)
– cerebrovascular diseases
– circulatory disorders in the retina and choroid of the eye due to degenerative vascular disorders
Method of administration and dosage
The usual dose is 1 tablet (400 mg) 2-3 times a day. The maximum single dose is 400 mg. The maximum daily dose is 1200 mg.
The tablets should be swallowed whole during or shortly after a meal with a sufficient amount of liquid (approximately ½ cup).
Since the effect of the drug can be observed within 2-4 weeks, it is recommended to continue treatment for at least 8 weeks. Side effects on the digestive and central nervous system are dose-dependent. If these effects occur, it is recommended to reduce the dosage to 1 tablet 2 times a day (800 mg / day). Reception of Trental should be discontinued if side effects persist at the indicated reduced dosage.
Special populations
Liver dysfunction
A dose reduction, depending on individual tolerance, is necessary in patients with severe hepatic dysfunction.
Impaired renal function
Patients with impaired renal function (creatinine clearance below 30 ml / min) may require a dose reduction of approximately 30-50%, depending on individual tolerance.
Other
Treatment should be started in low doses in patients with hypotension and in patients with unstable blood circulation, as well as in patients at particular risk due to a decrease in blood pressure (for example, patients with severe coronary artery disease or with hemodynamically significant cerebral vascular stenosis); in such cases, the dose increase should be gradual.
Side effects
Frequency unknown
– dizziness, headache, aseptic meningitis
– agitation, sleep disturbance, convulsions
– swelling, increased fragility of nails
– xerostomia (dry mouth), anorexia
– itching, erythema, urticaria
– hot flashes, bleeding
– arrhythmia, tachycardia, angina pectoris
– gastrointestinal disorders, epigastric discomfort, bloating, nausea, vomiting, diarrhea
– cholestasis (intrahepatic)
– an increase in transaminases, a decrease in blood pressure
– thrombocytopenia
– anaphylactic reaction, anaphylactoid reaction, angioedema, bronchospasm, anaphylactic shock
Contraindications
– hypersensitivity to pentoxifylline, other methylxanthines or to any of the excipients
– patients with massive bleeding (threat of increased bleeding)
– extensive hemorrhages in the retina (the threat of increased bleeding)
Medicinal interactions
The glucose-lowering effect of insulin and other oral antidiabetic agents in the blood may be enhanced. Therefore, it is recommended to carefully monitor patients undergoing medical treatment for diabetes mellitus.
Cases of increased anticoagulant activity from post-marketing practice have been reported in patients simultaneously treated with pentoxifylline and vitamin K inhibitors. In these cases, monitoring of anticoagulant activity is necessary.
Consider
Trental can enhance the antihypertensive effect of antihypertensive drugs and other drugs that can have an antihypertensive effect.
The simultaneous administration of pentoxifylline with theophylline may increase the concentration of theophylline in some patients. Therefore, it is possible to increase and increase the frequency of adverse reactions to theophylline.
Concomitant administration with ciprofloxacin may increase the plasma concentration of pentoxifylline in some patients. Therefore, it is possible to increase and increase the frequency of undesirable side reactions in connection with the combined appointment.
Special instructions
Precautionary measures
At the first signs of an anaphylactic (anaphylactoid) reaction, Trental should be discontinued and the attending physician should be notified.
Particularly careful monitoring is required in patients
– with cerebral hemorrhage
– with proliferating diabetic retinopathy
– with severe cardiac arrhythmias
– with myocardial infarction
– with hypotension
– with impaired renal function (creatinine clearance less than 30 ml / min)
– with severe liver dysfunction
– with an increased tendency to bleeding (see also "Contraindications")
– being simultaneously treated with pentoxifylline and vitamin K inhibitors (see also "Drug interactions")
– being simultaneously treated with pentoxifylline and antidiabetic agents (see also "Drug interactions")
– being simultaneously treated with pentoxifylline and ciprofloxacin (see also "Drug interactions")
Application in pediatrics
There is no experience with the use of Trental in children, therefore, its appointment in children and adolescents under 18 is not recommended.
Pregnancy
The experience of using the drug during pregnancy is insufficient, therefore, the appointment of Trental during pregnancy is not recommended.
Lactation
Pentoxifylline passes into breast milk in insignificant quantities. Due to the lack of sufficient experience, doctors should carefully weigh the possible risks and benefits before prescribing treatment with Trental for women who are breastfeeding.
Features of the effect of the drug on the ability to drive a vehicle or potentially dangerous mechanisms
Taking into account the possible side effects, caution is required when driving and working with potentially dangerous machinery.
Overdose
Symptoms: The initial symptoms of an acute overdose of Trental may be nausea, dizziness, tachycardia, or a decrease in blood pressure. In addition, symptoms such as high body temperature, agitation (strong emotional excitement, accompanied by feelings of anxiety and fear and turning into motor restlessness, the need for movement, or speech anxiety, often unconscious), flushing, loss of consciousness, areflexia, tonic are possible. – clonic convulsions and vomiting of coffee grounds, as a sign of gastrointestinal bleeding.
Treatment: gastric lavage, giving activated carbon, symptomatic therapy. Specific antidote unknown
Storage conditions
Store in a dry place at a temperature not exceeding 25C.
Keep out of the reach of children!
Shelf life – 4 years
Do not use after the expiration date.
Additional information