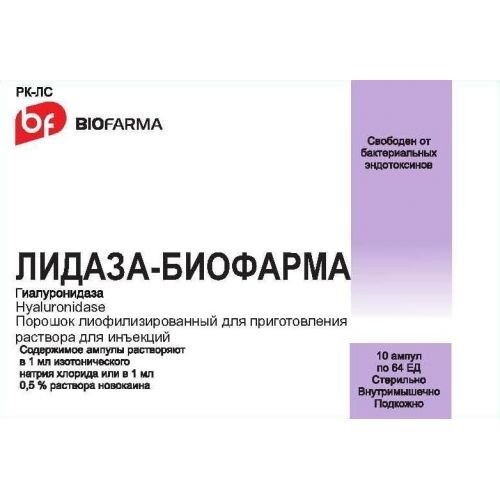 LYDASE® (Hyaluronidase Injection) 64 u/mL x 10 Ampoules
Low stock!
We only have a few of this left,
Get it Now before it's compeletely gone!
Description
Hyaluronidase Injection is a preparation of purified bovine testicular hyaluronidase, a protein enzyme. It is cleaned up to remove animal substances. Hyaluronidase is an enzyme used to improve the absorption and dispersion of parenterally administered fluids, drugs, and contrast agents.
Other brand names: Amphadase, Hylenex, Wydase, Hydase, Vitrase, Hyalase, Hyalozima, Jaluran
---
Structure
One ampoule contains an active substance – Hyaluronidase 64 units.
Pharmacological properties
Lydase-Biopharma is a preparation containing the enzyme hyaluronidase, obtained from the testes of cattle. Hyaluronidase is an enzyme whose specific substrate is hyaluronic acid. The latter is a mucopolysaccharide, which contains acetylglucosamine and glucuronic acid. Hyaluronic acid has a high viscosity; its biological significance lies mainly in the fact that it is a "cementing" substance of connective tissue. Hyaluronizad causes the breakdown of hyaluronic acid to glucosamine and glucuronic acid, thereby increasing tissue permeability and improving the movement of interstitial fluids; reduces tissue swelling, softens and flattens scars, increases the range of motion in the joints. The effect of hyaluronizad is reversible – with a decrease in its concentration, the viscosity of hyaluronic acid is restored.
Indications for use
– joint contractures, Dupuytren's contracture (initial stage)
– ankylosing spondylitis
– cicatricial changes in the skin of various origins
– hematomas (in the stage of organization)
– scleroderma
– rheumatoid arthritis
– traumatic lesions of the nerve plexuses and peripheral nerves
– the productive nature of pneumonia in patients with pulmonary tuberculosis
– in ophthalmic practice in the treatment of keratitis, retinopathies as part of complex therapy
Method of administration and dosage
The drug Lidaza-Biopharma is injected subcutaneously under the scar tissue, intramuscularly, by electrophoresis or by application to the mucous membranes (in ophthalmic practice).
To prepare a solution for injection, the contents of the ampoule are dissolved in 1 ml of isotonic sodium chloride solution or in 1 ml of 0.5% novocaine solution. When using novocaine as a solvent, an allergic test for novocaine should be performed before using the drug.
In case of contractures, scars of various origins, hematomas, ankylosing spondylitis, adults are injected under the skin near the site of the lesion or under the scar tissue in a volume of 1 ml (64 U). Injections are daily or every other day. The course of treatment is 6-10-15 injections.
In case of traumatic lesions of the nerve plexuses and peripheral nerves, inject subcutaneously every other day for adults at a dose of 64 IU in a solution of novocaine every other day. The course of treatment is 12-15 injections, if necessary, repeat it.
With a productive nature of inflammation in patients with pulmonary tuberculosis the drug is prescribed in the form of injections and inhalations in complex therapy in order to increase the concentration of antibiotics and other antibacterial agents in the lesion focus. For inhalation, the contents of the ampoule are dissolved in 5 ml of isotonic sodium chloride solution. Inhalation daily 1 time per day (5 ml of solution containing 64 units). The course is 20-25 inhalations. Repeated courses, if necessary, with an interval of 1.5-2 months.
In rheumatoid arthritis, the drug is used by electrophoresis: for adults, 64 IU of the drug is dissolved in 30 ml of distilled water, 4-5 drops of a 0.1% hydrochloric acid solution are added and injected from a bifurcated electrode (anode) into two joints. The duration of the procedure is 20-30 minutes, the course of treatment is 10-15 sessions.
Outwardly, in the form of dressings soaked in a solution of the drug. To prepare the solution, every 64 IU is dissolved in 10 ml of sterile 0.9% sodium chloride solution or boiled water at room temperature. With this solution, a sterile dressing folded in 4-5 layers is moistened, applied to the affected area, covered with wax paper and fixed with a soft bandage.
For a more subtle scarring of the affected areas of the cornea with keratitis, 1 drop of the drug solution is instilled with the simultaneous use of antibiotics, sulfonamides.
To prepare the solution, the contents of the ampoule are dissolved in 20 ml of isotonic sodium chloride solution.
For retinopathies, 0.5 ml of solution is injected under the skin of the temple (dissolve the contents of 1 ampoule of the drug in 20 ml of 0.9% sodium chloride solution or in 20 ml of 0.5% novocaine solution). The course of treatment is 10-15 procedures.
Side effects
General reactions: weakness, fever, chills, sweating From the nervous system: dizziness, headache
Allergic reactions: hyperemia, skin rash, itching, urticaria, angioedema
Local reactions: with the intramuscular, subcutaneous route of administration, rash, hyperemia, itching, redness, edema, pain, a feeling of heat at the injection site may occur.
Contraindications
– hypersensitivity to the drug
– malignant neoplasms
– acute infectious and inflammatory processes
– pulmonary hemorrhage and hemoptysis
– the use of estrogens
– acute stage of hematomas
– tuberculosis with severe pulmonary insufficiency
– pregnancy and lactation
– children and adolescents up to 18 years old
Drug interactions
Lidaza-Biopharma accelerates the absorption of various drugs (local anesthetics, muscle relaxants, etc.) with subcutaneous and intramuscular administration of the latter.
Special instructions
Use only recommended solvent. Do not mix the prepared solution with other medicines. Apply immediately after preparation of the solution. Before starting treatment, it is advisable to conduct a test with intradermal (intradermal) injection of 20 μl of hyaluronidase.
It should be borne in mind that when used as a solvent novocaine may develop hypersensitivity reactions. In this regard, care must be taken when prescribing Lidaza-Biopharma with this solvent.
For fresh hemorrhages, the drug is not used.
Features of the influence of the drug on the ability to drive a vehicle or potentially dangerous mechanisms.
It should be used with caution in patients whose activities are associated with the need for concentration of attention and high speed of psychomotor reactions. When applying the drug topically to the cornea of ​​the eye, temporary blurred and other visual disturbances are possible. If these phenomena occur, the patient must wait until vision is restored before driving or working with moving machinery.
Overdose
Symptoms: chills, nausea, vomiting, dizziness, tachycardia and hypotension, local edema, urticaria, erythema.
Treatment: drug withdrawal, administration of adrenaline, glucorticoids; the use of antihistamines.
Storage conditions
Store in original packaging to protect from light at temperatures between 2 ° C and 8 ° C
Keep out of the reach of children!
Shelf life – 2 years
Do not use the drug after the expiration date.
Additional information