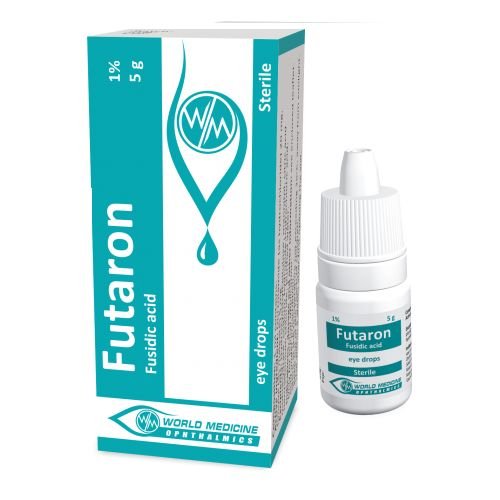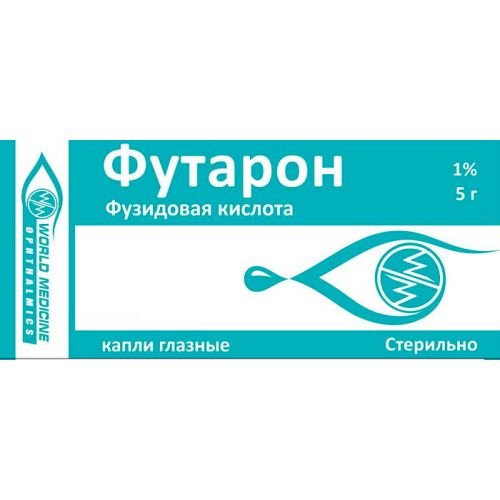 Futaron (Fusidic Acid) 1%, 5g – Eye Drops
Futaron (Fusidic acid) is an antibiotic. It's used to treat bacterial infections, such as skin infections including cellulitis and impetigo, and eye infections including conjunctivitis (red, itchy eyes).
Description
Futaron (Fusidic acid) is an antibiotic. It's used to treat bacterial infections, such as skin infections including cellulitis and impetigo, and eye infections including conjunctivitis (red, itchy eyes).
Common brand names: Fucidine, Fudic, Taksta, Fucithalmic, Fucidin, Conoptal, Forudine, Afugerm
Synonyms: Acide fusidique, Acido fusidico, Acidum fusidicum, Fucidate, Fucidin acid, Fusidate, Fusidic acid, Fusidine, Ramycin
---
Composition
1 g of the drug contains the active substance – Fusidic acid (micronized), equivalent to fusidic acid hemihydrate 10.0 mg
excipients: disodium edetate, mannitol, carbomer 940, trometamol, benzalkonium chloride 50%, water for injection.
Pharmacological properties
Pharmacokinetics
The dosage form of the drug is a viscous eye drops, which provides prolonged contact with the conjunctiva and a sufficient concentration of fusidic acid in the lacrimal fluid.
1 and 12 hours after a single application of one drop of Futaron, the concentration of fusidic acid in the lacrimal fluid is 15.7 – 40 μg / ml and 1.4 – 5.6 μg / ml, respectively. In the intraocular fluid, the average concentration of fusidic acid equal to 0.3 μg / ml (after a single application) is maintained for at least 12 hours, while fusidic acid is not detected in the blood serum.
Pharmacodynamics
Fusidic acid is an antibiotic of a polycyclic structure, the mechanism of action of which is based on inhibition of the synthesis of bacterial proteins by interaction with the elongation factor G. This disrupts the hydrolysis of guanosine triphosphates, which leads to the termination of the elongation of the peptide chain. Fusidic acid has bacteriostatic and, in very high doses, bactericidal activity.
Fusidic acid is active against microorganisms that most often cause eye infections: Staphylococcus aureus, Streptococcus pneumoniae, Haemophilus influenza. Enterobacteriaciae and Pseudomonas spp. resistant to the action of fusidic acid.
Indications for use
Bacterial eye infections caused by microorganisms sensitive to the drug:
Conjunctivitis
Blepharitis
Keratitis
Dacryocystitis
Method of administration and dosage
For topical use.
Eye drops should be shaken before use.
For adults and children over 8 years old, Futaron is instilled 1 drop in both eyes (in the conjunctival sac) every 12 hours for 7 days – 2 times a day.
If there is no effect within 7 days from the start of treatment, the use of Futaron should be reconsidered therapy.
Side effects
– allergic reactions (in the form of urticaria and edema of the follicles of the transitional fold of the conjunctiva)
– itching, burning, conjunctival hyperemia, soreness, lacrimation, eyelid edema, exacerbation of conjunctivitis
– iritis are possible.
Contraindications
– hypersensitivity to fusidic acid or other components of the drug
– not used in children under 8 years old (since it contains benzalkonium chloride)
– pregnancy and lactation
Drug interactions
There are no data on drug interactions.
Special instructions
The drug in the form of eye drops is not intended for intraocular injection!
The drug should be discontinued if any signs of hypersensitivity appear.
After each use, you must close the bottle with the drug. Do not touch the pipette tip to your eyes or any other surface.
Avoid contact with soft contact lenses; remove contact lenses before use and wait at least 15 minutes after instilling the drug.
It is not recommended to wear contact lenses during the use of Futaron, as its components can cause clouding of the lenses.
Pregnancy and lactation
There is no sufficient experience in using the drug during pregnancy and lactation (breastfeeding). It can be used as directed by the attending physician if the expected therapeutic effect outweighs the risk of developing possible side effects.
Features of the effect of the drug on the ability to drive a vehicle or potentially dangerous mechanisms
Patients who temporarily lose vision clarity after using the drug should avoid potentially hazardous activities that require increased attention and speed of psychomotor reactions.
Overdose
There are no data on overdose of fusidic acid when used in the form of eye drops.
Storage conditions
Store at a temperature not exceeding 30 ° C.
After opening the bottle, use the drug within 30 days.
Keep out of the reach of children!
Shelf life – 3 years
Additional information