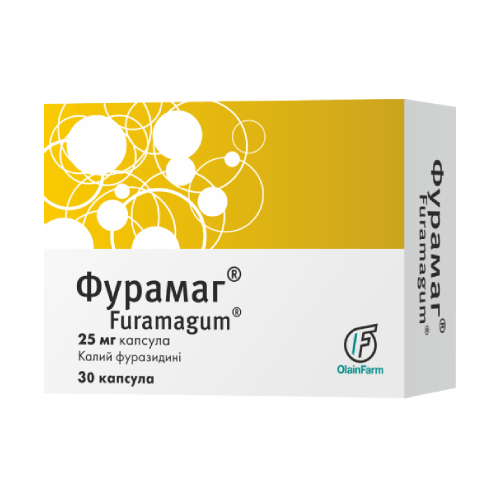 Furamag® (Furamagum, Furazidinum) 25 mg, 30 caps
Out of stock
Description
Structure
One capsule contains the active substance – furagin (in the form of soluble furagin 25 mg) 21.85 mg
Indications for use
Infections caused by soluble microorganisms sensitive to furagin:
– cystitis, urethritis, pyelonephritis
– vaginitis, oophoritis, salpingitis
– cholecystitis
– prevention of infectious complications during urological operations, cystoscopy and catheterization
– bronchitis, pneumonia
– wounds, infections of the skin and soft tissues, severe infected burns
Method of administration and dosage
Adults are prescribed 50-100 mg (2-4 capsules) 3 times a day after meals.
Children weighing more than 30 kg (over 6 years old) are prescribed 50 mg (2 capsules) 3 times a day. The course of treatment is 7-10 days.
If necessary, after a 10-15 day break, the course is repeated.
Side effects
Furamag is low-toxic.
Side effects characteristic of other nitrofurans were rarely observed:
– headache
– neuritis
– nausea, vomiting, loss of appetite
– allergic reactions.
Contraindications
– hypersensitivity to drugs of the nitrofuran group
– severe renal dysfunction
– pregnancy and lactation
– children under 6 years old
Drug interactions
Furamag should not be used simultaneously with ristomycin, chloramphenicol, sulfonamides, because the risk of inhibition of the hematopoietic system is possible.
When used with other uroantiseptics, the effect of the latter is weakened.
A combination with various antibiotics is possible.
It is not recommended to simultaneously prescribe furamag and acids (including ascorbic acid and other drugs that acidify urine, such as calcium chloride).
Special instructions
To avoid side effects in the treatment of furamag, the capsule is washed down with a large amount of liquid and at the same time they take B vitamins and antihistamines.
During the period of treatment, it is advisable to refrain from drinking alcoholic beverages, because side effects may increase.
Caution should be observed when prescribing the drug to patients with a deficiency of glucose-6-phosphate dehydrogenase, because the risk of developing hemolysis is possible.
Prescribe with caution to patients with impaired renal function.
Features of the influence of the drug on the ability to drive a vehicle or potentially dangerous mechanisms
The use of the drug does not affect the ability to drive a vehicle and potentially dangerous mechanisms.
Overdose
Symptoms: neurotoxic (headache, nausea, vomiting, loss of appetite).
Treatment: Drink plenty of fluids. To relieve acute symptoms, antihistamines and B vitamins (thiamine bromide) are prescribed.
Storage conditions
Store in a dry, dark place at a temperature not exceeding 25 ° C.
Keep out of the reach of children!
Shelf life – 3 years
The drug should not be used after the expiration date.
Additional information