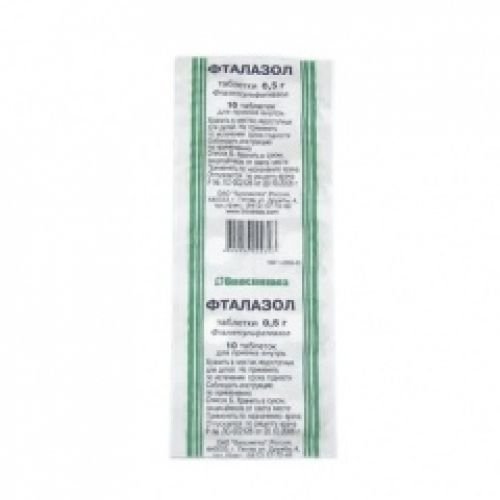 Description
The instruction
for medical use
of FTALAZOL-DARNITSA medicine
the Trade name
of Ftalazol-Darnitsa
the International unlicensed
name Phthalylsulfathiazole Dosage Form
of the Tablet of 500 mg
Structure
One tablet contains
active agent – Ftalazolum (phthalylsulfathiazole) of 500 mg
excipients: povidone, potato starch, silicon dioxide colloidal anhydrous, talc, calcium stearate.
The description
of the Tablet of color, white or white with slightly yellowish shade, a ploskotsilindrichesky form with a facet and risky.
Pharmacotherapeutic group
Antidiarrheal drugs. Intestinal antimicrobial and anti-inflammatory drugs. Streptocides. Phthalylsulfathiazole.
ATX A07A B02 code.
The pharmacological
Pharmacokinetics Drug properties it is slowly soaked up from digestive tract, its main quantity is late in an intestines gleam. In a small intestine breaks up with formation of sulphathiazole (Norsulfazolum) having high antimicrobial activity.
The created high concentration of sulphathiazole in intestines, taking into account specific bacteriostatic activity concerning indestinal flora, causes efficiency of phthalylsulfathiazole in intestinal infections.
A pharmacodynamics
Sulfanamide drug of a broad spectrum of activity, is active rather gram-positive and gram-negative microorganisms – causative agents of intestinal infections. Renders bacteriostatic effect which mechanism is caused by disturbance of synthesis in microorganisms of their growth factors of the folic and degidrofoliyevy acids necessary for synthesis of purines and pyrimidines.
Indications
– acute dysentery (shigellosis), chronic dysentery in an aggravation phase
– colitis, a coloenteritis, a gastroenteritis
– prevention of infectious complications when performing intestinal surgeries.
A route of administration and doses
Without consultation of the doctor not to take the drug longer than the specified term!
To apply inside to adults and children 6 years are more senior.
Adults and children are more senior than 12 years.
In acute dysentery to apply: in the first 2 days of treatment – on 6 g a day (on 1 g each 4 hours), for the 3-4th day – on 4 g a day (on 1 g each 6 hours), for the 5-6th day – on 3 g a day (on 1 g each 8 hours). The course dose makes 25-30 g.
In 5-6 days after the first course of treatment conduct the second year: the first 2 days – on 1 g in 4 hours (at night – in 8 hours), only 5 g a day, the 3-4th day – on 1 g in 4 hours (do not appoint at night), only 4 g a day, the 5th day – on 1 g 3 times a day (do not give at night) of only 3 g a day. The course dose makes 21 g (at the easy course of the disease the course dose can be reduced up to 18 g).
At treatment of other diseases, drug is used in the first 2-3 days on 1-2 g by each 4-6 hours, in the next 2-3 days – on 0.5-1 g.
Maximum doses: single – 2 g, daily – 7 g.
Children from 6 to 12 years.
In acute dysentery to children from 6 to 12 years – 500-750 mg on reception 4 times a day. A course of treatment – up to 7 days.
At treatment of other diseases, drug is used in the 1st day at the rate of 0.1 g/kg of body weight a day. Accept in equal doses each 4 hours with a break for the night. In the next days accept 250-500 mg each 6-8 hours. A course of treatment – up to 7 days.
If the child cannot swallow a tablet, it is crushed and parted in a small amount of boiled chilled water.
Side effects
– a headache, dizziness, suppressed mood
– nausea, vomiting, a diarrhea, damage of a mucous membrane of an oral cavity (stomatitis, an ulitis, a glossitis), gastritis, a cholangitis, hepatitis, group B vitamin deficiency (thiamine, Riboflavinum, niacin) owing to intestinal microflora oppression
– formation of concrements
– eosinophilic pneumonia
– myocarditis, cyanosis
seldom:
– leukopenia, thrombocytopenia, agranulocytosis, aplastic anemia, hemolysis of erythrocytes. At prolonged use the anemia owing to deficiency of the pantothenic and pteroiglyutarovy acids produced by microbic cells
very seldom can develop:
– a toxic epidermal necrolysis (Lyell's disease), perhaps allergic hypostasis of lips and a face, a nodular periarthritis
– fever, an itching
allergic and toksiko-allergic reactions:
– a medicinal allergy, including skin manifestations of a medicinal allergy in the form of polymorphic rashes, up to a knotty and mnogoformny exudative erythema
of the Contraindication
– the increased individual sensitivity to phthalylsulfathiazole, to drugs of a sulfanamide row and/or components of drug
– a diffusion toxic craw
– diseases of a system of blood
– an acute hepatitis
– a glomerulonephritis, chronic kidney disease
– intestinal impassability
– pregnancy and the period of a lactation
– children's age up to 6 years
Medicinal interactions
If you accept any other medicines, surely consult with the doctor concerning a possibility of use of drug.
Depending on the nature of a disease of Ftalazol-Darnitsa it is possible to apply in combination with antibiotics (strengthening of antimicrobial action is observed). Along with the drug Ftalazol-Darnitsa it is reasonable to appoint streptocides which are well soaked up (Sulfadimezinum, Etazolum, Etazolum-sodium, etc.). It is incompatible with PASK, salicylates, a diphenyl (strengthening of toxic effect of drug), Oxacillinum (Oxacillinum decrease of the activity), nitrofurans (increase in risk of developing anemia and methemoglobinemia), drugs men's and female sex hormones (oppression of function of gonads), Calcii chloridum and vitamin K (decrease in blood clotting).
Ftalazol-Darnitsa it is impossible to apply along with enterosorbents and depletive.
At the combined reception of Ftalazola-Darnitsa with the drugs containing PABK ethers (Procainum, benzocaine, tetracaine) the antibacterial activity of streptocide on the competitive mechanism is inactivated.
Myelotoxic medicines strengthen manifestations of a gematotoksichnost of drug.
Special instructions
Before administration of drug consult to the doctor!
Drug should be used with care to patients with a nephrosis, nephrite. Along with Ftalazolom-Darnitsa it is reasonable to apply group B vitamins as in connection with oppression of intestinal microflora the synthesis of vitamins of this group decreases.
If symptoms of a disease do not begin to disappear or on the contrary, the state of health will worsen, or there will be undesirable phenomena, it is necessary to suspend use of drug and to see behind consultation a doctor concerning expediency of further use of drug.
Pregnancy, a lactation
Phthalylsulfathiazole gets through a placenta, and in researches on animals its adverse effect on a fruit is revealed therefore drug is not used during pregnancy.
Phthalylsulfathiazole gets into breast milk and can cause a kernicterus in children and also hemolytic anemia in children with deficit glyukozo-6-fosfatdegidrogenazy therefore drug is not used during feeding by a breast.
The children's age
Ftalazolum is not appointed to children up to 6 years. At children it is applied only according to the recommendation of the doctor.
Features of influence of medicine on ability to run motor transport and potentially dangerous mechanisms
Drug does not influence the speed of psychomotor reactions, it it is possible in the recommended doses to apply to persons at control of motor transport or work with other mechanisms.
Overdose
Symptoms: development of a macrocytosis and a pancytopenia is possible that is caused by deficiency of folic acid. It can be avoided when prescribing folic acid or calcium of the folinat. Manifestations of characteristic side reactions are possible.
Treatment: drug withdrawal, gastric lavage, symptomatic therapy. In a renal failure carrying out a hemodialysis is possible.
Form of release and packing
On 10 tablets in blister strip packaging from a film of the polyvinylchloride or light-protective and printing aluminum foil varnished. Group packing of blister strip packagings together with the corresponding number of instructions for medical use in the state and Russian languages without investment in a pack is allowed.
To Store storage conditions in original packing, at a temperature not above 25 °C.
To store out of children's reach!
2 years
not to use a period of storage after expiry date.
Prescription status
Without prescription
CIAO Producer "Pharmaceutical Darnitsa,
Ukraine 02093, Kiev, Borispolskaya St., 13.
The owner of the registration certificate
CIAO "Pharmaceutical Darnitsa, Ukraine
the Address of the organization accepting in the territory of the Republic of Kazakhstan claims from consumers on quality of products
of the phone number / fax: (+ 380 44) 207 73 27
e-mail:
To Develop vigilance@darnitsa.kiev.ua http://www.darnitsa.kiev.ua
Additional information