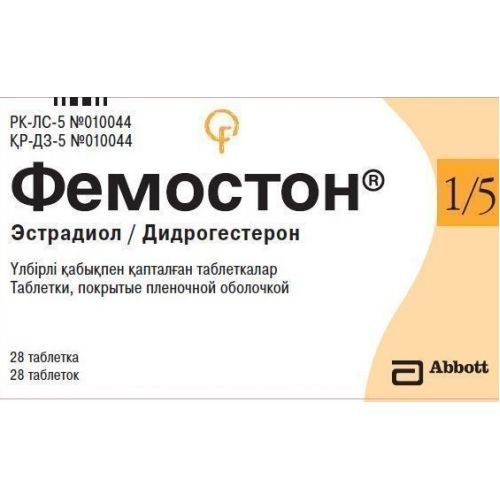 Femoston® (Estradiol/Dydrogesterone) 1/5 mg, 28 film-coated tablets
Description
STRUCTURE
ONE TABLET CONTAINS ACTIVE SUBSTANCES: ESTRADIOL HEMIHYDRATE 1.03 MG (EQUIVALENT TO ESTRADIOL 1.00 MG), DYDROGESTERONE 5 MG,
AUXILIARY SUBSTANCES: LACTOSE MONOHYDRATE, HYPROMELLOSE (HPMC 2910), CORN STARCH, SILICON ANHYDROUS COLLOIDAL DIOXIDE, MAGNESIUM STEARATE
CASING COMPOSITION: OPADRI® OY-8734-ORANGE (METHYLHYDROXYPROPYLCELLULOSE, POLYETHYLENE GLYCOL 400, TITANIUM DIOXIDE E171, IRON (III) OXIDE YELLOW E172, IRON OXIDE 172
OSTEOPOROSIS WARNING:
DEFICIENCY OF ESTROGENS IN THE MENOPAUSE PROMOTES BONE LOSS AND REDUCTION OF BONE MASS IN A WOMAN'S BODY. EFFECT OF ESTROGENS ON BONE TISSUE MASS DOSE DEPENDENT. THE PROTECTIVE EFFECT Lasts AS LONG AS THE TREATMENT Lasts. AFTER STOPPING HRT, BONE LOSS OCCURS AT THE SAME RATE AS IN WOMEN WHO DO NOT TAKE ESTROGENS. ACCORDING TO MODERN DATA, HORMONAL SUBSTITUTION THERAPY PREPARATIONS CONTAINING ESTROGENS IN COMBINATION WITH OR WITHOUT PROGESTERONE, IN HEALTHY WOMEN REDUCE THE RISK OF DISEASES OF THE PEDESTRAL DISEASE AND PERDICLES HRT IS IMPORTANT IN PREVENTING FRACTURES IN WOMEN WITH LOW BONE DENSITY AND / OR ESTABLISHED OSTEOPOROSIS, BUT THESE DATA ARE LIMITED.
FEMOSTON® 1/5 PREVENTS BONE MASS LOSS DURING POSTmenopause.
AFTER 1 YEAR OF TREATMENT, BMD (MINERAL BONE DENSITY) IN THE AREA OF THE LUMBAR SPINE INCREASED BY 4.0 ± 3.4% (AVERAGE VALUE ± STANDARD Deviation). In 90% of the RESEARCHED MICs, the BMD INCREASED OR REMAINS AT THE SAME LEVEL. FEMOSTON 1/5 WAS EFFECTIVE AND IN REGARDING VOIMS IN THE THIGH BONE. AFTER 1 YEAR OF TREATMENT, THE INCREASE IN VOICE MOST IMPORTANT AMOUNTED BY 2.7 ± 4.2% IN THE REGION OF THE HIP NECK AND 3.5 ± 5.0% IN THE REGION OF THE TROCHANTER AND 2.7 ± 6.7% IN THE REGION OF THE WARD'S TRIANGLE THE SHARE OF WOMEN Whose BMD INDICATORS IN 3 REGIONS OF THE FEMUR WERE AT THE SAME LEVEL OR INCREASED AFTER TAKING FEMOSTON 1/5 AMOUNTED TO 71%, 66% AND 81%, RESPECTIVELY.
RENDERING FOR APPLICATION
– HORMONAL REPLACEMENT THERAPY OF ESTROGEN DEFICIENCY SYMPTOMS IN WOMEN DURING POSTmenopause (AT LEAST 12 MONTHS AFTER THE LAST MENSTRUATION)
– PREVENTION OF OSTEOPOROSIS IN WOMEN DURING POSTMENOPAUSIS WITH A HIGH RISK OF FRACTURES IN OSTEOPOROSIS OR CONTRAINDICATIONS TO MEDICINES INTENDED FOR OSTEOPOROSIS TREATMENT.
DOSAGE AND APPLICATION
FEMOSTON® 1/5 IS A COMBINATION OF ESTROGEN AND PROGESTAGEN FOR CONTINUOUS ADMISSION. FEMOSTON® 1/5 TAKE INSIDE ONE TABLET PER DAY FOR A 28-DAY CYCLE (DESIRABLY AT THE SAME TIME OF THE DAY), REGARDLESS OF THE FOOD. DO NOT INTERRUPTION BETWEEN CYCLES.
FOR THE TREATMENT OF THE SYMPTOMS OF MENOPAUSE, BOTH IN THE BEGINNING, AND TO CONTINUE THE TREATMENT, USE THE MINIMUM DOSES OF HORMONES AND AS POSSIBLE FOR A LONG PERIOD OF TIME. CONTINUOUS COMBINED TREATMENT REGIME BEGINS WITH THEMOSTON 1/5.
WHEN CHANGING FROM ANOTHER ESTROGEN-PROGESTAGENIC PREPARATION FOR CYCLIC (OR SEQUENTIAL) REGIME, YOU SHOULD FINISH THE CURRENT 28-DAY CYCLE AND THEN START FEMOSTON 1/5 WITHOUT INTERRUPTING THE CYCLE. WHEN SWITCHING FROM A COMBINED ESTROGEN-GESTAGENIC PREPARATION FOR CONTINUOUS REGIME, PATIENTS CAN START FEMOSTON 1/5 ANY DAY.
IF A WOMAN FORGOTS TO TAKE THE TABLET ON TIME, IT SHOULD BE TAKEN WITHIN 12 HOURS FROM THE TIME OF PROPER TAKING. IF IT IS DETECTED THAT MORE THAN 12 HOURS HAVE BEEN HAS BEEN FROM THE MOMENT OF THE PROPER TAKING, THE "FORGOTTEN" TABLET MUST BE DESTROYED AND THE FOLLOWING TABLET SHOULD BE TAKEN AT REGULAR TIME. DO NOT TAKE DOUBLE DOSE TO COMPENSATE ANY MISS. MISSING TABLETS MAY INCREASE THE LIKELY OF BREAKTHROUGH BLEEDING.
ELDERLY. EXPERIENCE IN TREATMENT FOR WOMEN OVER 65 YEARS OF AGE IS LIMITED.
CHILDREN AND TEENAGERS. THERE ARE NO INDICATIONS FOR THE RECEPTION OF FEMOSTON 1/5 IN CHILDREN AND ADOLESCENTS.
SIDE EFFECTS
THE SIDE EFFECTS MOST REPORTED IN CLINICAL STUDIES – HEADACHE, ABDOMINAL PAIN, BREAST PAIN / TENSION, LUMBAR PAIN.
THE FOLLOWING ADVERSE EFFECTS WERE OBSERVED IN CLINICAL STUDIES AT THE FREQUENCY PRESENTED BELOW
VERY COMMON (≥ 1/100)
– HEADACHE
– ABDOMINAL PAIN
– Lumbar pain
– PAIN / TENSION IN THE BREAST
OFTEN:
– VAGINAL CANDIDOSIS
– DEPRESSION, NERVOUSNESS
– MIGRAINE, DIDDEN
– Nausea, Vomiting, METEORISM
– SKIN ALLERGIC REACTIONS (INCLUDING Rash, urticaria, itching)
– MENSTRUAL DISORDERS (OILING DISCHARGE, UTERINE BLEEDING, MENORRAGIA, Amenorrhea, Irregular menstruation, Dysmenorrhea), Pelvic pain, Cervical secretion
– ASTENIC CONDITIONS (ASTENIA, FATIGUE, DISCOMFORT), PERIPHERAL Edema
– INCREASING BODY WEIGHT
INFREQUENTLY:
– INCREASED SIZE OF UTERINE FIBROUS
– HYPERSENSITIVITY REACTIONS
– LIBIDO CHANGES
– VENOUS THROMBOEMBOLIA
– DISTURBANCE OF LIVER FUNCTION, SOMETIMES ACCOMPANIED BY Jaundice, ASTHENIA AND ABDOMINAL PAIN, DISTURBANCES OF THE GALL BLADDER FUNCTIONS
– INCREASING BREAST SIZE, PREMENSTRUAL SYNDROME
– REDUCING BODY WEIGHT
SELDOM:
– MYOCARDIAL INFARCTION
– Angioneurotic edema, Vascular PURPLE
RISK OF BREAST CANCER (BC)
WOMEN TAKING COMBINED ESTROGEN-PROGESTAGEN-CONTAINING PREPARATIONS FOR 5 YEARS AND MORE RISK OF BC IS UP TO 2 TIMES HIGHER.
ANY INCREASED RISK IN WOMEN RECEIVING ESTROGEN ONLY HRT WAS LESS COMPARED WITH WOMEN RECEIVING ESTROGEN-PROGESTAGEN COMBINED HRT.
THE AMOUNT OF RISK DEPENDS ON THE DURATION OF TREATMENT.
THE RESULTS OF THE LARGEST RANDOMIZED (WHI –WOMEN HELATH'S INITIATIVE) AND EPIDEMIOLOGICAL (MWS – MILLION WOMEN STUDY) RESEARCH ARE BELOW:
MWS (MILLION WOMEN STUDY) – EXPECTED RISK OF BC AFTER 5 YEARS OF TREATMENT.
AGE
ADDITIONAL CASES PER 1000 WOMEN WHO HAVE NEVER TAKEN HRT IN 5 YEARS1
RISK ATTITUDE AND 95% CI #
ADDITIONAL NUMBER OF CASES PER 1000 WOMEN TAKING HRT FOR 5 YEARS (95% CI)
ESTROGEN-CONTAINING PREPARATIONS
50-65
9-12
1.2
1-2 (0-3)
ESTROGEN + PROGESTAGEN
50-65
9-12
1.7
6 (5-7)
# – AGGREGATE ATTITUDE OF RISKS. THIS VALUE IS NOT CONSTANT, INCREASES AS THE DURATION OF TREATMENT IS INCREASED.
NOTE: AS THE INCIDENCE OF BC DIFFERS IN EUROPEAN COUNTRIES, THE NUMBER OF ADDITIONAL CASES OF BC ALSO VARIES PROPORTIONALLY.
1 – FROM THE CALCULATION OF INCIDENCE IN DEVELOPED COUNTRIES.
US WHI STUDY – EXTRA RISK OF BC AFTER 5 YEARS OF HRT USE
AGE
INCIDENCE PER 1000 WOMEN TAKING PLACEBO FOR 5 YEARS
RISK ATTITUDE AND 95% CI
ADDITIONAL NUMBER OF CASES PER 1000 WOMEN TAKING HRT FOR 5 YEARS (95% CI)
ESTROGEN-CONTAINING PRODUCTS (CONJUGATED)
50-79
21
0.8 (0.7-1.0)
-4 (-6 – 0) 2
ESTROGEN + PROGESTAGEN (MEDROXYPROGESTERONE ACETATE) *
50-79
17
1.2 (1.0-1.5)
+4 (0 – 9)
* WHEN ANALYSIS WAS RESTRICTED TO WOMEN WHO NEVER TAKED HRT BEFORE STUDY, THERE WAS NO INCREASED RISK IN THE FIRST 5 YEARS OF TREATMENT: AFTER 5 YEARS THERE WAS NO RISK ABOVE.
2 – GROUP OF WOMEN IN THE WHI STUDY WITH A REMOVED UTERUS. WHICH DO NOT HAVE AN INCREASED RISK OF BC.
ENDOMETRY CANCER (RE)
Postmenopausal women with an unremoved uterus
RISK OF ER IS APPROXIMATELY 5 FOR EVERY 1000 WOMEN WITH A UTERINE NOT USING HRT. WOMEN WITH UTERUS ARE NOT RECOMMENDED HRT PREPARATIONS CONTAINING ESTROGENS ONLY, AS THIS INCREASES THE RISK OF RE. DEPENDING ON THE DURATION OF ESTROGEN MONOTHERAPY AND THE DOSE, THE INCREASED RISK OF ER AS A RESULTS OF EPIDEMIOLOGICAL RESEARCH VARIATES FROM 5 TO 55 ADDITIONAL DIAGNOSED CASES 65 AFTER 1000 EVERY WAY.
ADDING PROGESTAGENS TO ESTROGEN MONOTHERAPY FOR AT LEAST 12 DAYS OF THE CYCLE SIGNIFICANTLY REDUCES THIS INCREASED RISK. IN THE MWS STUDY, THE USE OF COMBINED (CYCLIC OR CONTINUOUS) HRT MODES DID NOT INCREASE THE RISK OF ENDOMETRIC CANCER (OR – 1 (0.8 – 1.2)).
Ovarian cancer
LONG-TERM APPLICATION OF MONOESTROGENIC AND COMBINED HRT IS ASSOCIATED WITH A MINOR INCREASE IN OVARIAN CANCER. ON THE RESULTS OF THE MWS STUDY, WITH HRT WITHIN 5 YEARS THERE IS 1 EXTRA CASE OF OVARIAN CANCER PER 2500 USERS.
RISK OF VENOUS THROMBOEMBOLIA
WITH HRT, THE RELATIVE RISK OF VENOUS THROMBOEMBOLIA (VTE), THAT IS THROMBOSIS OF DEEP VENOUS OR PULMONARY ARTERY, INCREASES 1.3-3.0 TIMES. SUCH COMPLICATION IS MORE PROBABLE IN THE FIRST YEAR OF HRT. THE RESULTS OF THE WHI STUDY ARE PRESENTED BELOW:
WHI STUDY (WOMEN'S HEALTH INITIATIVE STUDY) – ADDITIONAL RISK OF VTE AFTER 5 YEARS OF HRT USE
OTHER ADVERSE REACTIONS KNOWN IN CONNECTION WITH THE TAKING OF COMBINED ESTROGEN-PROHESTAGES (INCLUDING ESTRADIOL / DYDROGESTERONE):
– ESTROGEN-DEPENDENT MALIGNANT AND MALIGNANT TUMORS, SUCH AS ENDOMETRIC CANCER, OVARIAN CANCER
– INCREASING THE SIZE OF PROGESTAGEN-DEPENDENT TUMOR (FOR EXAMPLE, MENINGIOMAS)
– HEMOLYTIC ANEMIA
– SYSTEM RED Lupus
– HYPERTRIGLYCERIDEMIA
– POSSIBLE DEMENTIA, CHOREA, EXCERVATION OF EPILEPSY
– STRENGTHENING OF KERATOKONUS, INBELANCE OF CONTACT LENSES
– ARTERIAL THROMBOEMBOLIA
– PANCREATITIS (IN WOMEN WITH HYPERTRIGLYCERIDEMIA)
– MULTIFORM NODULAR ERYTHEMA, VASCULAR PURPLE, CHLOASMA OR MELASMA, WHICH MAY REMAIN AFTER THE PREPARATION IS CROWNED
– CALFAL MUSCLE SPASMS
– URINARY INCONTINENCE
– FIBROCYSTIC CHANGES IN BREAST TISSUE, EROSION OF THE CERVIC
– PORPHYRIA WEIGHTENING
– INCREASING THE LEVEL OF THYROID HORMONES
CONTRAINDICATIONS
– HYPERSENSITIVITY TO ACTIVE SUBSTANCES OR ANY OF THE AUXILIARY COMPONENTS OF THE PREPARATION
– PAST DIAGNOSED OR SUSPECTED BREAST CANCER
– DIAGNOSED OR SUSPECTED ESTROGEN-DEPENDENT MALIGNANT TUMORS (FOR EXAMPLE ENDOMETRIC CANCER OR OTHER)
– DIAGNOSED OR SUSPECTED PROGESTAGEN-DEPENDENT NEW Formations (INCLUDING MENINGIOMA)
– BLEEDING OF UNCLEAR ETIOLOGY FROM THE GENITAL TRACT
– UNCONTROLLED HYPERPLASIA ENDOMETRY
– VENOUS THROMBOEMBOLIA IN THE PRESENT OR IN ANAMNESIS (DEEP VENOUS THROMBOSIS OR PULMONARY VESSEL THROMBOEMBOLISM)
– DIAGNOSED THROMBOPHILIC DISORDERS (PROTEIN C, PROTEIN S OR ANTITROMBIN DEFICIENCY)
– ARTERIAL THROMBOEMBOLIA ACTIVE AT THE PRESENT OR IN THE RECENT PAST (INCLUDING ISCHEMIC HEART DISEASE, MYOCARDIAL INFARCTION, ISCHEMIC STROKE)
– PRESENT ACTIVE LIVER DISEASES (OR IN ANAMNESIS) BEFORE LIVER TEST REGULATION
– PORPHYRIA
– ESTABLISHED OR IMPLIED PREGNANCY AND BREASTFEEDING PERIOD
– CHILDREN AND ADOLESCENTS UP TO 18 YEARS
DRUG INTERACTIONS
NO RESEARCH ON DRUG INTERACTIONS HAS BEEN PERFORMED. THE DOCTOR SHOULD BE INTERESTED ABOUT THE MEDICINAL PREPARATIONS THAT THE WOMAN IS CURRENTLY TAKING OR TAKEN BEFORE THE FEMOSTON 1/5.
EFFICIENCY OF ESTROGENS AND PROGESTAGENS CAN DECREASE:
ESTROGEN METABOLISM CAN BE INCREASED WITH THE SIMULTANEOUS USE OF DRUGS INDUCING MICROSOMAL LIVER ENZYMS OF THE CYTOCHROME P450 SYSTEM, FOR EXAMPLE 2B6, 3A4, 3A5, 3A7. THEM ARE ANTI-CARBON (PHENOBARBITAL, CARBAMAZEPIN, PHENYTOIN) AND ANTI-INFECTIOUS (RIFAMPICIN, RIBAVIRIN, NEVIRAPIN, EFAVIRENES).
RITONAVIR AND NELFINAVIR, ALTHOUGH AND KNOWN AS POWERFUL INHIBITORS OF CYP450 3A4, A5, A7, ON THE CONTRACT, INDUCT LIVER ENZYMES WHEN APPLYING SIMULTANEOUSLY WITH STEROID HORMONES.
MEDICINAL PREPARATIONS OF PLANT ORIGIN CONTAINING THE HERB OF STEAM (HYPERICUM PERFORATUM) INCREASE THE METABOLISM OF ESTROGENS AND PROGESTAGENS BY SUPPRESSING CYP450 3A4.
INCREASING THE METABOLISM OF ESTROGENS AND PROGESTAGENS CLINICALLY CAN MANIFEST IN A DECREASE IN THE EFFICIENCY AND CHANGE IN THE CHARACTER OF A MENSTRUAL-LIKE REACTION.
ESTROGENS CAN DISRUPT THE METABOLISM OF OTHER MEDICINES:
ESTROGENS BY THEMSELVES ARE ABLE TO INHIBIT ENZYMS OF THE CYP450 SYSTEM PARTICIPATING IN MEDICINE METABOLISM THROUGH COMPETITIVE SUPPRESSION. THIS IS ESPECIALLY IMPORTANT IN RELATION TO DRUGS WITH NARROW THERAPEUTIC INDICATIONS, SUCH AS:
– TACROLIMUS AND CYCLOSPORIN A (CYP450 3A4, 3A3)
– FENTANYL (CYP450 3A4)
– THEOPHYLLIN (CYP450 1A2).
CLINICALLY, THIS MAY BE EXPRESSED IN THE INCREASE OF THE LEVEL OF THESE SUBSTANCES IN THE PLASMA TO TOXIC. THEREFORE, CAREFUL MONITORING OF PATIENTS MAY BE REQUIRED FOR A LONG PERIOD OF TIME AND A REDUCED DOSE OF TACROLIMUS, FENTANYL, THEOPHYLLINE AND CYCLOSPORIN A.
SPECIAL INSTRUCTIONS
HRT IS PRESCRIBED IN CASES WHEN THE SYMPTOMS OF MENOPAUSE SIGNIFICANTLY AFFECT A WOMAN'S QUALITY OF LIFE. ALL PATIENTS NEED A CAREFUL ASSESSMENT OF THE RISKS AND BENEFITS AT LEAST ONCE A YEAR. CONTINUE TAKING FEMOSTON 1/5 WHILE THE EXPECTED ADVANTAGES MUCH MORE OUT OF THE POSSIBLE RISKS.
REGARDING THE RISKS ASSOCIATED WITH HRT IN TREATMENT OF PREMATURE MENOPAUSE, CONFIRMATIONS ARE LIMITED. HOWEVER, DUE TO LOW ABSOLUTE RISK IN YOUNG WOMEN, THE RATIO OF ADVANTAGES AND RISKS TO THEM MAY BE MORE FAVORABLE THAN AN OLDER AGE.
MEDICAL EXAMINATION AND SUPERVISION.
BEFORE STARTING OR RENEWING HRT, YOU MUST GET A COMPLETE MEDICAL AND FAMILY ANAMNESIS. MEDICAL EXAMINATION (INCLUDING EXAMINATION OF THE BREAST AND PELVIC ORGANS) IS CONDUCTED IN ORDER TO IDENTIFY POSSIBLE CONTRAINDICATIONS AND CONDITIONS REQUIRING PRECAUTIONARY MEASURES. DURING TREATMENT WITH THE PREPARATION FEMOSTON® 1/5 DYNAMIC OBSERVATION IS RECOMMENDED, THE FREQUENCY AND NATURE OF THE STUDIES ARE DETERMINED INDIVIDUALLY. PATIENTS SHOULD KNOW THAT ABOUT ALL CHANGES IN THE BREAST, THEY MUST IMMEDIATELY REPORT THEM TO THE CARE DOCTOR. SPECIAL STUDIES, INCLUDING MAMMOGRAPHY, ARE CONDUCTED IN ACCORDANCE WITH ACCEPTED SCREENING REGULATIONS, TAKING INTO ACCOUNT CLINICAL INDICATIONS.
CONDITIONS REQUIRING OBSERVATION
DURING TREATMENT WITH FEMOSTON 1/5, PATIENTS MUST BE CAREFULLY MONITORED BY A DOCTOR, IF THEY HAVE A PLACE OR WERE IN THE PAST CONDITIONS LISTED BELOW:
– UTERINE MYOMA OR ENDOMETRIOSIS
– THROMBOEMBOLIA OR RISK FACTORS FOR ITS DEVELOPMENT
– RISK FACTORS OF ESTROGEN-DEPENDENT TUMORS (FOR EXAMPLE, BREAST CANCER IN DEGREE 1 RELATIVES)
– ARTERIAL HYPERTENSION
– LIVER DISEASES (HEPATOCELLULAR ADENOMA)
– DIABETES WITH ANGIOPATHY OR WITHOUT IT
– CHOLELITHIASIS
MIGRAINE OR (SEVERE) HEADACHE
– SYSTEM RED Lupus
– HYPERPLASIA ENDOMETRY IN ANAMNESIS
– EPILEPSY
– BRONCHIAL ASTHMA
– OTOSCLEROSIS.
THIS APPLIES TO THOSE PATIENTS WHICH THE EXPRESSION OF THESE CONDITIONS INCREASED DURING PREGNANCY OR PREVIOUS HORMONAL TREATMENT. IT IS NECESSARY TO TAKE INTO ACCOUNT THAT WHEN TREATMENT WITH FEMOSTON 1/5 THESE CONDITIONS MAY RENEW OR BECOME MORE EXPRESSED.
REASONS FOR STOPPING THERAPY IMMEDIATELY.
RECEPTION OF FEMOSTON 1/5 SHOULD BE STOPPED IF CONTRAINDICATIONS ARE IDENTIFIED AND IN THE FOLLOWING SITUATIONS:
– Jaundice OR LIVER FUNCTIONAL DISTURBANCES
– SIGNIFICANT INCREASE IN BLOOD PRESSURE
– APPEARANCE OF MIGRAINE-LIKE HEADACHE
– PREGNANCY
HYPERPLASIA AND ENDOMETRIC CANCER.
THE RISK OF HYPERPLASIA AND ENDOMETRIC CANCER INCREASES WITH PROLONGED ADMISSION OF ESTROGENS. THE INCREASE IN THE RISK OF ENDOMETRIC CANCER AMONG USERS OF MONOESTROGEN PREPARATIONS HRT IS REPORTED FROM 2 TO 12 TIMES IN COMPARISON WITH NON-USERS, DEPENDING ON THE DURATION OF TREATMENT AND THE DOSE OF ESTROGEN. AFTER STOPPING ESTROGEN, THE RISK STAYS INCREASED FOR 10 YEARS.
ADDITION OF PROGESTAGENS, AT LEAST 12 DAYS DURING A 28-DAY CYCLE, OR TAKING A COMBINED PREPARATION SIGNIFICANTLY REDUCES THIS RISK IN WOMEN WITH AN UNREMOVED UTERINE.
BREAKTHROUGH BLEEDINGS AND OILING BLEEDINGS ARE SOMETIMES OBSERVED IN THE FIRST SEVERAL MONTHS OF TREATMENT. IN CASE OF BLEEDING OF A BREAKTHROUGH OR OILING BLEEDING DURING THE RECEPTION OF FEMOSTON 1/5 OR AFTER STOPPING THE TREATMENT, IT IS NECESSARY TO CONDUCT AN EXAMINATION TO DETECT THE CAUSE IT MAY INCLUDE ENDOMETRY BIOPSY TO REDUCE MALIGNANT PROCESS.
MAMMARY CANCER.
ACCORDING TO THE MODERN DATA OF THE RESULTS OF CLINICAL AND PHARMACO-EPIDEMIOLOGICAL STUDIES, IN WOMEN TAKING COMBINED PREPARATIONS FOR HRT AND, POSSIBLY, MONOESTROGENIC EVIDENCES
COMBINED PREPARATIONS CONTAINING ESTROGEN + PROGESTAGEN
WHI RANDOMIZED, PLACEBO-CONTROLLED STUDY AND PHARMACO-EPIDEMIOLOGICAL STUDIES HAVE AN INCREASED RISK OF BREAST IN WOMEN TAKING COMBINATIONS FOR MORE THAN 3.
MONOTHERAPY WITH ESTROGEN-CONTAINING PREPARATIONS
THE WHI STUDY DIDN'T INCREASE THE RISK OF BC IN WOMEN WITH A REMOTE UTERINE USING PREPARATIONS CONTAINING ONLY ESTROGEN, ISOLATED STUDIES REPORT INSIGNIFICANT PUMPHY.
EXCEEDING THE RISK OF BC IS OBSERVED IN THE FIRST SEVERAL YEARS OF TREATMENT, BUT RETURNS TO THE BASELINE LEVEL DURING A FEW YEARS AFTER STOPPING (MAXIMUM 5 YEARS) OF TREATMENT. WHEN TAKING COMBINED HRT PREPARATIONS, THE DENSITY OF THE MAMMOGRAPHIC IMAGE INCREASES, THAT MAY HAVE A NEGATIVE EFFECT ON X-RAY DIAGNOSIS OF BC.
Ovarian cancer
INCIDENCE WITH OVARIAN CANCER IS MUCH RARE THAN BC. LONG-TERM USE (MINIMUM 5-10 YEARS) OF A MONOESTROGENIC PREPARATION IS ASSOCIATED WITH A SMALL INCREASED RISK OF OVARIAN CANCER. SOME STUDIES, INCLUDING WHI, SUGGEST THAT LONGER USE OF COMBINED HRT PREPARATIONS MAY BE RELATED TO THE SAME OR SOME LOWER RISKS.
VENOUS THROMBOEMBOLIA.
HRT IS ASSOCIATED WITH AN INCREASED RELATIVE RISK OF DEVELOPMENT OF VENOUS THROMBOEMBOLIA (VTE), THAT IS THROMBOSIS OF DEEP VENOUS AND PULMONARY THROMBOEMBOLIA, 1.3-3 TIMES. THE PROBABILITY OF SUCH COMPLICATION IS HIGHER IN THE FIRST YEAR OF TREATMENT THAN IN THE FOLLOWING YEAR.
PATIENTS WITH ANAMNESIS OF VTE OR DIAGNOSED THROMBOPHILIC CONDITIONS HAVE AN INCREASED RISK OF VTE, AND HRT MAY INCREASE THIS RISK. THEREFORE, HRT IS CONTRAINDICATED FOR THIS GROUP OF PATIENTS.
RISK FACTORS FOR VTE INCLUDE: TAKING ESTROGENS, ELDERLY AGE, EXTENSIVE SURGERY, LONG IMMOBILIZATION, SEVERE OBESITY, AND MORE THAN 30 KEGER / M2. CURRENTLY THERE IS NO CONSISTENT OPINION ABOUT THE ATTITUDE OF VARICOSE DISEASES TO THE RISK FACTORS OF VTE.
IT IS NECESSARY TO TAKE MEASURES TO PREVENT VTE IN PATIENTS IN THE POSTOPERATIVE PERIOD. IN CASES WHEN LONG-TERM IMMOBILIZATION IS PROPOSED AFTER THE SURGERY, ESPECIALLY ON THE ABDOMINAL CAVITY OR ORTHOPEDIC SURGERY ON THE LOWER LIMBS, IT SHOULD BE SUSPENDED BY FEMO FOR 1/5. RESUME OF TREATMENT IS POSSIBLE ONLY AFTER FULL RESTORATION OF MOTOR ACTIVITY.
WOMEN WHO DO NOT HAVE VTE IN ANAMNESIS BUT FIRST DEGREE RELATIVES HAVE ANAMNESIS OF VTE IN A YOUNG AGE SHOULD BE EXAMINED FOR THROMBOPHILIA. AT THIS IT IS NECESSARY TO CONSIDER AND WARN THE WOMAN THAT NOT ALL TYPES OF BLOOD COAGULATION PATHOLOGIES DETECTED DURING SCREENING.
HRT IS CONTRAINDICATED IF FAMILY MEMBERS HAVE A THROMBOPHILIC DEFECT (FOR EXAMPLE, ANTITROMBIN, PROTEIN S OR PROTEIN C DEFICIENCY OR A COMBINATION OF DEFECTS).
PATIENTS OF THIS RISK GROUP TAKING ANTICOAGULANT THERAPY REQUIRE A CAREFUL ASSESSMENT OF THE RATIO OF RISKS AND BENEFITS OF PRESCRIBING HRT.
IF VTE DEVELOPED IN THE BACKGROUND OF RECEPTION OF FEMOSTON 1/5, TREATMENT SHOULD BE SUSPENDED. THE PATIENT SHOULD KNOW THAT WHEN THE FIRST POSSIBLE SYMPTOMS OF VTE (PAINFUL LOWER LIMBS Edema, Sudden Chest Pain, Dyspnea) Appear, She SHOULD RETURN TO TREATMENT IMMEDIATELY.
CORONARY HEART DISEASE (CHD).
IN RANDOMIZED CLINICAL STUDIES, NO EVIDENCE IS OBTAINED FOR THE USE OF THAT HRT (ONLY WITH ESTROGENS OR IN COMBINATION WITH PROGESTAGENS) PROTECTS AGAINST THE DEVELOPMENT OF MYOCARDIAL INFARCTION IN WOMEN WITHIN RUNNERS.
COMBINED PREPARATIONS CONTAINING ESTROGEN + PROGESTAGEN
THE RELATIVE RISK OF CHD IN THE PERIOD OF TREATMENT WITH COMBINED DRUGS FOR HRT INCREASES SIGNIFICANTLY. AS THE ABSOLUTE RISK OF IHD DEVELOPMENT TO A SIGNIFICANT MEASURE DEPENDS ON THE AGE, THE FREQUENCY OF ADDITIONAL CASES OF IHD IN WOMEN RECEIVING HRT WITH COMBINED PREPARATIONS, BUT IS VERY LOW IN THE GIRL OF HEALTH.
MONOTHERAPY WITH ESTROGEN-CONTAINING PREPARATIONS
ON THE DATA OF RANDOMIZED STUDIES, THE RISK OF CHD IN WOMEN WITH A REMOVED UTERUS RECEIVING ESTROGENS IN MONOTHERAPY DOES NOT INCREASE.
ISCHEMIC STROKE.
RISK OF ISCHEMIC STROKE IN HEALTHY WOMEN WITH HRT WITH COMBINED PREPARATIONS FOR HRT INCREASES 1.5 TIMES. THE RELATIVE RISK DOES NOT DEPEND ON AGE OR EXPERIENCE OF THE MENOPAUSE. HOWEVER, IT IS KNOWN THAT THE RISK OF ISCHEMIC STROKE IS AGE DEPENDENT, THEREFORE THE RISK OF STROKE IN WOMEN TAKING HRT INCREASES WITH AGE.
OTHER CONDITIONS
ESTROGENS PROMOTE LIQUID RETENTION, THEREFORE, PATIENTS WITH CARDIAC OR RENAL INSUFFICIENCY NEED CAREFUL OBSERVATION.
WOMEN WITH HYPERTRIGLYCERIDEMIA NEED CAREFUL MONITORING DURING HRT, AS THERE ARE RARE REPORTS ABOUT A SIGNIFICANT INCREASED TRIGLYCERIDES OF THE BLOOD PLASMA AND BLOOD PLASMA.
ESTROGENS INCREASE THE LEVEL OF THYROID-BINDING GLOBULIN, THAT LEADS TO INCREASING THE GENERAL LEVEL OF CIRCULATING THYROID HORMONE, WHICH IS MEASURED AT THE LEVEL OF T4-BINDED IODINE. FREE T4 OR T3 LEVELS DO NOT CHANGE.