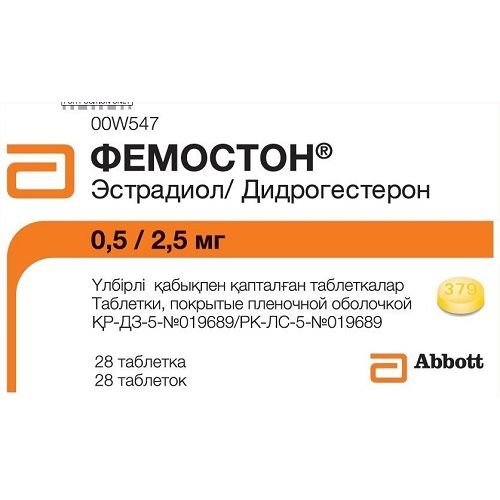 Femoston® (Estradiol/Dydrogesterone) 0.5/2.5 mg, 28 film-coated tablets
Description
Structure
One tablet contains
active substances: estradiol hemihydrate 0.517 mg (equivalent to estradiol 0.500), dydrogesterone 2.5 mg,
excipients: lactose monohydrate, hypromellose, corn starch, anhydrous colloidal silicon dioxide, magnesium stearate,
shell composition: macrogol 3350, polyvinyl alcohol, talc, titanium dioxide (E 171), iron (III) oxide yellow (E172).
Pharmacological properties
Pharmacokinetics
Estradiol
Absorption. The absorption of estradiol depends on the particle size: unlike crystalline estradiol, which is poorly absorbed, micronized estradiol is readily absorbed from the gastrointestinal tract. Below is a table with the average values ​​of the pharmacokinetic parameters of estradiol (E2), estrone (E1) and estrone sulfate (E1S) for a dose of 0.5 mg estradiol after repeated administration:
Estradiol 0.5 mg
Distribution. Estrogens bind weakly to plasma albumin by nonspecific binding or specifically bind with a high degree of affinity to sex hormone binding globulin (SHBG). The percentage of SHBG binding varies from 9-37% in perimenopausal women to 23-53% in postmenopausal women receiving conjugated estrogens.
Metabolism. After taking the drug orally, estradiol is rapidly metabolized. The main unconjugated and conjugated metabolites are estrone and estrone sulfate. These metabolites can exhibit estrogenic activity both on their own and after conversion to estradiol. Estrone sulfate undergoes intrahepatic metabolism.
Elimination. Estrone and estradiol are excreted in the urine, mainly in the form of glucuronides. The half-life is 10-16 hours. Estrogens are excreted in the milk of nursing mothers.
Dose and time dependence. With the daily intake of Femoston tablets 0.5 / 2.5 orally, a stable concentration of estradiol is achieved after 5 days of administration, most often by 8-11 days.
Dydrogesterone
Absorption. After oral administration, it is rapidly absorbed from the gastrointestinal tract. The time to reach the maximum concentration (Tmax) is from 0.5 to 2.5 hours. The absolute bioavailability of dydrogesterone at a dose of 20 mg orally (compared to 7.8 mg intravenously) is 28%.
The table shows the average values ​​of the pharmacokinetic parameters of dydrogesterone (D) and dihydrodidrogesterone (DHD) after repeated oral administration of dydrogesterone at a dose of 2.5 mg.
Dydrogesterone 2.5 mg
Distribution. With a stable concentration of dydrogesterone with intravenous administration, the volume of distribution is about 1400 liters. Dydrogesterone and DHD bind to plasma proteins by more than 90%.
Metabolism. After oral administration, dydrogesterone is rapidly metabolized to DHD. The concentration of the main metabolite 20-α-dihydrodidrogesterone (DHD) peaks approximately 1.5 hours after the dose. The concentration of DHD in blood plasma is significantly higher than that of dydrogesterone. The ratios of AUC (area under the curve) and Cmax (maximum concentration) of DHD and dydrogesterone are approximately 40 and 25, respectively. The half-life of dydrogesterone and DHD averages 5-7 hours and 14-17 hours, respectively. A common feature of all metabolites is that the configuration of the parent compound 4,6 dien-3-one remains unchanged and the absence of 17-alpha-hydroxylation. This explains the lack of estrogenic and androgenic effects of dydrogesterone.
Elimination. After oral administration of labeled dydrogesterone, an average of 63% of the dose is excreted in the urine. Total plasma clearance 6.4 l / min. Complete elimination of dydrogesterone occurs after 72 hours. DHD is excreted in the urine mainly in the form of a glucuronic acid conjugate.
Dose and time dependence. Pharmacokinetics is linear at both single and multiple dosages in the range of 2.5 to 10 mg. Comparison of the kinetics of single and multiple doses shows that the pharmacokinetics of D and DHD do not change as a result of repeated dosing. A stable concentration is achieved after 3 days of treatment.
Pharmacodynamics
Estradiol
The active ingredient in Femoston 0.5 / 2.5, 17-β estradiol, is chemically and biologically identical to endogenous human estradiol. It replaces lost estrogen production in postmenopausal women and relieves symptoms of estrogen deficiency.
Dydrogesterone
The oral activity of dydrogesterone is comparable to that of parenterally administered progesterone. Since estrogens promote endometrial growth, taking estrogens without the addition of progestogens increases the risk of endometrial hyperplasia and cancer. The addition of progestogens significantly reduces the risk of estrogen-related endometrial hyperplasia in women with an unremoved uterus.
The effectiveness of Femoston 0.5 / 2.5 in the treatment of symptoms of estrogen deficiency and dysfunctional uterine bleeding (according to clinical studies)
When Femoston 0.5 / 2.5 mg was taken, there was a statistically significant decrease in the frequency of moderate to severe hot flashes, compared with placebo, starting at 4 weeks. This indicator decreased as treatment continued until week 13.
In clinical studies, amenorrhea (absence of bleeding or spotting spotting) was observed in 88-91% of women during a follow-up period of 10-12 months. Irregular bleeding and / or spotting was observed in 10-21% of women in the first 3 months of treatment and in 9-12% during 10-12 months of treatment.
Indications for use
– hormone replacement therapy for symptoms of estrogen deficiency in women during menopause (at least 12 months after the last menstruation). Symptoms of estrogen deficiency in women are individual and may include the following disorders: hot flashes, night sweats, sleep disturbances, vaginal dryness, and urinary problems
Method of administration and dosage
Femoston® 0.5 / 2.5 is a continuous combination of estrogen and progestogen. Femoston® 0.5 / 2.5 is taken orally 1 tablet per day for a 28-day cycle (preferably at the same time of day), regardless of food intake. There is no break between cycles.
To treat the symptoms of menopause, both at the beginning and for the continuation of treatment, use the lowest doses of hormones and for as short a period of time as possible. The continuous combined treatment regimen begins with Femoston 0.5 / 2.5 or Femoston 1/5, depending on the time of menopause and the severity of symptoms.
When switching from another estrogen-progestogen drug for cyclic (or sequential) administration, patients should stop taking the drug for the current 28-day cycle and then start taking Femoston 0.5 / 2.5 without taking a break between cycles. When switching from a combined estrogen-progestogen drug for a continuous regimen, patients can start taking Femoston 0.5 / 2.5 on any day.
If a woman has forgotten to take a pill on time, then it should be taken within 12 hours from the time of proper administration. If it is found that more than 12 hours have passed, then the "forgotten" tablet must be destroyed and the next tablet taken at the usual time. Do not take a double dose to compensate for the missed dose. Skipping a pill can increase the chance of breakthrough bleeding.
Elderly. Experience in treating women over 65 years of age is limited.
Children and adolescents. There are no indications for taking Femoston 0.5 / 2.5 in children and adolescents.
Side effects
Often:
– migraine, headache, asthenia
– nausea, abdominal pain, flatulence
– cramps in the calf muscles
– pain / tension in the mammary glands, metrorrhagia, spotting, pain in the small pelvis
– increase or decrease in body weight
Infrequently:
– vaginal candidiasis
– an increase in the size of uterine fibroids
– depression, changes in libido, nervousness, dizziness
– venous thromboembolism
– cholelithiasis
– skin allergic reactions (including rash, hives, itching)
– backache
– pseudo-erosion of the cervix, cervical secretion, dysmenorrhea
– peripheral edema
Seldom:
– increased keratoconus, contact lens intolerance
– abnormal liver function, sometimes accompanied by jaundice, asthenia and abdominal pain
– an increase in the size of the mammary glands, premenstrual syndrome
Rarely:
– hemolytic anemia
– hypersensitivity reactions
– chorea
– myocardial infarction, stroke
– vomiting
– angioedema, erythema nodosum multiforme, vascular purpura, chloasma or melasma, which may remain after drug withdrawal
– aggravation of porphyria
Breast Cancer (BC) Risk
In women taking combined estrogen-progestogen-containing drugs for 5 years or more, the risk of breast cancer is up to 2 times higher.
Any increase in the risk of breast cancer in users of estrogen-containing drugs is significantly lower than in users of combination drugs.
The magnitude of the risk depends on the duration of treatment.
The results of the largest randomized (WHI – Women Helath's Initiative) and epidemiological (MWS – Million Women Study) studies are shown below:
MWS (Million Women Study) – Expected risk of breast cancer after 5 years of treatment.
# is the cumulative risk ratio. This value is not constant, it increases with increasing duration of treatment.
Note: As the incidence of breast cancer varies across Europe, the number of additional breast cancer cases also varies proportionally.
1 – based on the incidence rate in developed countries.
US WHI study – additional risk of breast cancer after 5 years of HRT use
* When the analysis was limited to women who had never taken HRT before enrollment, there was no increase in risk in the first 5 years of treatment: after 5 years, the risk was higher than in those who had never taken HRT.
2 is a group of women in the WHI study with a removed uterus. In whom an increased risk of breast cancer was not found.
Endometrial cancer (ER)
Postmenopausal women with an unremoved uterus
The risk of RE is approximately 5 in every 1000 women with a uterus not using HRT. For women with a uterus, HRT preparations containing only estrogens are not recommended, as this increases the risk of ER. Depending on the duration of estrogen monotherapy and the dose, the increased risk of ER in epidemiological studies varies from 5 to 55 additional cases diagnosed per 1000 women aged 50-65 years.
Adding progestogens to estrogen monotherapy for at least 12 days of the cycle significantly reduces this increased risk. In the MWS study, the use of combined (cyclic or continuous) HRT regimens did not increase the risk of endometrial cancer (RR – 1 (0.8 – 1.2)).
Ovarian cancer
Long-term use of monoestrogenic and combined HRT is associated with a slight increase in ovarian cancer. According to the results of the MWS study, with HRT over 5 years, there is 1 additional case of ovarian cancer in 2500 users.
Risk of venous thromboembolism
With HRT, the relative risk of venous thromboembolism (VTE), that is, deep vein or pulmonary artery thrombosis, increases 1.3-3.0 times. This complication is more likely in the first year of HRT. The results of the WHI study are presented below:
WHI study – additional risk of VTE after 5 years of HRT use
The risk of coronary heart disease is slightly increased in the group of combined HRT users over the age of 60 years.
Risk of ischemic stroke (IS). Taking monoestrogenic and combined HRT drugs is associated with an increase in the relative risk of ischemic stroke by up to 1.5 times. The risk of hemorrhagic stroke is not increased during HRT.
The relative risk does not depend on age or duration of HRT, but since the baseline risk strongly depends on age, as a result, the risk of stroke in women on HRT increases with age.
WHI study – additional risk of AI after 5 years of HRT use
Other adverse reactions that are known in connection with the use of combined estrogen-progestogen drugs:
– estrogen-dependent benign and malignant neoplasms such as endometrial cancer, ovarian cancer
– an increase in the size of a progestogen-dependent tumor (eg, meningioma)
– systemic lupus erythematosus
– hypertriglyceridemia
– fibrocystic changes in breast tissue
– increased levels of thyroid hormones
– possible dementia, exacerbation of epilepsy
– arterial thromboembolism
– urinary incontinence
– pancreatitis (in women with hypertriglyceridemia)
Contraindications
– hypersensitivity to active substances or any of the auxiliary components of the drug
– diagnosed in the past or suspected breast cancer
– diagnosed or suspected estrogen-dependent malignant tumors (for example, endometrial cancer or others)
– diagnosed or suspected progestogen-dependent neoplasms (including meningioma)
– bleeding of unknown etiology from the genital tract
– uncontrolled endometrial hyperplasia
– venous thromboembolism in the present or in history (deep vein thrombosis or thromboembolism of the pulmonary vessels)
– diagnosed thrombophilic disorders (deficiency of protein C, protein S or antithrombin)
– active arterial thromboembolism currently or in the recent past (including ischemic heart disease, myocardial infarction, ischemic stroke)
– active liver disease (or history), before normalization of liver tests
– porphyria
– established or suspected pregnancy and breastfeeding period
– age up to 18 years
Drug interactions
No drug interaction studies have been conducted. The doctor should inquire about the medications that the woman is currently taking or took before the appointment of Femoston 0.5 / 2.5.
The effectiveness of estrogens and progestogens may decrease:
Estrogen metabolism can be increased with the simultaneous use of drugs that induce microsomal liver enzymes of the cytochrome P450 system, for example, 2B6, 3A4, 3A5, 3A7. These include anticonvulsants (phenobarbital, carbamazepine, phenytoin) and anti-infectious agents (rifampicin, ribavirin, nevirapine, efavirenez).
Ritonavir and nelfinavir, although known as potent inhibitors of CYP450 3A4, A5, A7, on the contrary, induce liver enzymes when used concomitantly with steroid hormones.
Herbal medicines containing the herb St. John's wort (Hypericum perforatum) increase the metabolism of estrogens and progestogens by suppressing CYP450 3A4.
An increase in the metabolism of estrogens and progestogens can clinically manifest itself in a decrease in efficiency and a change in the nature of the menstrual reaction.
Estrogens can interfere with the metabolism of other drugs:
Estrogens themselves are capable of inhibiting CYP450 enzymes involved in drug metabolism through competitive suppression. This is especially important for drugs with narrow therapeutic indications, such as:
– tacrolimus and cyclosporin A (CYP450 3A4, 3A3)
– fentanyl (CYP450 3A4)
– theophylline (CYP450 1A2).
Clinically, this can be expressed in an increase in the level of these substances in plasma to toxic. Thus, close monitoring of patients over a long period of time and dose reduction of tacrolimus, fentanyl, theophylline and cyclosporine A may be required.
Special instructions
HRT is prescribed when the symptoms of menopause significantly affect a woman's quality of life. All patients need a thorough assessment of the risks and benefits at least once a year. Femoston 0.5 / 2.5 is continued as long as the expected benefits significantly outweigh the possible risks.
There is limited evidence regarding the risks associated with HRT in the treatment of premature menopause. However, due to the low absolute risk in young women, the balance of benefits and risks may be more favorable for them than for older women.
Medical examination and observation.
A complete medical and family history must be collected before starting or resuming HRT. A medical examination (including examination of the mammary glands and pelvic organs) is carried out in order to identify possible contraindications and conditions requiring precautionary measures. During treatment with Femoston® 0.5 / 2, dynamic observation is recommended, the frequency and nature of the studies are determined individually. Patients should be aware that they should immediately report them to the attending physician about all changes in the mammary glands. Special studies, including mammography, are carried out in accordance with accepted screening standards, taking into account clinical indications.
Conditions to be monitored
During treatment with Femoston 0.5 / 2.5, patients should be closely monitored by a doctor if they have or have had in the past the conditions listed below:
– uterine fibroids or endometriosis
– thromboembolism or risk factors for its development
– risk factors for estrogen-dependent tumors, for example, breast cancer in 1st degree relatives
– arterial hypertension
– liver disease (hepatocellular adenoma)
– diabetes mellitus with or without angiopathy
– cholelithiasis
– migraine or (severe) headache
– systemic lupus erythematosus
– history of endometrial hyperplasia
– epilepsy
– bronchial asthma
– otosclerosis.
This applies to those patients in whom the severity of these conditions increased during pregnancy or previous hormonal treatment. It must be borne in mind that when treated with Femoston 0.5 / 2.5, these conditions may recur or become more pronounced.
Reasons for immediate discontinuation of therapy.
Femoston 0.5 / 2.5 should be discontinued if contraindications are identified and in the following situations:
– jaundice or liver dysfunction
– significant increase in blood pressure
– the appearance of a migraine-like headache
– pregnancy
Endometrial hyperplasia and cancer.
The risk of endometrial hyperplasia and cancer increases with long-term estrogen use. The increased risk of endometrial cancer among users of monoestrogenic HRT drugs is noted from 2 to 12 times compared with non-users, depending on the duration of treatment and the dose of estrogen. After you stop taking estrogen, the risk remains elevated for up to 10 years.
Adding progestogens for at least 12 days over a 28-day cycle or taking a combination drug significantly reduces this risk in women with an unremoved uterus.
Breakthrough bleeding and spotting bleeding is sometimes seen in the first few months of treatment. In case of breakthrough bleeding or spotting bleeding while taking Femoston 0.5 / 2.5 or after stopping treatment, it is necessary to conduct an examination to identify the cause. This may include an endometrial biopsy to rule out malignancy.
Mammary cancer.
According to modern data from the results of clinical and pharmaco-epidemiological studies, women taking combined HRT drugs and, possibly, monoestrogenic drugs have an increased risk of breast cancer, and this value depends on the duration of therapy.
Combinations containing estrogen + progestogen
The WHI randomized placebo-controlled study and epidemiological studies have shown an increased risk of breast cancer in women taking combination HRT drugs, which manifests itself 3 years after starting treatment.
Monotherapy with estrogen-containing drugs
The WHI study found no increased risk of breast cancer in women with a removed uterus who used estrogen-only medications. Observational studies report a modest increase in breast cancer risk, which is much lower than that of women taking combination drugs.
An excess of breast cancer risk is observed in the first few years of treatment, but returns to baseline within several years after discontinuation (maximum 5 years) of treatment. When taking combined HRT drugs, the density of the mammographic image increases, which can have a negative effect on the X-ray diagnosis of breast cancer.
Ovarian cancer
The incidence of ovarian cancer is much less common than breast cancer. Long-term use (at least 5-10 years) of a monoestrogen drug is associated with a slight increase in the risk of ovarian cancer. Several studies, including the WHI, suggest that long-term use of combination HRT may be associated with the same or slightly lower risk.
Venous thromboembolism.
HRT is associated with an increase in the relative risk of developing venous thromboembolism (VTE), that is, deep vein thrombosis and pulmonary thromboembolism, by 1.3-3 times. The likelihood of such a complication is higher in the first year of treatment than in subsequent years.
Patients with a history of VTE or diagnosed thrombophilic conditions have an increased risk of VTE, and HRT may increase this risk. Therefore, HRT is contraindicated in this group of patients.
Risk factors for VTE include: estrogen intake, old age, major surgery, prolonged immobilization, severe obesity (BMI more than 30 kg / m2), pregnancy and the puerperium, systemic lupus erythematosus and cancer. Currently, there is no consensus on the relationship of varicose veins to the risk factors for VTE.
It is necessary to take measures to prevent VTE in patients in the postoperative period. In cases where prolonged immobilization after surgery is expected, especially on the abdominal organs or orthopedic operations on the lower extremities, Femoston 0.5 / 2.5 should be discontinued, if possible, for 4-6 weeks. Resumption of treatment is possible only after complete restoration of physical activity.
Women with no history of VTE but a first-degree relative with a history of VTE at a young age should be screened for thrombophilia. In this case, it is necessary to take into account and warn the woman that not all types of blood coagulation pathologies are detected during screening.
HRT is contraindicated if family members have a thrombophilic defect (eg, antithrombin, protein S, or protein C deficiency, or a combination of defects).
Patients of this risk group, taking anticoagulant therapy, require a careful assessment of the balance of risks and benefits of prescribing HRT.
If VTE develops while taking Femoston 0.5 / 2.5, treatment should be suspended. The patient should know that when the first possible symptoms of VTE appear (painful swelling of the lower extremities, sudden chest pain, shortness of breath), she should immediately consult a doctor.
Coronary artery disease (CHD).
In randomized clinical trials, there is no evidence that HRT (only estrogens or in combination with progestogens) protects against the development of myocardial infarction in women with or without coronary artery disease.
Combinations containing estrogen + progestogen
The relative risk of coronary artery disease during treatment with combined drugs for HRT slightly increases. Since the absolute risk of developing coronary artery disease largely depends on age, the incidence of additional cases of ischemic heart disease in women receiving combined HRT is very low in the group of healthy women at an age close to the onset of menopause, and increases with age.
Monotherapy with estrogen-containing drugs
According to randomized trials, the risk of coronary artery disease in women with a removed uterus, receiving estrogens in monotherapy, does not increase
Ischemic stroke.
The risk of ischemic stroke in healthy women with HRT with combined HRT drugs increases 1.5 times. The relative risk does not depend on age or length of time at menopause. However, it is known that the risk of ischemic stroke depends on age, so the risk of stroke in women taking HRT increases with age.
Other conditions
Estrogens contribute to fluid retention, so patients with heart or kidney failure need careful monitoring.
Women with hypertriglyceridemia need careful monitoring during HRT, as there are rare reports of a significant increase in plasma triglycerides, which led to the development of pancreatitis in women with a similar condition who took estrogens.
Estrogens increase the level of thyroid-binding globulin, which leads to an increase in total circulating thyroid hormone, which is measured by the level of protein-bound iodine, T4 and T3. Levels of free T4 or T3 do not change.
Levels of other binding proteins, for example, corticoid binding globulin, sex hormone binding globulin, may increase, resulting in increased levels of circulating corticosteroid and sex hormones, respectively. Concentrations of free or biologically active hormones do not change. Levels of other plasma proteins (substrate angiotensin / renin, α-1-antitrypsin, ceruloplasmin) may also increase.
HRT does not improve cognitive function. There is a risk of possible dementia in women who start HRT over the age of 65.
Patients with rare hereditary galactose intolerance, Lapp lactase deficiency or glucose-galactose malabsorption are not should take Femoston® 0.5 / 2.5.
Femoston® 0.5 / 2.5 is not a contraceptive.
Pregnancy and lactation
The use of Femoston® 0.5 / 2.5 is not indicated during pregnancy. If pregnancy occurs while taking Femoston® 0.5 / 2.5, treatment should be stopped immediately. Femoston® 0.5 / 2.5 should not be used during breastfeeding.
Features of the influence of the drug on the ability to drive a vehicle or potentially dangerous mechanisms
Care must be taken when driving vehicles and moving machinery.
Overdose
So far, there have been no reports of symptoms of an overdose of Femoston 0.5 / 2.5. Estradiol and dydrogesterone have low toxicity.
Symptoms: Possible increased side effects of the drug, such as nausea, vomiting, drowsiness and dizziness.
Treatment: symptomatic. There is no specific antidote.
Release form and packaging
28 tablets are placed in a blister strip of polyvinyl chloride film and aluminum foil. 1 contour package, together with instructions for medical use in the state and Russian languages, are placed in a cardboard box.
Storage conditions
Store at a temperature not exceeding 30 ° C.
Keep out of the reach of children!
Shelf life – 3 years
Do not use after the expiration date.