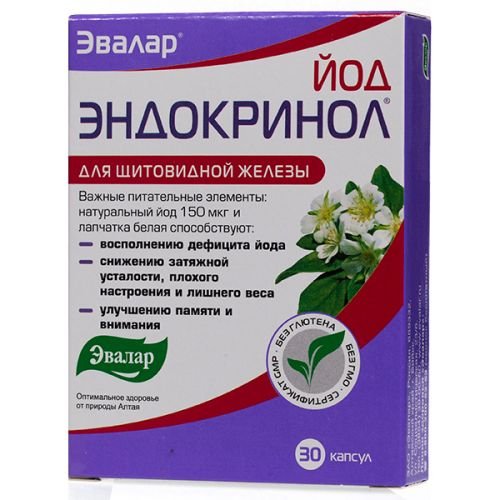 Description
Daily Thyroid Health Support
It is now recognized that iodine deficiency is a natural and universal natural phenomenon. Iodine deficiency occurs throughout the Russian Federation, as well as in many other countries, in particular, in most European countries. According to WHO, about 85% of the Russian population lives in areas with iodine deficiency. According to the chemical composition, the soil of most territories of Russia is poor in iodine. As a result, all plants are deficient in iodine. In addition, a major role in the development of iodine deficiency in recent years has been played by significant changes in the diet of Russians. The consumption of sea fish and seafood rich in iodine has decreased.
Iodine is one of the vital trace elements of nutrition, the daily requirement for it, depending on age, ranges from 100 to 200 mcg.
The consequences of iodine deficiency can be: irritability, fatigue, mental decline, excess weight – this is not a complete list of their manifestations.
To prevent such failures, take a non-hormonal remedy – Endocrinol Iodine based on white cinquefoil and natural iodine, which is produced by Evalar according to the international GMP quality standard.
Endocrinol Iodine is a specially developed phytoformula that contains important nutrients necessary for the normal functioning of the thyroid gland: natural iodine 150 mcg and cinquefoil, which contribute to:
replenishment of iodine deficiency
maintaining thyroid hormone balance
reduce prolonged fatigue, bad mood and excess weight
improving memory and attention
How do the ingredients work?
Laminaria is a seaweed that contains organic iodine, a unique set of vitamins, macro- and microelements, and biologically active substances that help absorb this iodine. In addition, kelp reduces the absorption and accumulation of radioactive substances in the body.
Potentilla white – is a source of Mn, Cu, Zn, Se, and also contains a large amount of Co, Cr, Ni, Li, B, Cr, Zn, and macronutrients K, Ca, P, Fe. The rich composition of cinquefoil white allows you to supplement the diet with the most important micronutrients necessary for the healthy functioning of the thyroid gland. Due to the presence of gallotannins, flavonoids, phenolcarboxylic acids and saponins, it helps to maintain the normal function of the thyroid gland. Of the 100 types of cinquefoil, only one – white cinquefoil – helps to maintain the normal functioning of the thyroid gland, and it is this that is grown on Evalar plantations in the foothills of Altai and is part of Endocrinol Iodine.
Vitamin A – Of all the vitamins, the balance of vitamin A is especially important for the thyroid gland. A low content of vitamin A slows down the production of TSH, reduces the ability of the thyroid gland to absorb iodine. As a result, even with sufficient dietary iodine intake, insufficient vitamin A content may prevent the thyroid gland from using the received iodine to its full extent.
Compound
Phytoformula "Evalar" (kelp, white cinquefoil), including iodine – 300 mg, 150 mcg / 1 capsule
Vitamin A – 0.9 mg / 1 capsule
Recommendations for use
Adults: 1 capsule 1 time per day with meals. The duration of admission is at least 1 month. If necessary, the reception can be repeated.
Contraindications
Individual intolerance to the components, pregnancy, lactation. Persons with thyroid disease or taking iodine preparations are advised to consult an endocrinologist before use.
Storage conditions
Store at a temperature not exceeding 25°C.
Shelf life – 3 years