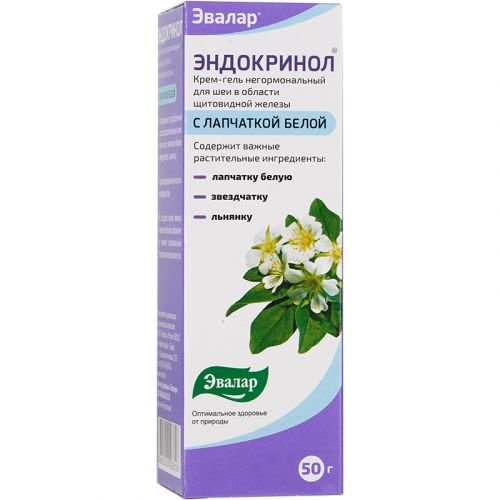 ENDOCRINOL Сream-gel, 50 ml
Non-hormonal cream-gel for the neck in the area of the thyroid gland for its local protection
Description
Endocrinol cream-gel for local protection of the thyroid gland
Modern formula with the highest content of herbal ingredients. For additional local thyroid care, use Endocrinol cream-gel. Cream, acting from the outside, creates an optimal concentration of active substances of plants.
Poor environmental conditions, daily stress, malnutrition, bad habits – all this makes the thyroid gland work at its limit. And to maintain health, you need to take care of this important organ. For this purpose, you can use the cream-gel "Endocrinol" from "Evalar". It consists of a complex of natural ingredients: extracts of cinquefoil, flaxseed, chickweed. The concentration of active ingredients in the product allows you to use it as a means to maintain a normal thyroid gland.
Indications for the use of the cream Endocrinol
deterioration of the skin in the neck;
decreased skin turgor.
The tool does not contain hormones, which ensures its mild effect.
Compound
Aqueous extract of stellate medium, oil extract of common toadflax, water-alcohol-glycerin extract of white cinquefoil, glycerin, triethanolamine, euxil K300, emulsifier T-8 (polysorbate 20, dipropylene glycol, PEG-40 hydrogenated castor oil), carbopol, aromatic composition.
Recommendations for use
Apply cream-gel 1-2 times a day on the skin of the neck and thyroid gland.
The remedy is rubbed in small amounts into the neck area once or twice a day.
The optimal course of use is 1 month or more, together with Endocrinol capsules, which also help maintain a normal thyroid gland.
Contraindications
The instruction of the cream-gel "Endocrinol" prescribes the refusal to use the product in the event of individual allergic reactions.
Storage conditions
Store at a temperature not lower than 0°C and not higher than 25°C.
Shelf life – 2 years