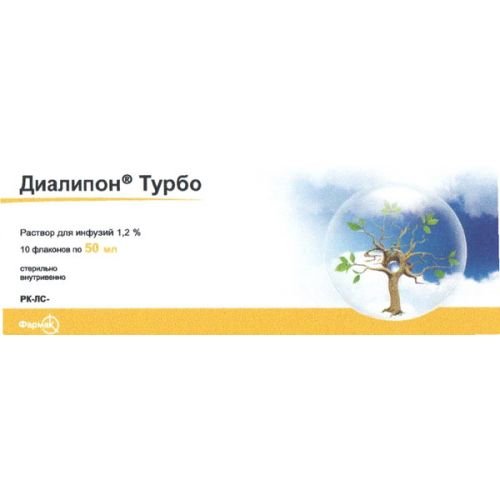 DiaLIPON TURBO (ALA) 1.2%/50ml 10s infusion solution (vial)
Available on backorder
Description
Dialipon® Turbo Solution for infusion 1.2%, 50 ml
Contents
1 ml of the drug contains active substance – 23.354 mg meglumine salt of alpha-lipoic acid, which corresponds to 12 mg of alpha-lipoic acid
excipients: N-methylglucamine (meglumine), polyethylene glycol 300 (macrogol 300), water for injection
Alpha-lipoic acid (ALA) is a possible alternative remedy to treat the pain associated with diabetic polyneuropathy. Neuropathy, or nerve damage, is a common and potentially serious complication of diabetes. Nerve damage is permanent, and its symptoms can be difficult to alleviate. Polyneuropathy involves the peripheral nerves of the body. It's the most common form of neuropathy in people who have diabetes, and it causes foot and leg pain.

Several studies suggest alpha-lipoic acid helps lower blood sugar levels. Its ability to kill free radicals may help people with diabetic peripheral neuropathy, who have pain, burning, itching, tingling, and numbness in arms and legs from nerve damage. Researchers believe Alpha-lipoic acid helps improve insulin sensitivity.
Indications for use
– diabetic polyneuropathy
Method of administration and dosage
The drug is injected intravenously. Dialipon® Turbo is administered directly from the vial (i.e. without solvent) to adults at a dose of 600 mg per day (contents of 1 vial) for at least 30 minutes. Due to the fact that alpha lipoic acid is sensitive to light exposure, the vials should be stored in the carton until they are used directly.
The course of treatment is 2-4 weeks. In the future, you can continue taking the drug in capsules at a dose of 600 mg per day.
Side effects
Often:
– allergic reactions: urticaria, eczema, itching, dermatitis at the injection site, burning pain
Rarely:
– a feeling of heaviness in the head
– headache
– nausea
– vomiting
– increased intracranial pressure
– hot flashes
– difficulty breathing
Very rarely:
– anaphylactic shock
– convulsions
– diplopia
– petechial rash, thrombophlebitis
– dysfunction of platelets (thrombocytopathy, hypocoagulation, hemorrhagic rash (purpura)
– hypoglycemia (dizziness, increased sweating, headache, visual impairment)
– feeling of burning pain
– pain in the region of the heart
– tachycardia
– change or violation of taste sensations
With a quick intravenous injection, a feeling of heaviness in the head, increased intracranial pressure, hot flushes, sweating, nausea, vomiting, short-term retention or difficulty in breathing, which pass on their own, are possible.
Contraindications
– hypersensitivity to the drug or to one of its components
– conditions that can lead to lactic acidosis (heart and respiratory failure, acute phase of myocardial infarction, acute cerebrovascular accident, dehydration, chronic alcoholism, etc.)
– children under 18 years old
– pregnancy and lactation
Drug interactions
Alpha lipoic acid enhances the action of insulin and oral hypoglycemic agents.
Incompatibility. In vitro Dialipon® Turbo reacts with ionic metal complexes (for example, with cisplatin), so the drug may reduce their effect. Dialipon® Turbo forms poorly soluble complex compounds with sugars. Because of this, the Dialipon® Turbo infusion solution is incompatible with glucose, fructose, Ringer solutions and solutions containing compounds that chemically interact with SH-groups or disulfide bridges.
Cannot be used together with preparations containing metal compounds (for example, with preparations of iron, magnesium).
Special instructions
When using the drug Dialipon® Turbo, light-protective black bags are used, which are put on the bottle.
During therapy with Dialipon® Turbo, diabetic patients need regular monitoring of blood glucose levels. In some cases, it is necessary to reduce the dose of antihyperglycemic agents in order to prevent the development of hypoglycemia.
Under the influence of alcohol, the therapeutic activity of alpha-lipoic acid decreases, so you should refrain from drinking alcohol during treatment with Dialipon® Turbo.
Application in pediatrics. The effectiveness and safety of using the drug for children have not been established, therefore, the drug is not used in pediatric practice.
Application during pregnancy or lactation. The drug should not be used during pregnancy or lactation due to lack of sufficient experience.
Features of the effect of the drug on the ability to drive vehicles or potentially dangerous mechanisms.
There are no special warnings, but in case of side effects of the drug, you must refrain from this type of activity.
Overdose
Symptoms: nausea, vomiting, headache, psychomotor agitation, dizziness, generalized epileptic seizures and the development of lactic acidosis. With the use of large doses of alpha-lipoic acid, there have been reports of intoxication effects such as hypoglycemia, shock, acute skeletal muscle necrosis, hemolysis, disseminated intravascular coagulation (DIC), inhibition of brain function and disorders of internal organs.
Treatment should be carried out in accordance with modern principles of intensive care and depending on the symptoms. The effectiveness of hemodialysis, hemoperfusion and filtration techniques to accelerate the elimination of alpha-lipoic acid has not been proven.
Shelf life – 2 years
Do not use the drug after the expiry date indicated on the package.
Additional information