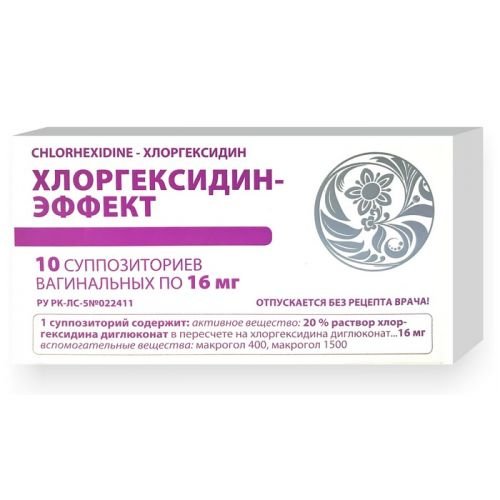 Chlorhexidine-Effect of 16 mg vaginal suppositories 10s
Description
The instruction for medical use
of HLORGEKSIDIN-EFFEKT medicine
the Trade name
of HLORGEKSIDIN-EFFEKT
the International unlicensed
name Chlorhexidin Lekarstvennaya a form
Suppositories vaginal, 16 mg
Structure
One suppository contains
active agent: 20% of solution of a chlorhexidin a digluconate in terms of a chlorhexidin a digluconate of 16 mg
excipients: macrogoal 400, macrogoal of 1500.
The description
Suppositories from color, white to white with a yellowish shade, a puleobrazny form. Marbling on a suppository surface is allowed.
Pharmacotherapeutic group
of Antiseptics and antimicrobial drugs for treatment of gynecologic diseases. Other antiseptic agents and antimicrobial drugs. ATX G01 AX code.
The pharmacological
Pharmacokinetics At properties intravaginalny use it is practically not soaked up, has no systemic action.
A pharmacodynamics
of Chlorhexidin-effekt antiseptic drug for topical administration, is active concerning the simplest, gram-positive and gram-negative bacteria, viruses, including: Treponema pallidum, Chlamidia spp., Ureaplasma spp., Neisseria gonorrhoeae, Trichomonas vaginalis, Gardnerella vaginalis, Bacteriodes fragilis, Herpes virus. To slabochuvstvitelna drug some strains of Pseudomonas spp., Proteus spp. and also acid resisting forms of bacteria, spores of bacteria, mushrooms are steady. Chlorhexidin-effekt does not break functional activity of lactobacilli. Keeps activity (though a little lowered) in the presence of blood, pus.
Indications
– prevention of infections, sexually transmitted (clamidiosis, ureaplasmosis, trichomoniasis, gonorrhea, syphilis, genital herpes, etc.) to apply no later than two hours after sexual intercourse
– prevention of infectious and inflammatory complications in obstetrics and gynecology (before operational treatment of gynecologic diseases, before childbirth and abortion, before installation of an intrauterine spiral (Naval Forces), before and after diathermocoagulation of a neck of the uterus, before intrauterine researches)
– treatment of a bacterial vaginosis, colpitises (including nonspecific, mixed, mecotic), erosion of a neck of the uterus, an itching of a vulva, including during pregnancy and a lactation
the Route of administration and
Intravaginalno's doses. Before use the suppository is exempted from planimetric packing.
For treatment: apply on 1 suppository 2 times a day, within 7-10 days. If necessary extension of a course of treatment up to 20 days is possible.
For prevention of infections, sexually transmitted: 1 suppository no later than 2 hours after the unprotected sexual intercourse.
Side effects
– the allergic reactions, an itching undergoing later drug withdrawals
of the Contraindication
– hypersensitivity to drug components
– girls prior to the beginning of menarche
Medicinal interactions
simultaneous use with iodine is not recommended.
The drug Chlorhexidin-effekt is not compatible to soap and also detergents containing anion group (saponins, sodium lauryl sulfate, sodium carboxymethylcellulose) if they are entered intravaginalno.
The special
instructions Toilet of External Genitals does not affect efficiency and shipping of suppositories of vaginal Chlorhexidin-effekt.
The children's age
of Chlorhexidin-effekt, suppositories appoint vaginal, 16 mg to girls with approach monthly.
Pregnancy and a lactation
Drug is not contraindicated during pregnancy and in the period of a lactation.
Features of influence of medicine on ability to run the vehicle or potentially dangerous mechanisms
Use of drug does not affect ability to run the vehicle or potentially dangerous mechanisms.
Overdose
Now about cases of overdose of the drug Chlorhexidin-effekt it was not reported.
The form of release and packing
On 5 suppositories place in blister strip packaging from a film polyvinylchloride.
Two blister strip packagings together with the instruction for medical use in the state and Russian languages place in a pack from cardboard bandbox brands chrome ersatz or from cardboard chrome ersatz for folding boxes.
Group and transport packing according to GOST 17768-90.
At a temperature not higher than 25C
to Store storage conditions In original packing out of children's reach!
2 years
not to apply a period of storage after an expiration date.
Prescription status
Without prescription
JSC Lekkhim-Kharkiv Producer.
Ukraine, 61115, Kharkiv, Seventeenth Partsjezda St., 36.
ph. +38 (057) 7 147 790, fax +38 (057) 7 147 791
Owner of the registration certificate
of JSC Lekkhim-Kharkiv.
Ukraine, 61115, Kharkiv, st. of the seventeenth Party congress, 36.
ph. +38 (057) 7 147 790, fax +38 (057) 7 147 791
The name, the address and a contact information (phone, the fax, e-mail) of the organization of the claim (offer) on quality of medicines accepting in the territory of the Republic of Kazakhstan from consumers and responsible for post-registration observation of safety of medicine.
L-Pharma LLP
050061, Republic of Kazakhstan Almaty, mdt. Tastak-1, house. 3
Additional information