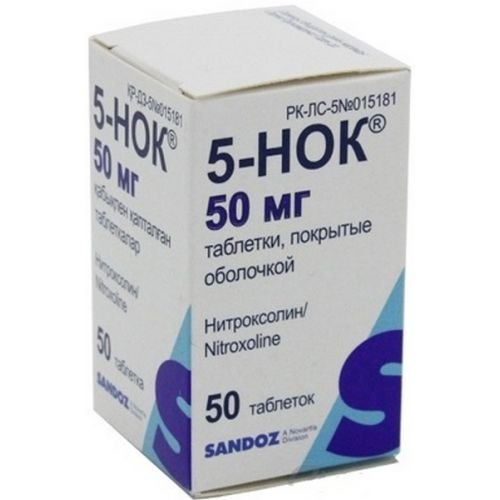 5-NOC 50s 50 mg coated tablets
Out of stock
Description
The instruction for medical use
of medicine 5-HOK
the Trade name
5-HOK
International unlicensed
names Nitroxoline Dosage Form
of the Tablet, coated, 50 mg
Structure
One tablet contains
active agent – nitroxoline of 50 mg,
excipients: calcium hydrophosphate dihydrate, lactoses monohydrate, starch corn, silicon dioxide colloidal anhydrous, povidone, talc, krospovidon, magnesium stearate,
structure of a cover: gum, sodium of a karmelloz, sucrose, povidone, silicon dioxide colloidal anhydrous, talc, starch corn, calcium carbonate, titan dioxide (E 171), dye orange (E 110, Al-lake), dye quinolinic yellow (E 104, Al-lake).
The description
Brilliant, round biconvex tablets, coated orange color
Pharmacotherapeutic group
Antibacterial drugs for system use. Other antibacterial drugs. Antibacterial drugs other. Nitroxoline.
ATH J01XX07 code
the Pharmacological
Pharmacokinetics Nitroxoline properties is well and quickly absorbed from a small intestine after intake. The highest serumal concentration after intake of a dose of 200 mg make 4.0-4.7 mg/l and are noted 1.5-2.0 hours later.
Elimination half-life makes about 2 hours. About 10% of the entered dose of nitroxoline contact proteins of plasma.
Nitroxoline is exposed to metabolism in a liver where conjugates with glucuronic and sulfuric acids are formed.
It is removed with urine, generally in the form of conjugates with glucuronic acid (55-60%) by means of glomerular filtration, some of its quantity is removed with bile. Only 5% are removed with urine in not conjugated active look.
The pharmacodynamics
Nitroxoline is synthetic uroantiseptichesky means. By means of formation of chelate bonds it blocks activity of metalenzymes, contacting ions of metals of the enzymes necessary for a reproduction of microorganisms. Is result of such interaction bacteriostatic, bactericidal and fungistatic effects of drug.
The range of its antimicrobial and antifungal activity includes the majority of the microorganisms causing urinary tract infections. Sensitivity to nitroxoline the following microorganisms have: Escherichia coli, Ureaplasma urealyticum, Mycoplasma hominis, Candida spp., Torulopsis spp.
Have non-constant sensitivity to nitroxoline: Proteus spp., Staphylococcus spp.
Rezistentna to nitroxoline: Pseudomonas spp., Providencia spp., Klebsiella spp., Enterobacter spp., Serratia spp., anaerobic bacteria.
Also the sensitivity to Streptococcus spp., Corynebacterium diphteriae, Enteroccocus spp., Salmonella spp., Shigella spp., Neisseria gonorrhoeae and Hemophillus influenzae nitroxoline is established.
Indications
are the acute, chronic and recurrent urinary tract infections of moderate severity caused by the gram-positive and gram-negative bacteria and mushrooms sensitive to nitroxoline
– prevention of recurrent urinary tract infections
the Route of administration and doses
the Daily dose of drug makes 400-800 mg, divided into 4 equal doses. The usual daily dose for adults makes 400 mg. About 2 tablets in day before meal are recommended to take the drug. If necessary therapy is continued continuously or faltering courses (for 7-10 days).
In hard cases the dose can be doubled, however, it should not exceed 200 mg 4 times a day.
Duration of a course of treatment and dose of drug is established by the attending physician individually for each patient. Patients can take the drug long time within one month. In case of chronic diseases, after a short break the treatment can periodically continue.
Patients of advanced age.
Need for adjustment of a dose is absent.
Patients with a renal failure.
In the general renal failure (the clearance of creatinine is higher 0.33ml/sec.) the usual dose should be halved (on 1 tablet 4 times a day).
Patients with an abnormal liver function
the Usual daily dose should be halved.
Side effects
Seldom
– allergic reactions in the form of skin rash
– reduction in serum of uric acid and aminotransferases
Very seldom
– allergic thrombocytopenia
– tachycardia
– a headache
– paresthesias
– polyneuropathy
Is unknown
– nausea, vomiting
– coloring of urine in rich yellow color
of the Contraindication
– hypersensitivity to active agent or any of excipients
– hypersensitivity to quinolines
– a cataract
– a heavy renal failure (the clearance of creatinine is lower than 20 ml/min.)
– a heavy liver failure
– pregnancy and the period of a lactation
–
Medicinal interactions
it is not necessary to appoint children's and teenage age 5-HOK up to 18 years along with the drugs containing hydroxyquinolines or their derivatives.
Special instructions
It is necessary to be careful at patients with impaired renal function because of possible cumulation of medicine.
At long-term or numerous treatment the high doses galogenoproizvodny hydroxyquinoline described cases of development of peripheral neuritis and injury of an optic nerve. Special attention should be paid to patients with a cataract, with serious violation of function of kidneys and a liver.
Tablets coated 5-HOK contain dye orange (E 110, Al-lake) which can cause reactions of allergic type, including bronchial asthma. Allergic reactions meet more often at people with hypersensitivity to acetylsalicylic acid.
To patients with seldom found problems of hereditary character concerning intolerance of a galactose, deficiency of Lappa lactase, disturbance of absorption of a glucose/galactose, it is not necessary to take this drug.
Drug contains sucrose, to patients with seldom found problems of hereditary character concerning intolerance of fructose, disturbance of absorption of a glucose/galactose, insufficiency of invertase-isomaltase, it is not necessary to take this drug.
There is no feature of influence of medicine on ability to run the vehicle and potentially dangerous mechanisms of Data on influence on ability to drive the car or potentially dangerous mechanisms.
The overdose
of Data on overdose or clinical signs of poisoning 5-HOK is not present.
In case of overdose, symptomatic treatment.
The form of release and packing
On 50 tablets place in the polyethylene can corked by a stopper.
After 1 bank together with the instruction for medical use in the state and Russian languages place in a box of cardboard.
To Store storage conditions at a temperature not over 25C.
To store out of children's reach!
A period of storage
of 5 years
do not use drug after the expiry date specified on packing.
Prescription status
According to the prescription
the Producer/packer Lek Pharmasyyutikals of of, Slovenia
Kolodvorska 27, Menges
the Owner of the registration certificate
Lek Pharmasyyutikals of of, Slovenia
Verov&scaron, kova 57, Ljubljana
the Address of the organization accepting in the territory of the Republic of Kazakhstan claims from consumers on quality of products (goods)
Representative office of JSC Sandoz Pharmasyyutikals of of in
Republic of Kazakhstan Almaty, Luganskogo St. 96,
Phone number: +7 727 258 10 48, fax: +7 727 258 10 47
e-mail: kzsdz.drugsafety@sandoz.com
Additional information